A Long Winter's Print, "Spring Morning"
Sep 28, 2021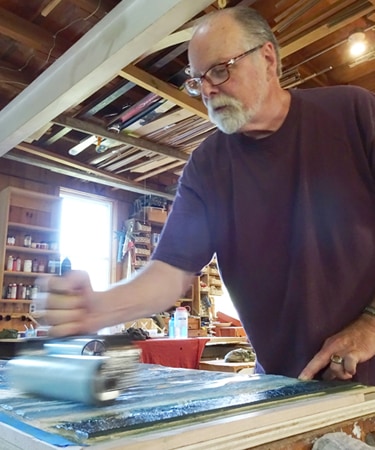 HELLO AND WELCOME FRIENDS,
My work is always slow... slow drawing, carving, printing, et cetera. But I may have set a new record for this latest print by inserting a move from my home of 32 years. I'm now living in Massachusetts rather than Vermont - but I'm only 18 miles from my former home. My new partner, Nina Rossi, has taken me into her home and we've finally settled in very nicely to our little nest in Turners Falls.

But back in March I decided to embark on a new print and began with a simple idea, the rising sun illuminating birch trees in the snow-covered landscape of springtime (in New England). Seemed like a simple idea, right? Well, leave it to me to complicate matters!
I decided to put an apple tree into the composition and worked up this drawing: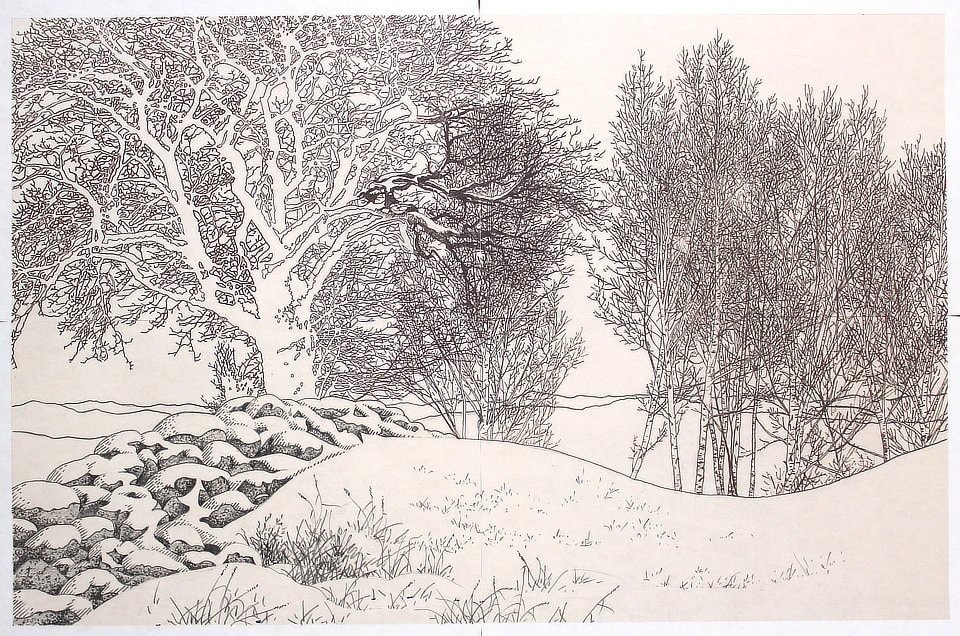 Lots of tree branches to carve, but the drawing left much still up to me as I made my choices later on. For instance, where am I going to put the moon?
In this image below, you see the first three steps. First I laid out a pink to yellow, graduated tint over the whole block without carving away any of the wood. Next I carved away the moon, the snow on the branches and trunks of the trees, and highlights on the snow in the foreground. I then printed a three-color sky and a deeper yellow for the foreground snow. After carving away the sky I printed the first range of mountains, shadows in the snow and the upper portions of the trees in red and, finally, the grasses.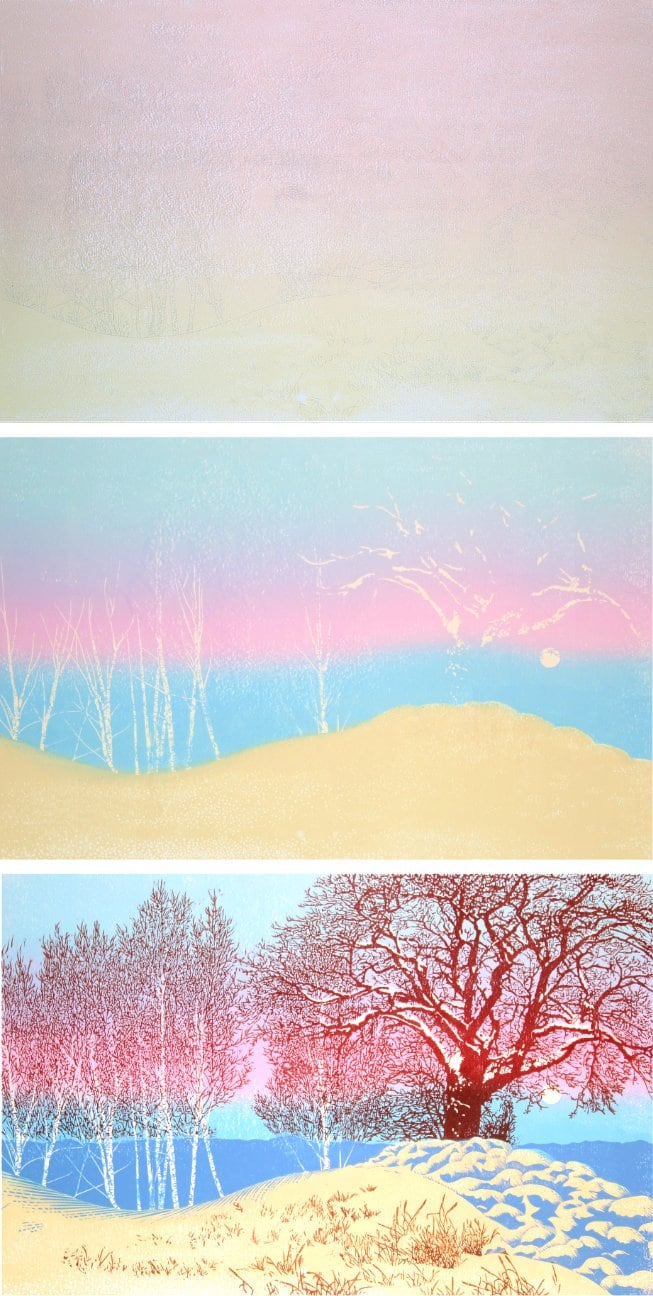 As the mountain ranges were added, the branches of trees followed in a darker red and a second color was added to the grass. In the second frame (below) I cut a separate block for shadows cast by the trees behind the viewer. I printed that in a violet. In the last frame I added a secondary color in the moon with a scrap piece of linoleum on a dowel to use as a stamp. The trees were also darkened up and the remaining ranges of mountains added.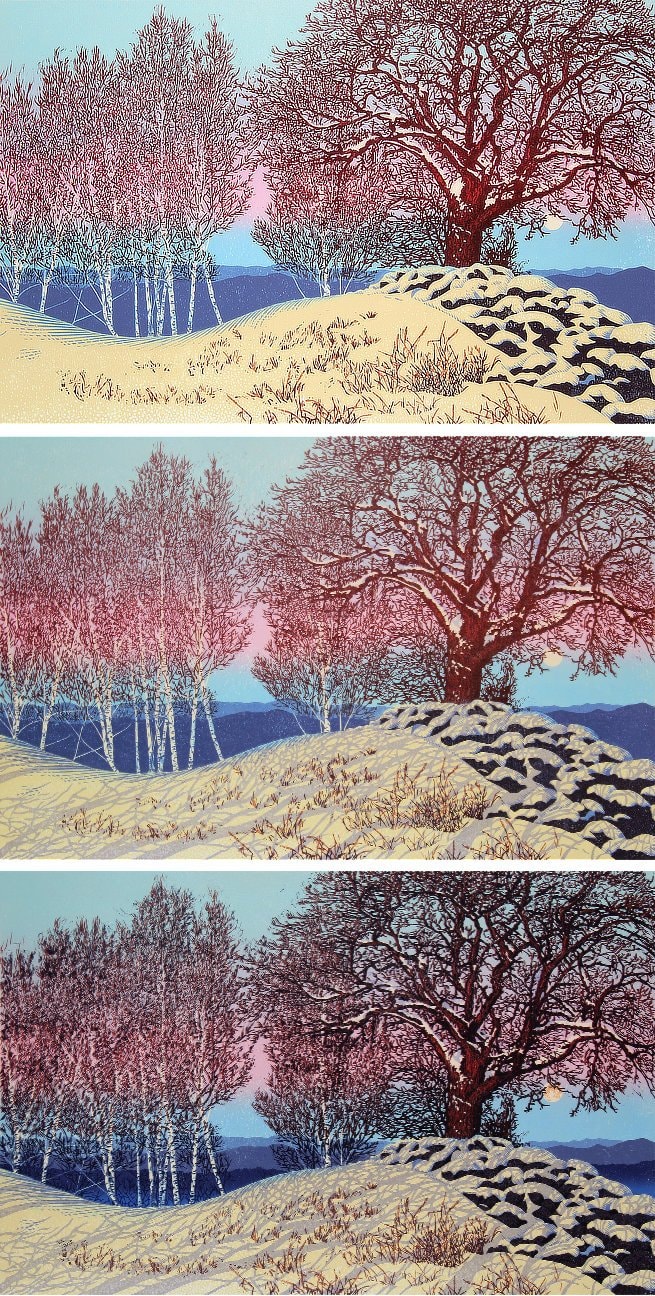 And here is the final print, "Spring Morning", woodcut, 11" x 17"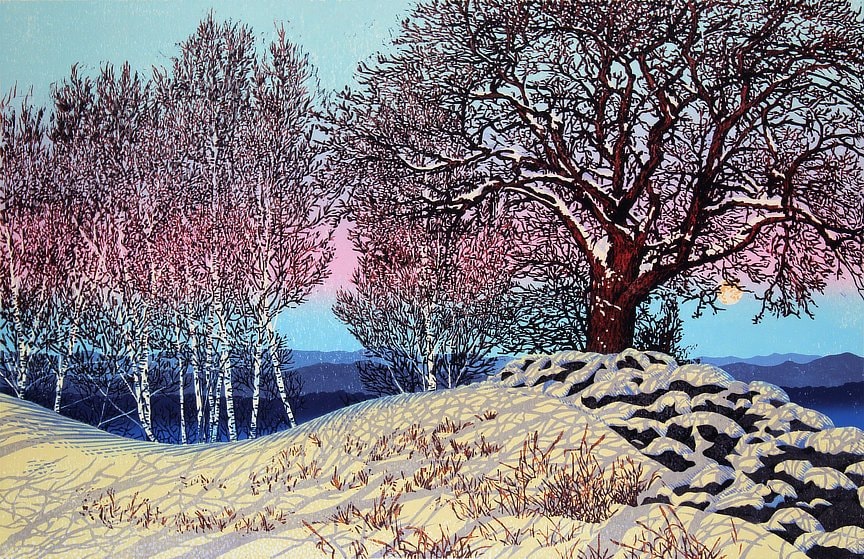 Many weeks of carving and printing, combined with moving to another state made for slow going with this one. Getting all of the colors to line up (to register) was exceedingly difficult this time around. I began with 110 sheets of paper with the intention of getting and edition of 100. However, the technical challenges got the best of me and I ended up getting just 30 good prints out of the 110 I started with. So it goes....
Still, I enjoyed the results and hope you do too. Of course, this print - along with quite a few others - is available from this website. Also, you can see the print in higher resolution.
If you're able to enjoy some of our new-found freedom to be out and about, and you're traveling near one of the galleries which represent me, do drop in and see my work in person.
Take care of each other and take care of yourselves. Don't hesitate to be in touch. I enjoy hearing from you.
Yours,