A Rainy Day In Print
Aug 11, 2022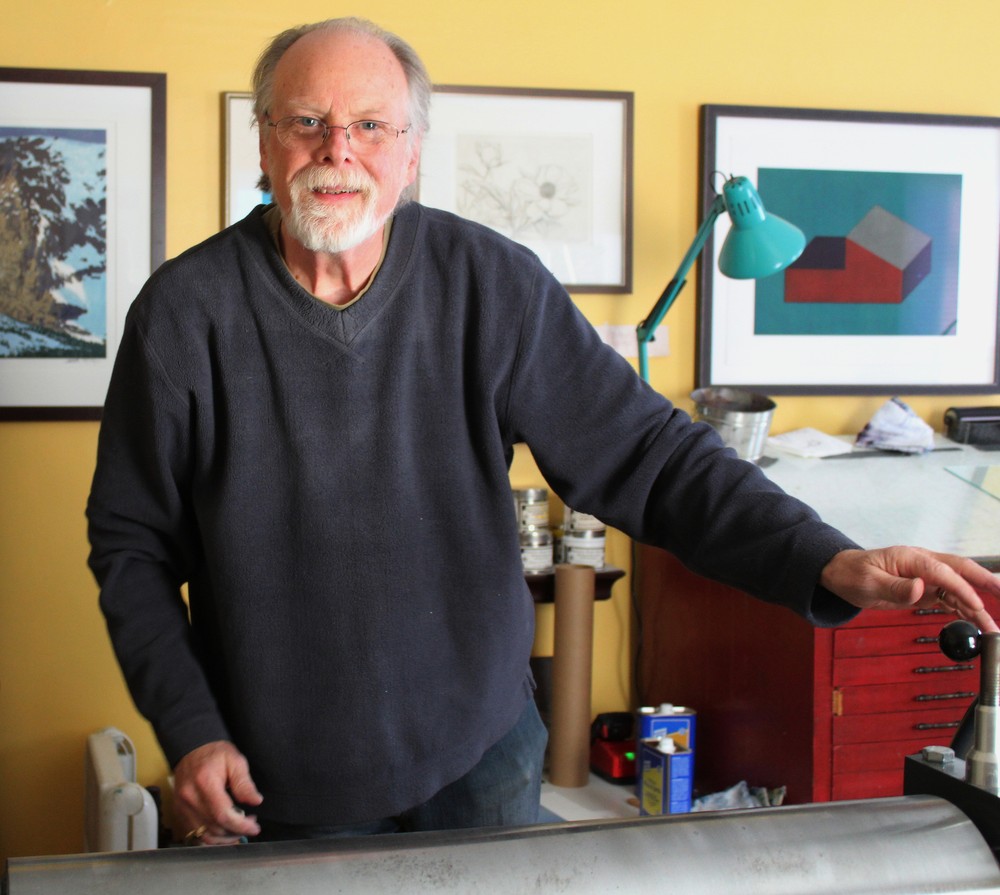 HELLO AND WELCOME FRIENDS,
In the past couple of years I've been making a point of studying and understanding the Japanese tradition of Ukiyo-e (Floating World) prints, mostly from the 19th and 20th centuries. I don't work with the same techniques or the same materials. My approach is much more European. But I love looking at how the blocks are carved and the sometimes very creative uses of color in these popular prints.
They were originally done as souvenirs for Japanese tourists traveling the countryside and often visiting temples. The idea of a limited edition print was unknown. The images were often commissioned by a publisher and as many prints as could be sold were printed - sometimes over the course of decades, even centuries. They were a completely commercial venture from which artistic masterpieces resulted.
Here are two beautiful examples of Japanese temple prints from the 20th century: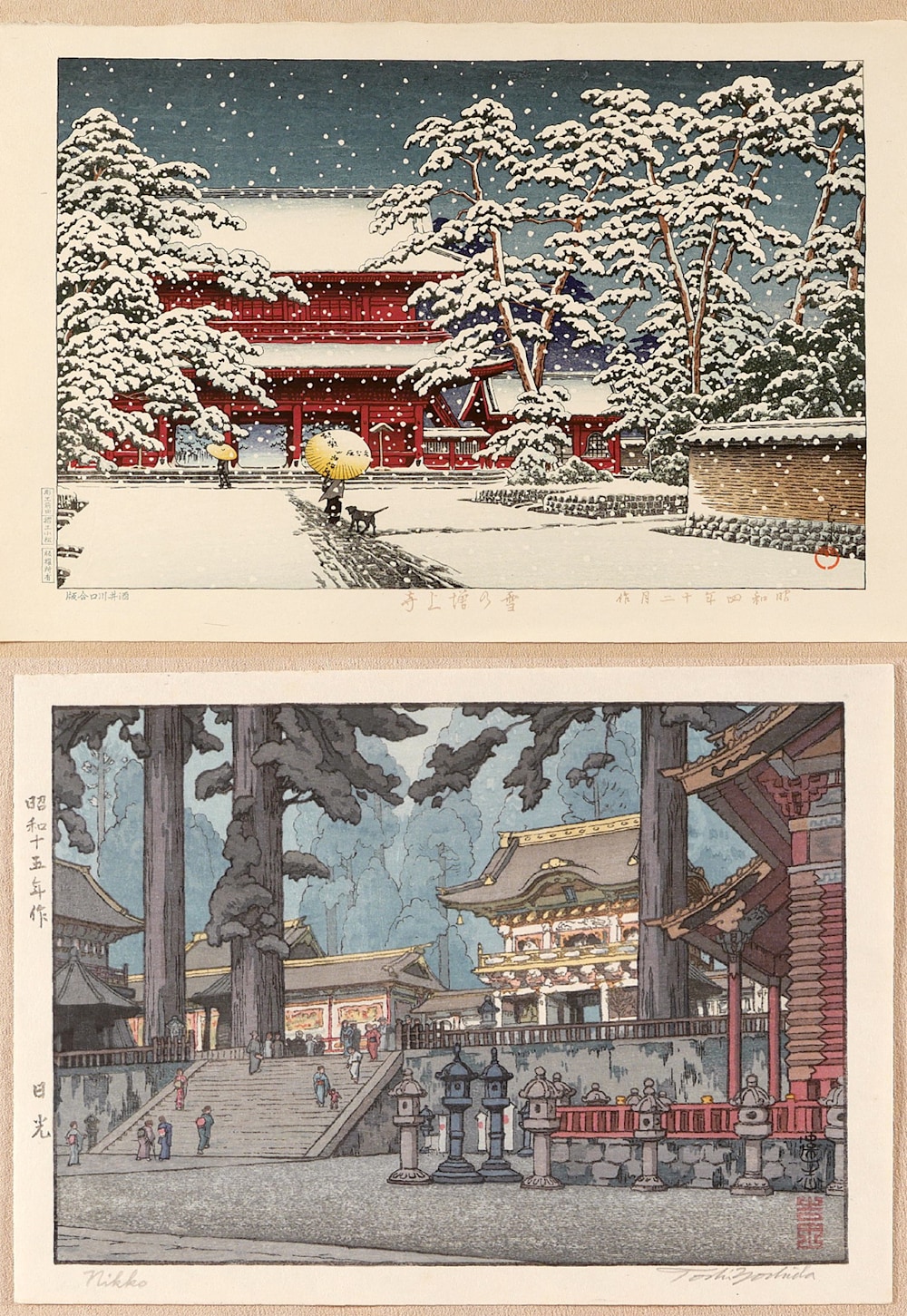 Snow, rain, darkness of night, sunrise, sunset, stormy clouds... these elements were often used to evoke drama and atmosphere.
While walking the dog one morning this past spring I saw brilliant green flowers on a maple tree against the dark red-brown of a 19th century brick house, I immediately thought of depicting it in the rain - which I'd never done before. Here is the original photo I started with: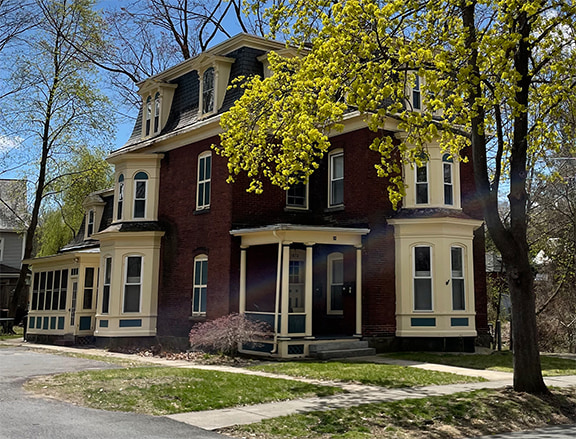 I changed a few things.... Actually, I changed just about everything, adding a woman with an umbrella, some daffodils, changing the tone and mood and taking out some details here and there. I drew out two blocks, one for the house and another for everything else. Here is the block I drew for the house as I am carving away everything but the house. Note that the rain is carved before anything is printed in very small, tapering strokes. In theory, they will be the only white in the print.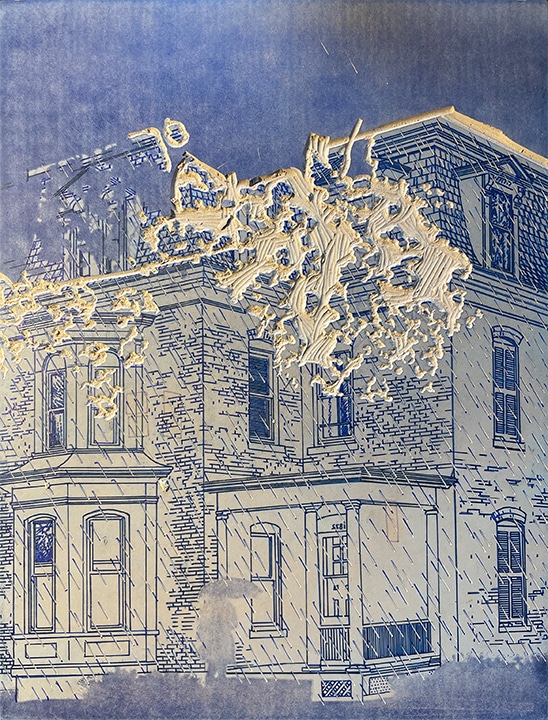 Then I began printing the lightest colors, alternating the two blocks. Here are the first six impressions. With the second block I am printing multiple colors with each impression.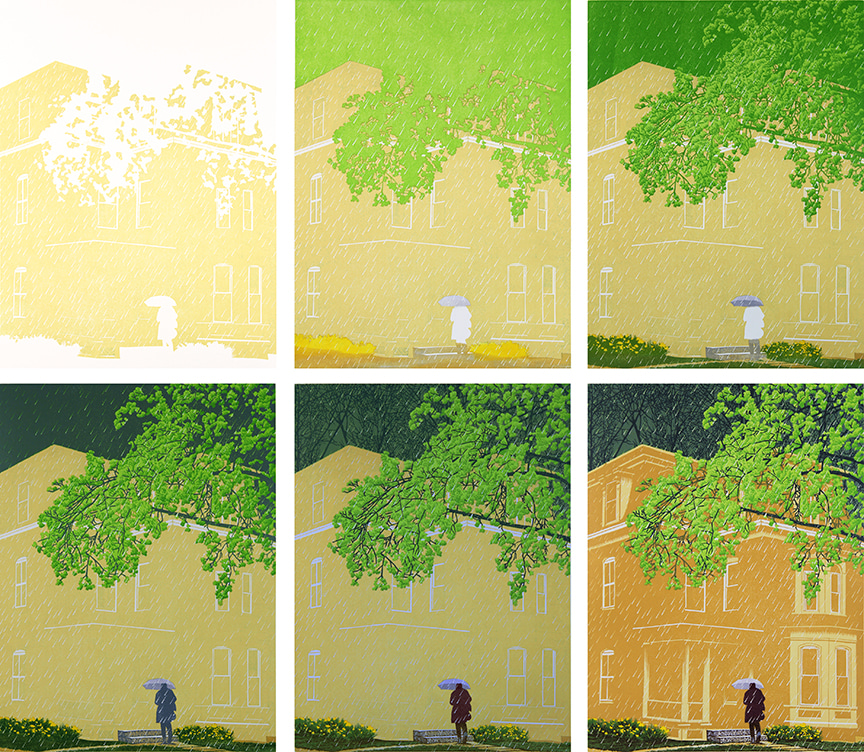 As I continued to carve and print I began to see that the rain was a bit more patterned and regular than I wanted. So I decided to add another layer of rain. This time, instead of carving away white raindrops, I decided to carve away everything but colored raindrops. It was not quite as much work to do this as you might think. Still, it did take me two days to create this third block. Here's what it looks like while carving that: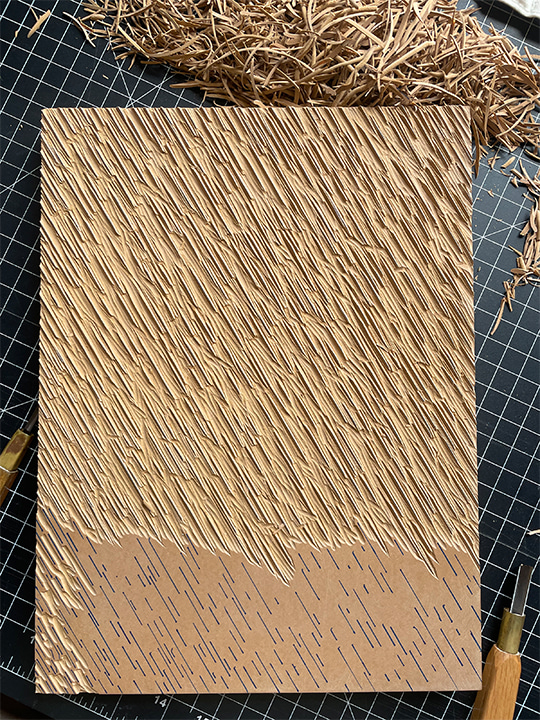 After printing this third block in a gray-violet overtop of the ten previous impressions, I finished this linocut print and here it is: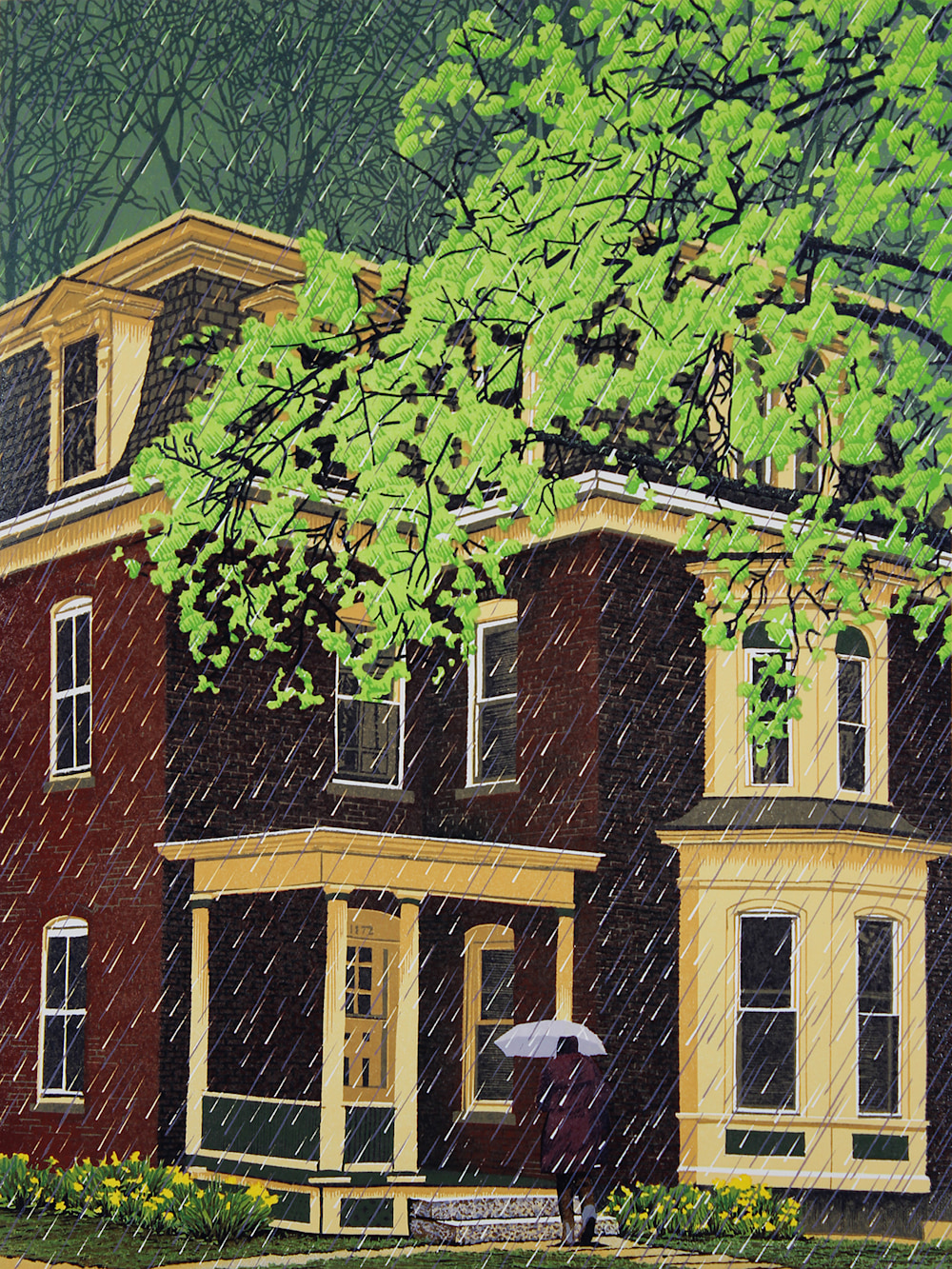 "Spring Shower" 11-color linocut print, 12" x 9" (31 x 23.5 cm)
Thank you for going through this process with me. As always, this print is available for purchase on this website. I do occasionally receive visitors at my studio. So, if you would like to see my work space and are interested in seeing this piece in person (and others, of course), get in touch. I'll be very happy to show you what I'm working on these days.
I'm happy to tell you that my work was accepted into a national juried show in Providence, Rhode Island this summer and was awarded the Jean Fain Award for Printmaking. The unusual part of this is that the print is a mono print - there is only one. Here's a picture of it since it is not on my website otherwise. If you're interested in purchasing this unique print, get in touch with me and we'll discuss it.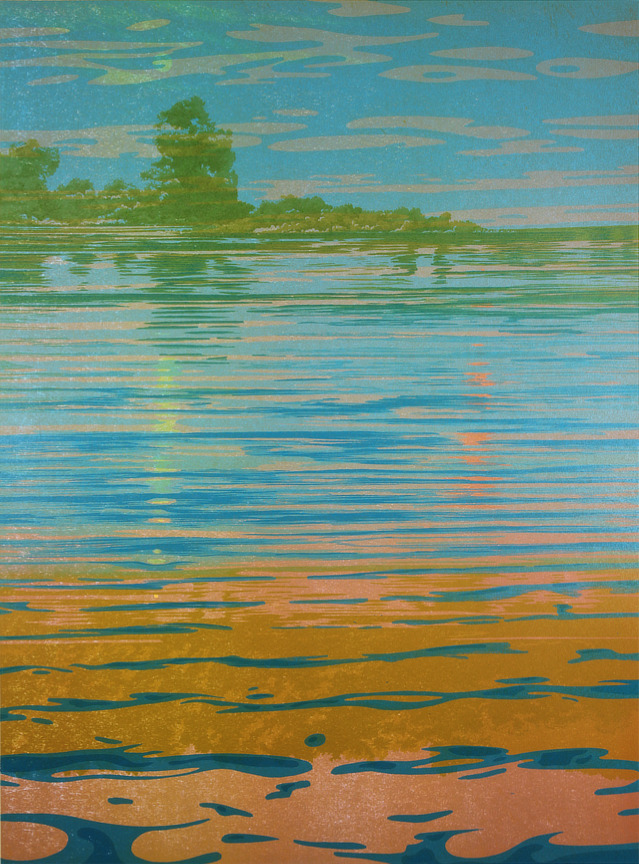 "Reflection", woodcut print, 25" x 18.5" (64 x 47.5 cm) P.O.R.
All of the galleries which represent me are open regular hours these days. Take a look at the locations and do drop in to see my work in person. Take care of each other and take care of yourselves. Don't hesitate to drop me an email. I enjoy hearing from you.
Yours,