Abundant Earth
Mar 01, 2012
Hello and Welcome Friends,
It has been a busy couple of months since I wrote to you last. I've been ruminating about this business of making a living as an artist. You know, I've been a painter for several decades now, working in oils on canvas. And I love it. It continues to be challenging and there simply are not enough hours in the day to accomplish what I have in my head.
But, like everyone else, I have responsibilities which require my attention. While making a living as an artist, my attention has been (over the last three years) redirected toward how my work in printmaking has been growing. My audience continues to grow along with sales. And in the first week of this month I sat down and "did the numbers" to see whether or not I could make a living at this (relatively) new pursuit of mine. After careful examination and inner deliberation, I decided I could.
Before I continue with the results of that decision, let me share with you a print that I recently completed. This is an image which celebrates the lush carpet of forests covering the eastern mountains of the United States. In Vermont, they're called mixed hardwood, deciduous forests. There are two versions of this print I'll share with you.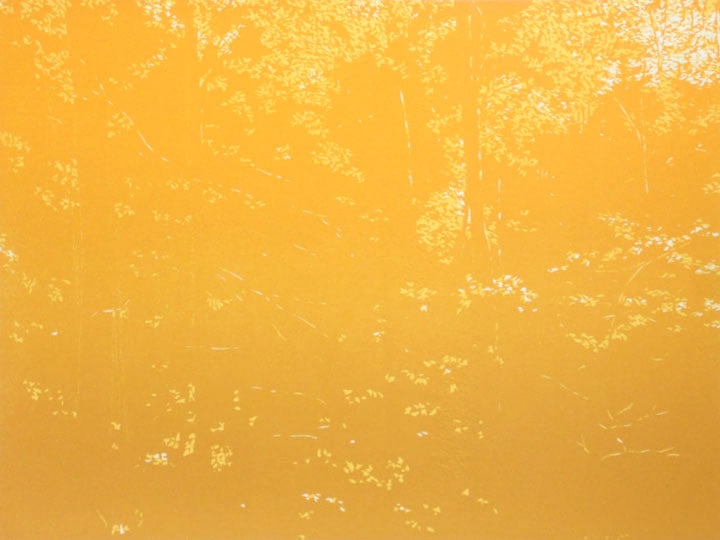 Abundant Earth with two colors printed
Above is the beginning of the print, "Abundant Earth." There are two impressions at this point. Each impression has two colors which graduate from darker to lighter, bottom to top. So you'll notice an orange tinge to the second impression at the top while it becomes a yellow with brown and green in the lower portion. The idea here is to continue this throughout the print and add to the sense of light coming from above in the forest.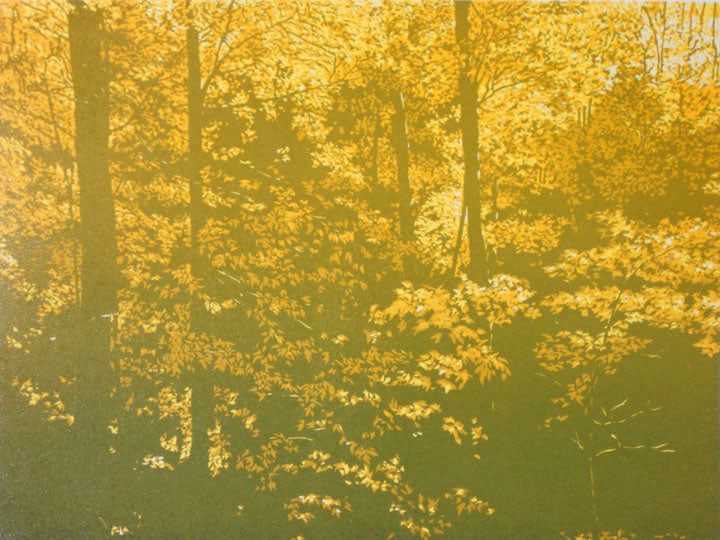 Abundant Earth with four colors printed
Above is the print after two more impressions. Again, you'll note that there is a darker to lighter graduation of tones throughout. This blending of two colors is accentuated by emphasizing cooler to warmer colors (bottom to top).
Below are two images of the block used to make the print. On the left is the block being carved in preparation for printing color number three. On the right, the same block after printing color number four. The result after color number four is above.

And below is the finished print: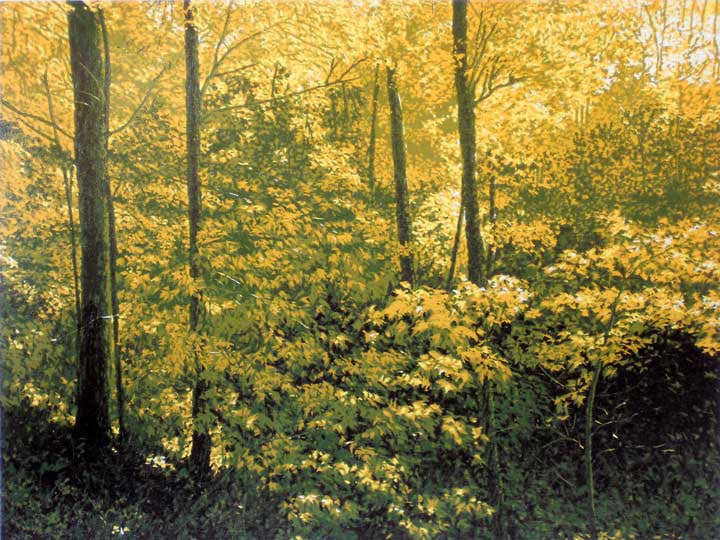 "Abundant Earth" 9" x 12" 6-color Linoleum Block Print, edition of 43
I decided right from the beginning that I was going to do two versions of this print by using the same blocks to print different color combinations. I'll share the second version with you next month.
I decided that I need to increase the number of galleries showing my work by a significant multiple in order to make a living at this. So I got started right away and have met some significant success in a very short period of time - about three weeks, so far.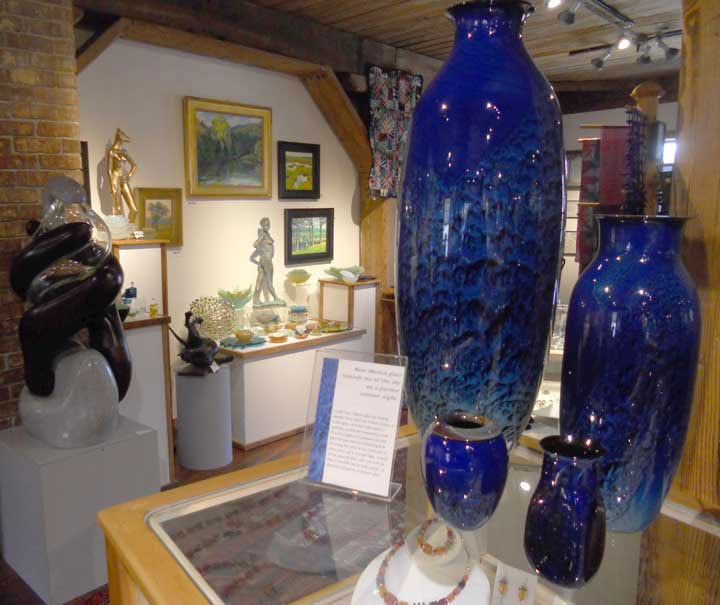 Salmon Falls Artisans Showroom in Shelburne Falls, Massachusetts (that's Josh Simpson's blue glass in the foreground)
My first new venue is pictured above. It is the Salmon Falls Artisans Showroom in Shelburne Falls, Massachusetts. Most people know Shelburne Falls for its fantastic Bridge of Flowers and for the studio of glass maker Josh Simpson. Of course, there's more... and this gallery overlooking the river and Salmon Falls is not least among the reasons to visit. The gallery is owned by Josh Simpson and the level of craftsmanship exhibited throughout is a reflection of his refined tastes and skills. I have to say that Patricia and I were mightily impressed at the very high level of quality works in this wonderful shop. In fact, I would go so far as to say you'll not find a better selection of crafts in the region.
My second targeted new venue was the League of New Hampshire Craftsmen. This is actually a network of seven retail outlets throughout New Hampshire and also has a well-earned reputation for a high level of mastery and creativity among a wide range of crafted items. I am very happy to say that, as of yesterday, I am included among their fine artisans. My work will be entering their galleries and on their website over the course of the next month. I could not be more pleased.

As usual, there is more... but I think that is enough for the time being. This Friday (April 6th) is Gallery Walk in downtown Brattleboro from 5:30 to 8:30 PM. I'll have all of these versions of the print out for you to enjoy. I hope I'll see you in the studio on Gallery Walk night or any time. It is always good to have visitors. I enjoy introducing folks to my work. Seeing the art in person is far more interesting than looking at these images online. Come on by!
Yours,
William H. Hays