Capturing The Earth's Breath, "Cirrus Sky"
Feb 25, 2021

HELLO AND WELCOME FRIENDS,
Once again I find myself drawn to clouds. This time, a type of cloud that is, perhaps, the most ephemeral - cirrus clouds. On a beautiful, crystal clear day I went for a walk by the river with my girlfriend and we saw a magnificent display of cirrus clouds in a deep blue sky. The wind seemed to make the earth and sky flow with the wispy arcs of vapor so that the whole landscape flowed like wind moving over a field of grass.
They imagery stayed in my head for months and I decided I needed to try and create an image that would give the feeling of that lovely day. So I began with a pencil drawing that took about a week to do. Now, when I do these drawings I am not really thinking about the drawing itself. I'm thinking about how I am going to carve and interpret the imagery in the woodcut that was to follow.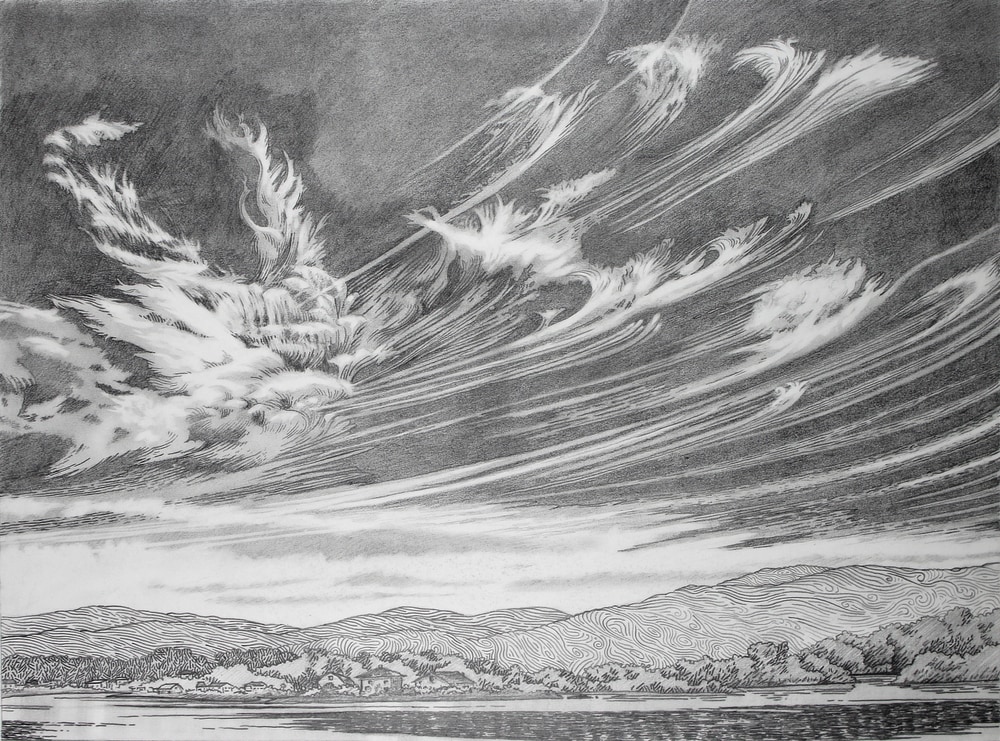 Pencil study for Cirrus Sky, 18.5" x 25"
You'll notice that the mountains and trees are not depicted with shading, rather they are interpreted with patterns. The feeling of the day was as if the earth itself was breathing and flowing. I wanted to get that rhythm rather than trying to render my composition more literally. The patterned lines are to show me how I am to carve the wood block.
​My thought was that I would render the sky with just two impressions using four colors. After sitting on these two impressions and carving for the next three, I decided I needed to carve a second block which would introduce a third color. Below is a detail of the sky which shows you how the three impressions came together.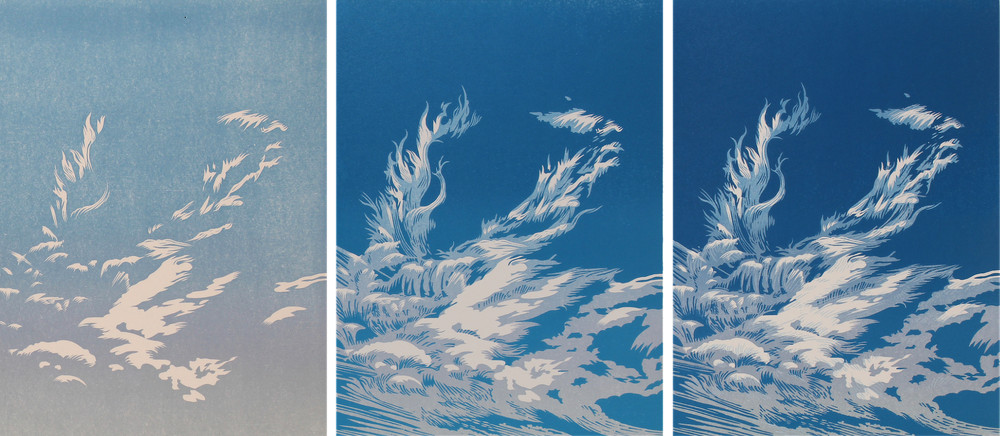 "Cirrus Sky", sky detail, impressions 1 through 3
​The land area in the lower fifth of the print was much more complicated. I ended up doing seven impressions with two different blocks to achieve what I was looking for. By carving the patterns away a little bit at a time and applying progressively darker colors, I was able to get the flow of the patterning along with some degree of rendering the light and shadow on the landscape. Below is a detail of the lower left portion of the print with the first six impressions, followed by the final state after the seventh impression.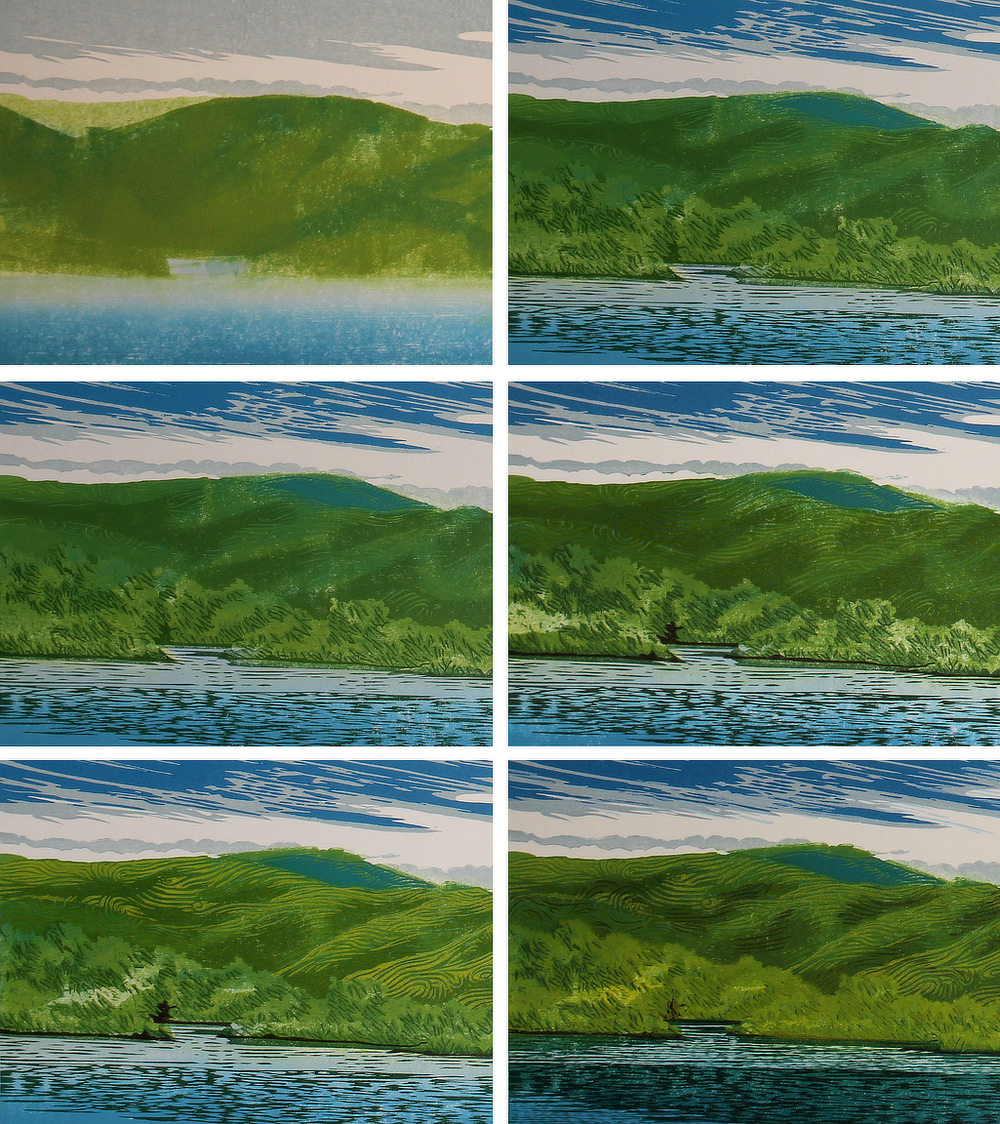 "Cirrus Sky" lower left detail, impressions 1 through 6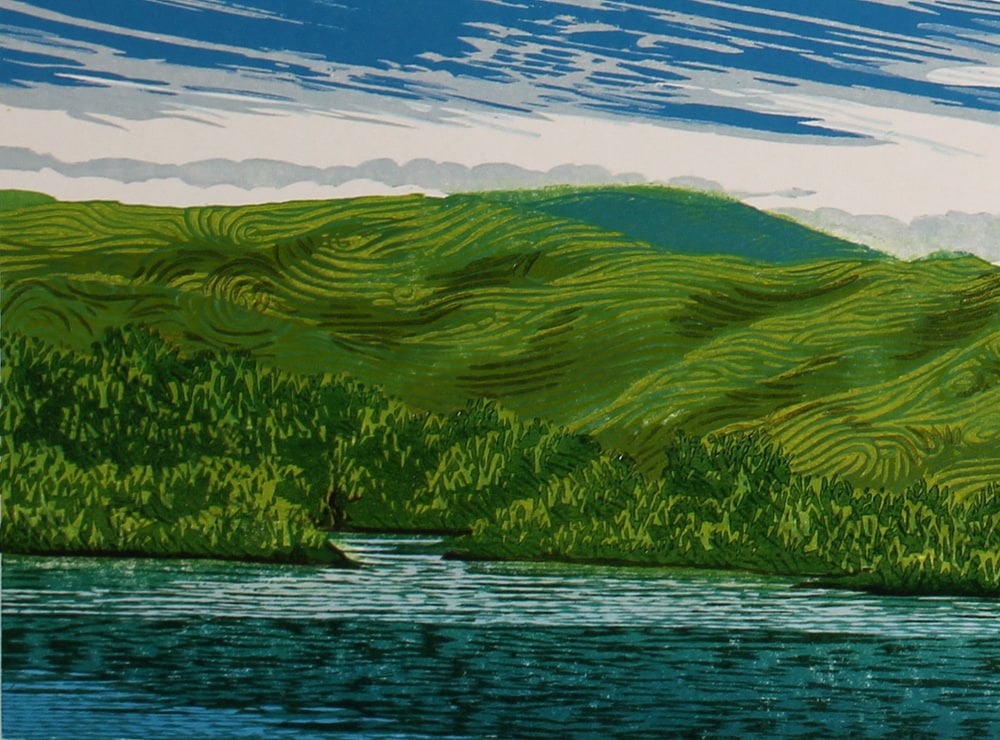 "Cirrus Sky" lower left detail, final state
As I said, the final print used seven impressions with two separate blocks carved multiple times. Except for the last impression, I used multiple colors each time I printed. I didn't tabulate the number of colors I used in total but I would estimate there are about 25 separate colors used to make this print. Below is the final result.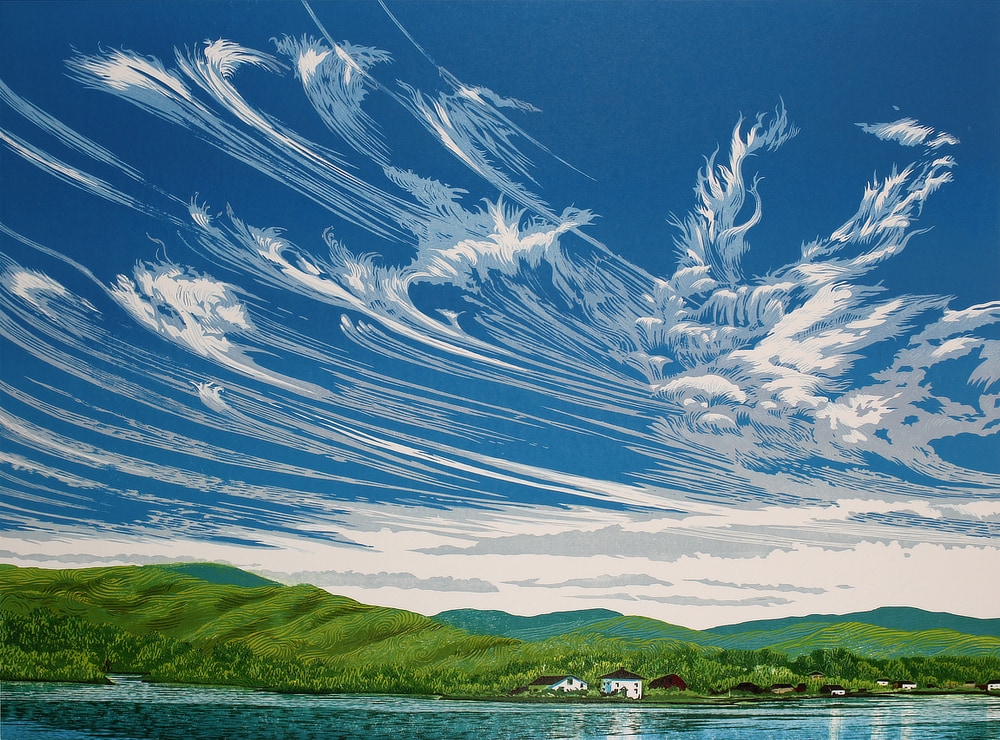 "Cirrus Sky" woodcut by William H. Hays, 18.5" x 25"
Since this is one of my large prints, it took longer than most of the other work I do. In all there was two months of carving and printing to complete this piece. As always, this print is available for purchase on this website. From time to time I have been receiving visitors at my studio. So, if you're interested in seeing this piece in person (and others, of course), get in touch. I'll be very happy to show you what I'm working on these days.
If you're not near my home in Vermont, almost all of the galleries which represent me are open regular hours these days. Take a look at the locations and do drop in to see my work in person. Take care of each other and take care of yourselves. Don't hesitate to drop me an email. I enjoy hearing from you.
Yours,