Carving Clouds, "Migrant Sky"
Nov 19, 2020

HELLO AND WELCOME FRIENDS,
Since I began making linocut and woodcut prints, I've always loved the paradox of carving clouds. Few elements of landscape are as constantly in motion and ever changing as clouds. From moment to moment they change in their structure and the light of the day can become completely different in a matter of moments. Composed of water vapor and droplets, what could possibly be more unlike carving a block of linoleum or wood and printing only positive and negative?
My work has several of these significant limitations and the complexity of the process can be very daunting. One of my fans told me once, "It's like you take oil painting and make it really, really difficult." When I heard that, I had to laugh and say to myself, "That's how it feels sometimes," especially since I have decades of experience with oil painting prior to my printmaking career.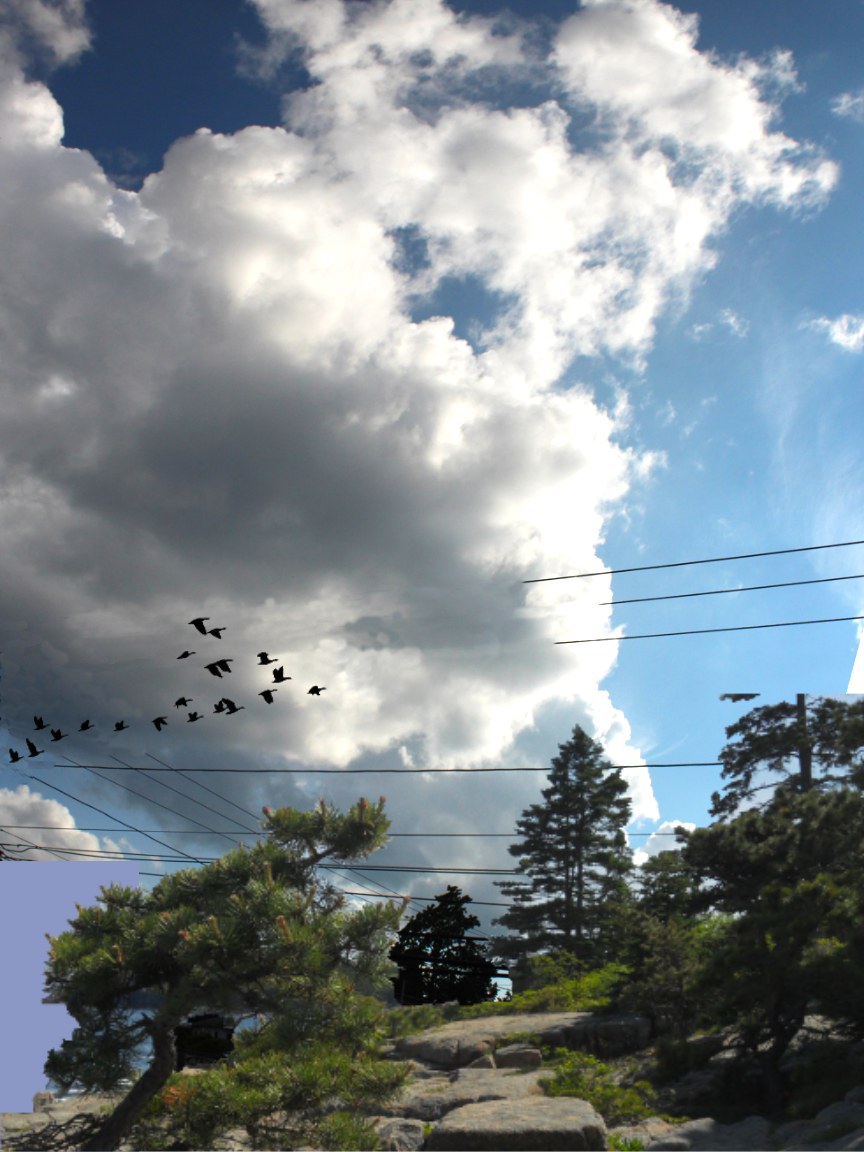 For this print I began with a snap shot of some clouds from my front porch. As always, my photograph did not really capture what I felt looking at them through the telephone and electrical wires of my neighborhood. But the basics were there and it was up to me to find what I felt. I wanted the feeling of looking up into the sky. So I made my horizon line very low and borrowed a photo from a trip to the coast of Maine for the trees and rocks. Adding the birds made the composition character more "of a moment."
Since the sky and the foreground are very different combinations of color, I chose to use two separate blocks and carve each multiple times (reduction printing). I started printing the sky with the first block. Here are the first four steps: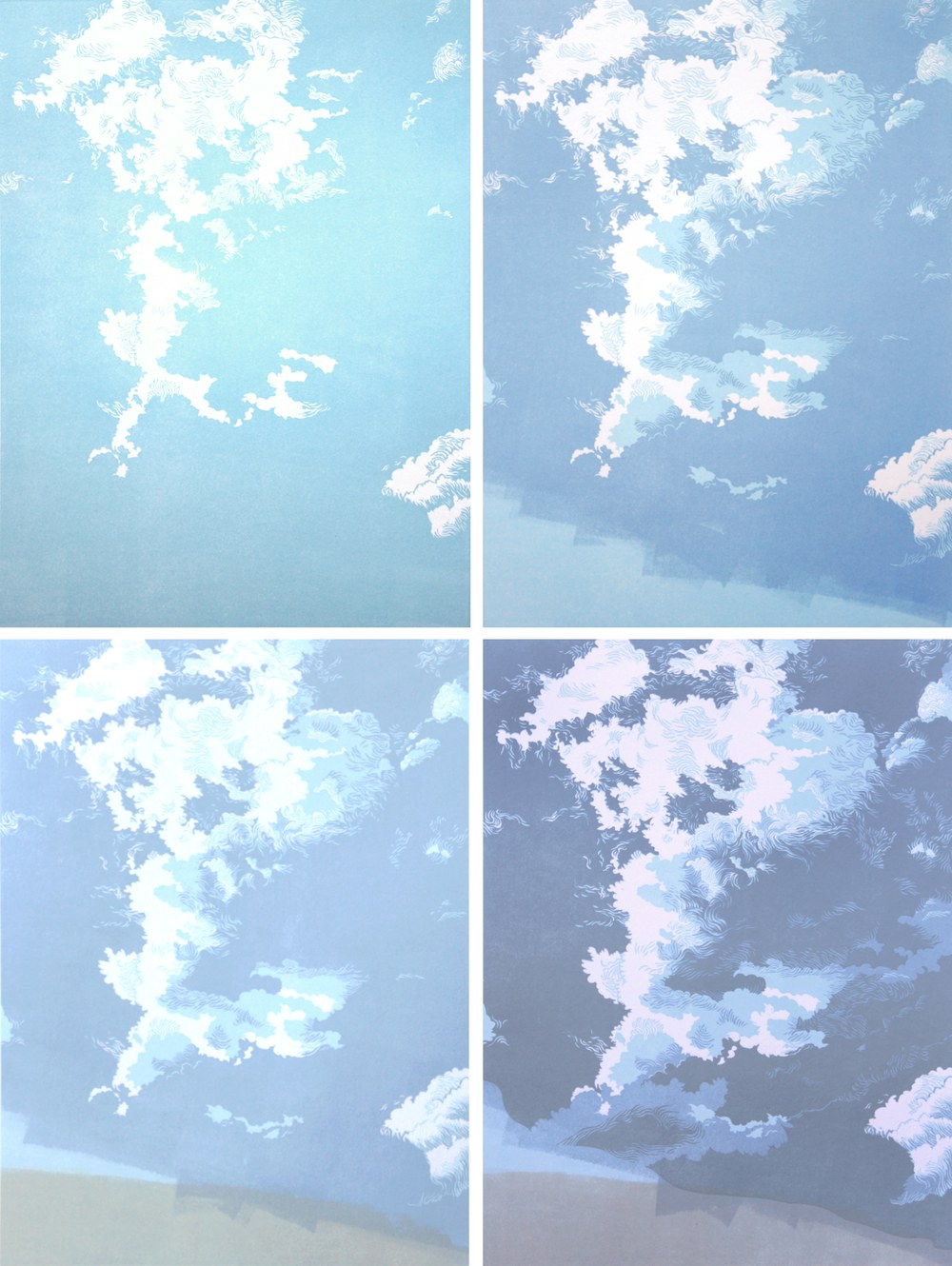 At this point I realized that I wanted a darker gray in the core of the clouds. So I carved a third block to complete the mix of blues and grays in the clouds. Then I printed the sky blue behind them (which you'll see below) completing my use of the first block. I had to print that sky blue twice in order to achieve the intensity of color I wanted.
Below are the three blocks I used (only the third block is carved in these pictures). The first is the sky (above), second is the land/foreground and the birds. The third is the additional gray in the clouds which you'll see better in the final print. You can see that when I draw on the blocks, I am not really rendering what the print will look like. I am making a map that will show me how I am to carve the block.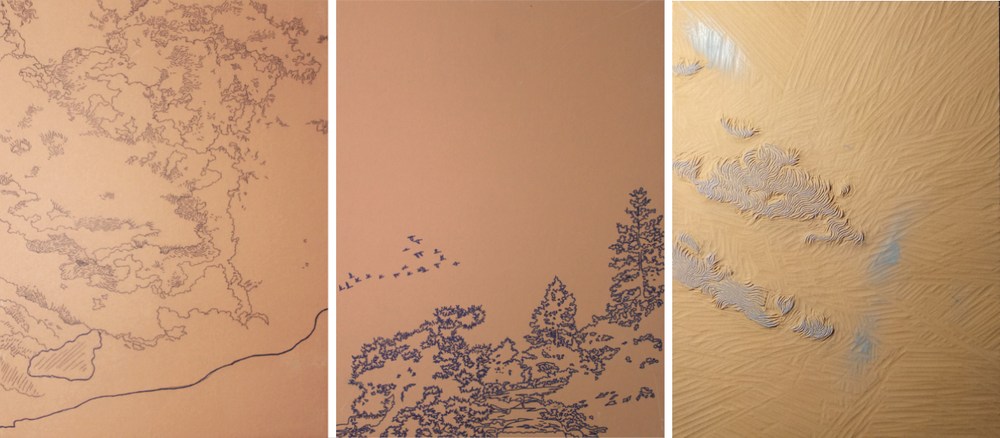 Below are impressions 8 through 10 where the foreground takes shape. In this sequence of three images I am using only the second block (above) incorporating two colors with each impression.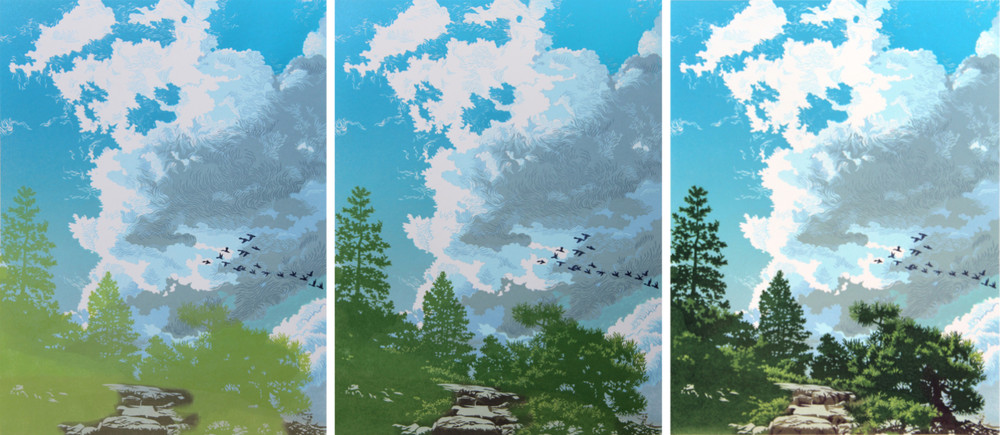 Impressions 8 through 10, "Migrant Sky"
You can see that adding the sky blue prior to beginning the above sequence makes all the difference in how the clouds appear in this print. In all I estimate that I used about 25 separate colors in eleven impressions to complete this linocut print. And here's the final result: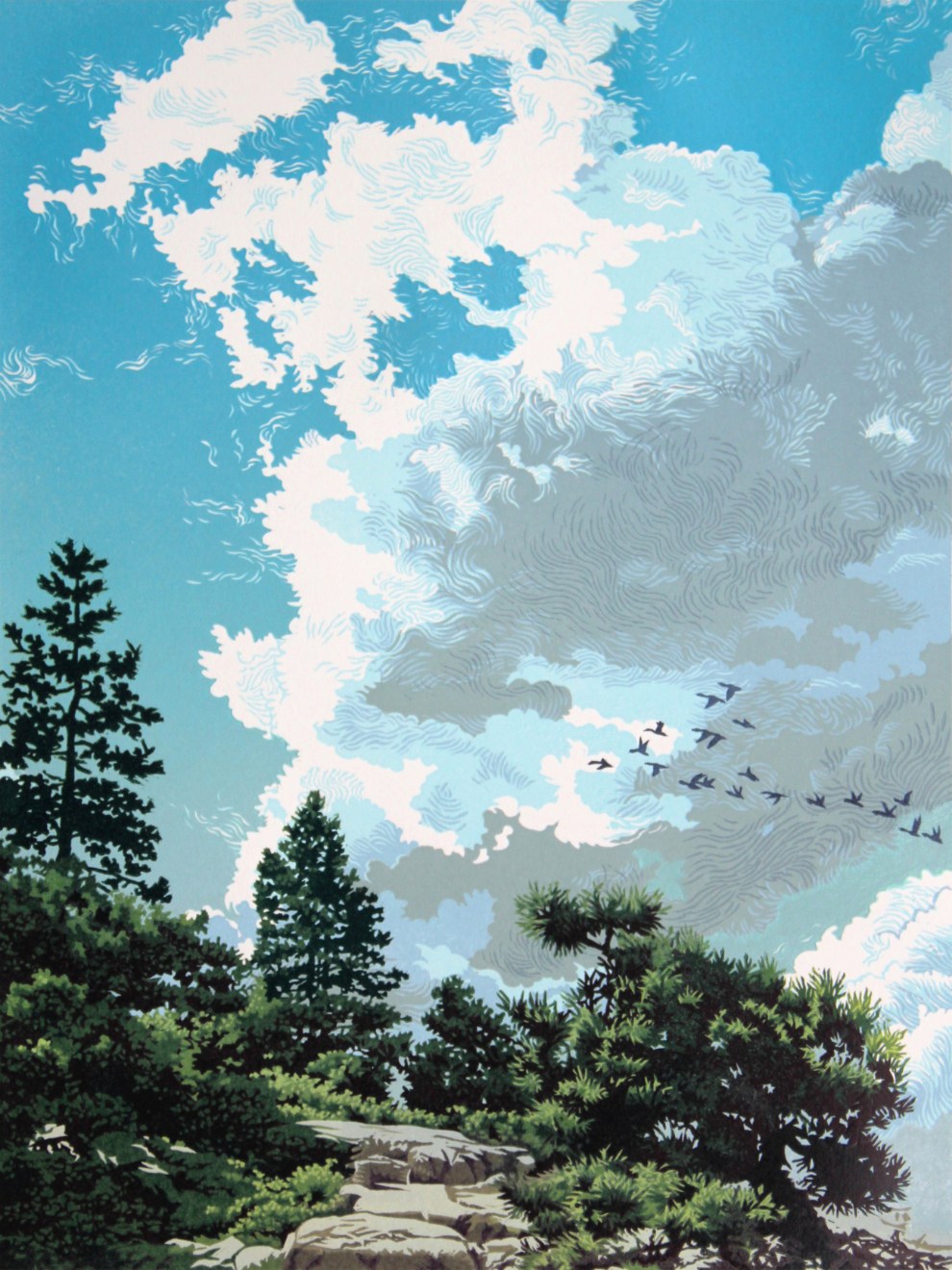 "Migrant Sky" linocut print, 12" x 9" by William H. Hays
In all, this print took two months to complete. I was quite pleased with the results and I hope you are too. The print is available for purchase on this website. Even with the Covid-19 shutdown I have been receiving visitors from time to time at my studio. Get in touch if you're going to be in Vermont and would like to drop by. I'll be very happy to show you what I'm working on these days.
I'm so impressed that almost all of the galleries which represent me are open regular hours these days. So if you're near one of them, do drop in to see my work in person. Take care of each other and take care of yourselves. Don't hesitate to drop me an email. I enjoy hearing from you.
Yours,