Cascades and Colors: "Granite Cascade"
Oct 20, 2020

HELLO AND WELCOME FRIENDS,
From time to time I return to one of my favorite subjects, a stream near my home in southern Vermont. I've done nine oil paintings, many watercolors and sketches and one linocut print of this place. Now I decided to do a large reduction woodcut. Rather than working from photos and the actual place, I decided to start with a small, plain aire oil painting and then incorporate my years of experience into a preliminary drawing.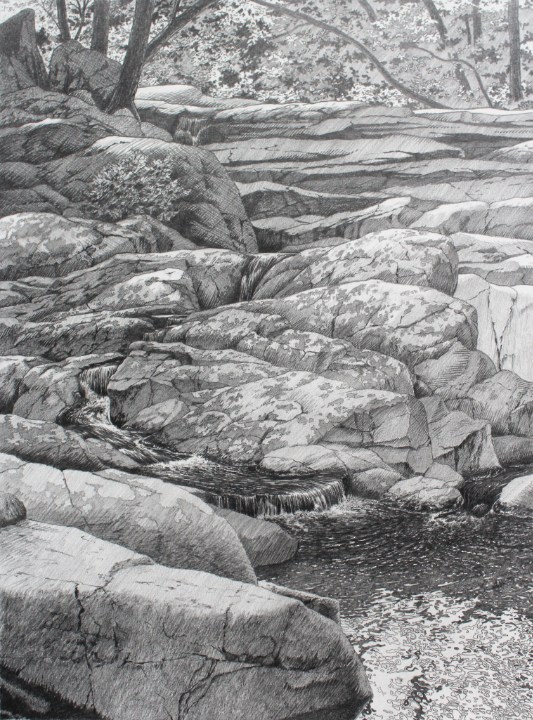 "Granite Cascade" preliminary drawing, graphite on paper, 25" x 18.5"
The drawing took about a week to complete and then several more days to transfer the image over to the woodblock so that I could begin carving and printing. Since my drawing is in black and white, I began thinking about how to translate the idea from B&W to color by considering what families of color I might use, what areas these would be within and what values (light and dark areas) would become different steps in the process. Generally, I print from light colors to dark colors.
I almost always get a kick out of the first step or two because they frequently make interesting, semiabstract images in themselves. This one was no exception. This first impression was done using four colors on a block that was carved minimally to create the highlights of white (the paper). I was told by more than one person that it reminded them of a Milton Avery painting.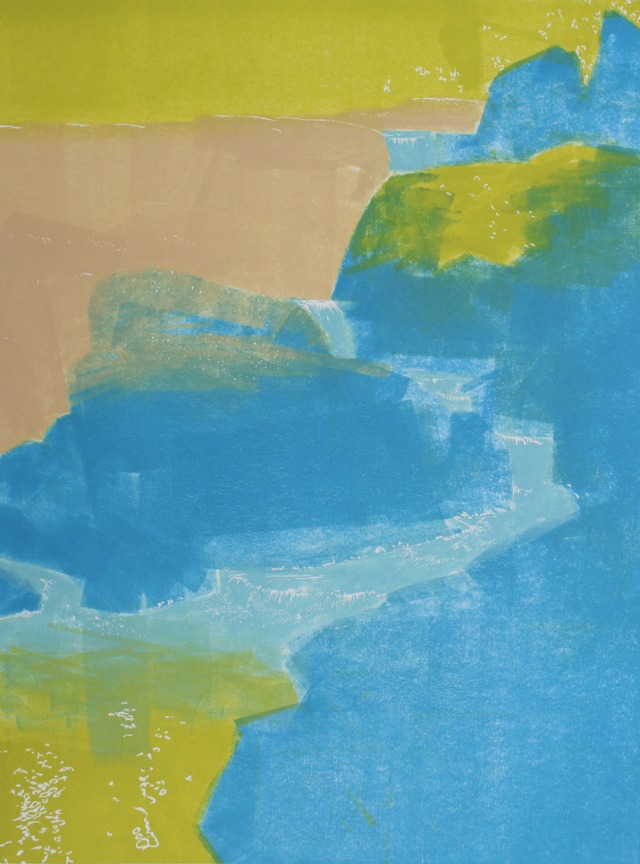 "Granite Cascade" first impression
Since this is a large print for me (25" x 18.5") my edition will be small, 25 prints in total. But I make mistakes along the way. So I started with 31 sheets of paper to allow for them. But you can see that the inking was not simple or straight-forward. To print those 31 sheets of paper took me four days. It was exhausting and gave me a preview of how difficult this print was going to be to complete.
But, in truth, they are all difficult. It's just the way I do these things. Because of the size of the block, the carving too is difficult. There is many decisions to make and much to carve. Here is what the block looked like in preparation for the second impression, followed by the print.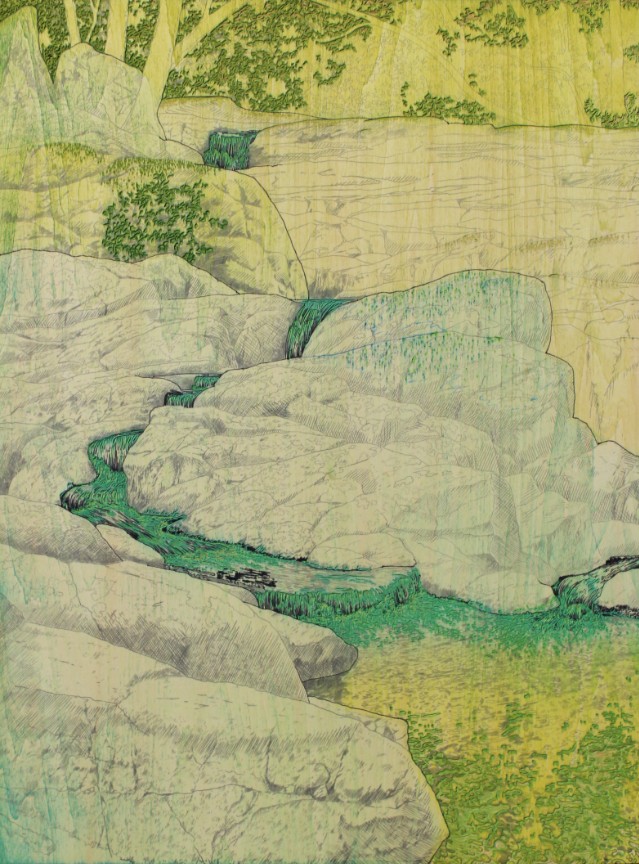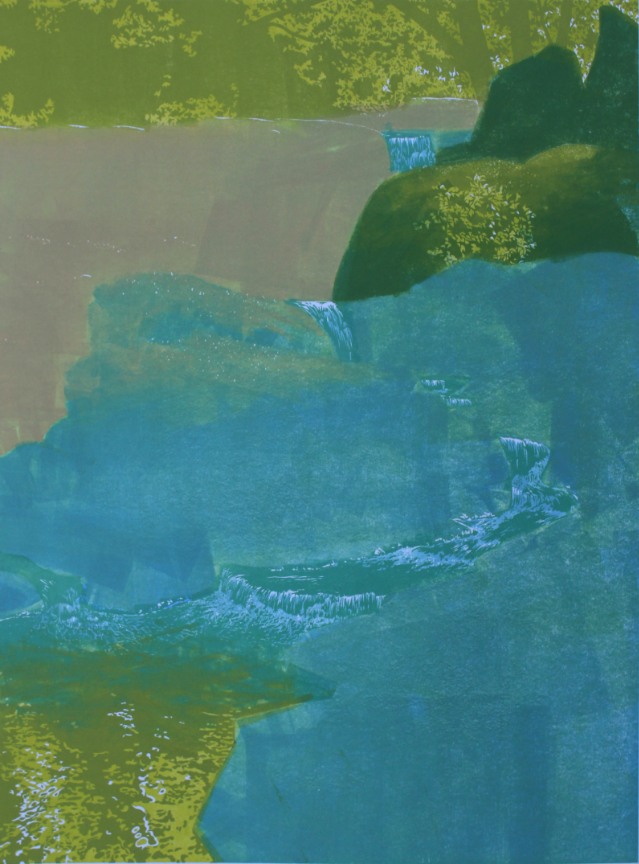 As I mentioned, the carving for each step of the process was very time consuming, complicated and difficult. To give you some idea of what that means, here is a picture of the block as it appeared for printing the fifth (of six) impressions.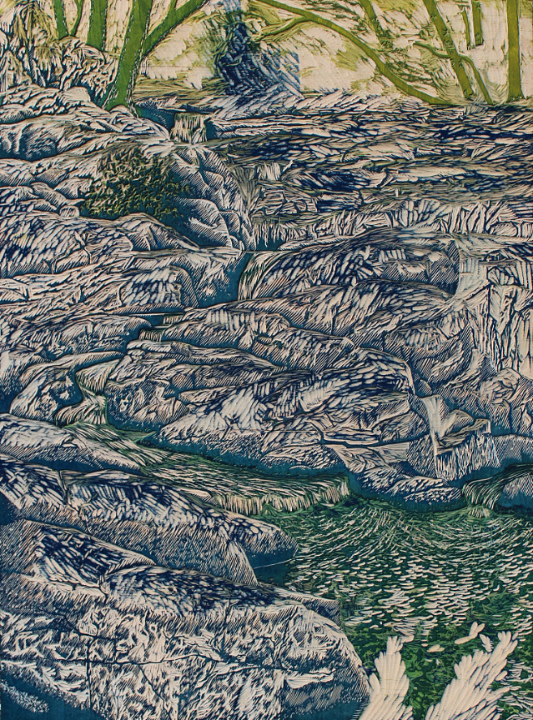 Woodblock, step number 5
Finally, here are the impression three through five followed by the finished print.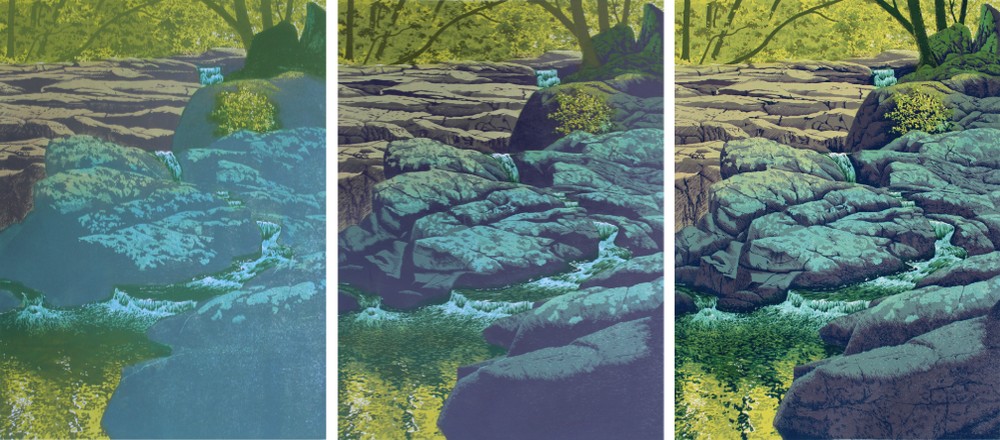 "Granite Cascade", impressions 3 through 5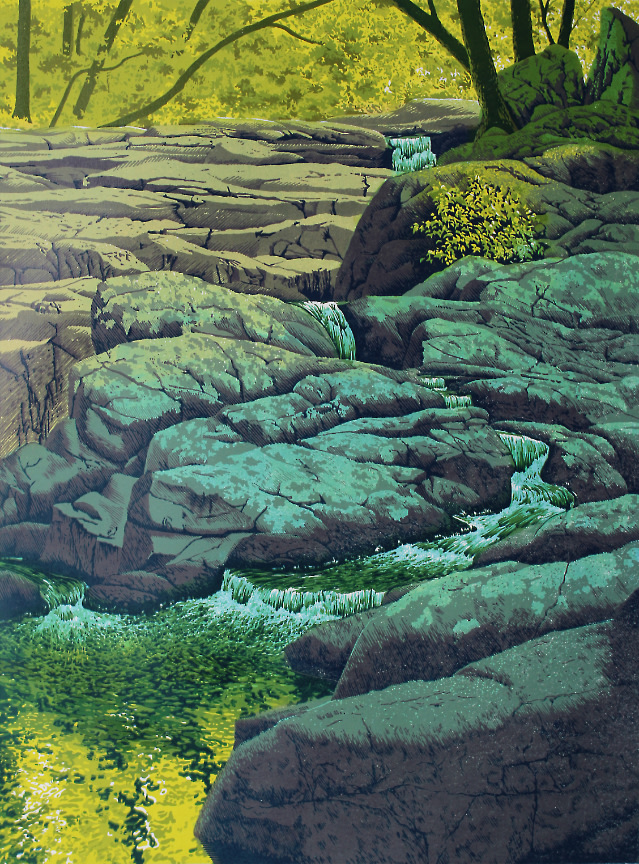 "Granite Cascade", woodcut print, 25" x 18.5"
Because of the Covid-19 shut down, this print took three months to complete. It was a big job even without the shutdown. But it is a big print too! So worth every bit of it. This woodcut is available from this website. Also, you can see the print in higher resolution. Hopefully you are able to get out a little bit these days. I'm pleased to say that almost all of the galleries which represent me are open regular hours these days. So if you're near one of them, do drop in to see my work in person.
Take care of each other and take care of yourselves. Don't hesitate to be in touch. I enjoy hearing from you.
Yours,