Coastline Nocturne and Blue Mountains
Feb 01, 2018
Hello and Welcome Friends,
The rather extreme cold of the last couple months has given way to beautiful, spring-like days and they are most welcome in my chilly studio. To counteract the temperatures, I've been working on prints which are not of the season I'm now in.
This first print is very rare for me. I did this for someone else. My nephew and his partner are getting married and this will be the face of their invitation. They will be celebrating in the mountains of Virginia, commonly called the Blue Ridge Mountains. They sent me some sunset photos from which they wanted me to take my inspiration. From there I worked up a sketch and started in on this little print. Here are the first six impressions. Each impression used two or three colors. As a result, I ended up with an unusual complexity of colors packed into a small space.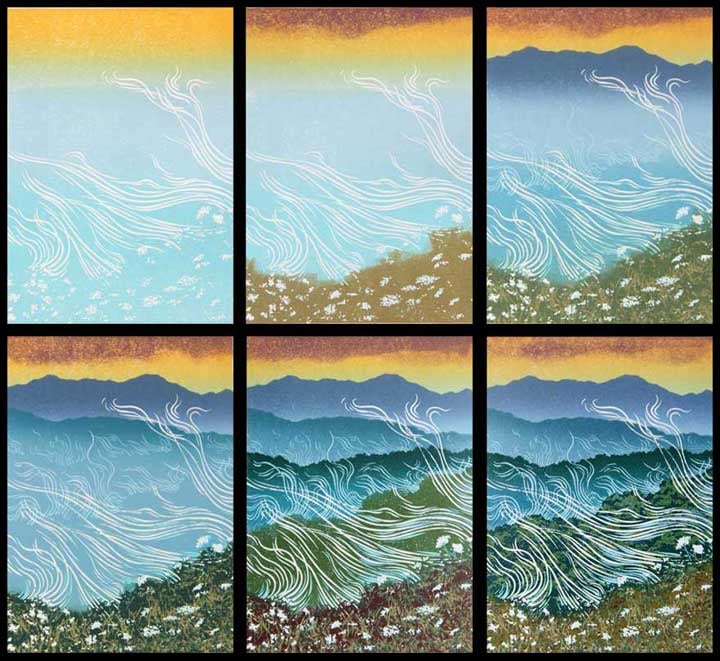 "Blue Mountains", impressions 1-6
And here is the final print.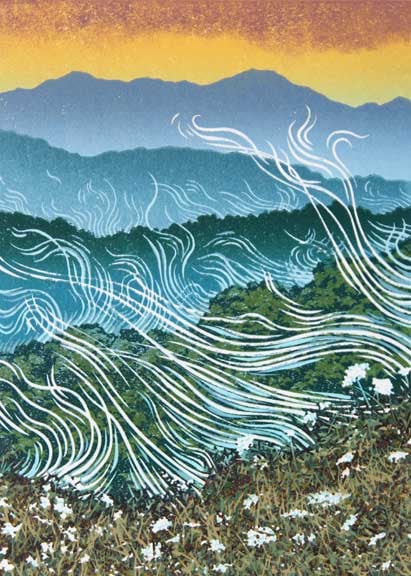 "Blue Mountains", 5" x 7"
This next print was a long time coming. I used to have a house on the coast of Nova Scotia and I spent 12 treasured summers there. What a wonderful place to land with precious friends who shared it with us! To create this composition I took four of my photographs from over the years and took pieces of each to composite an image. Here are the photos: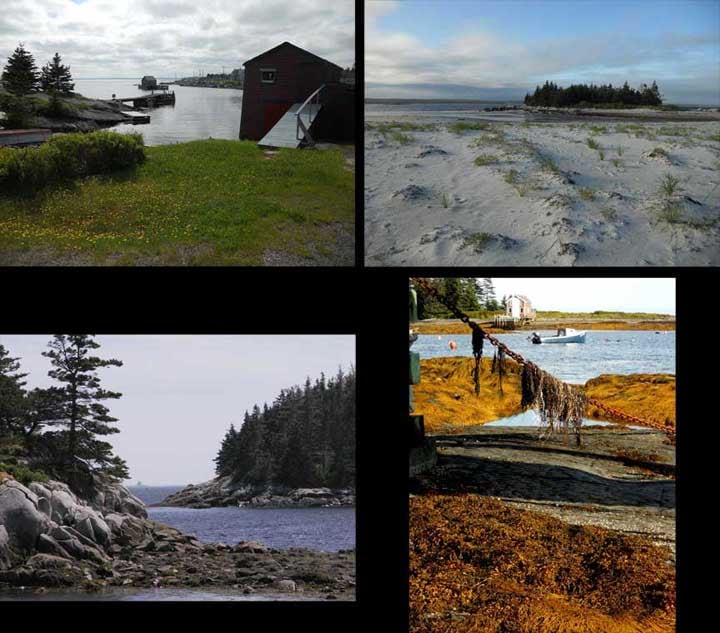 And here is my digital sketch from the four photos.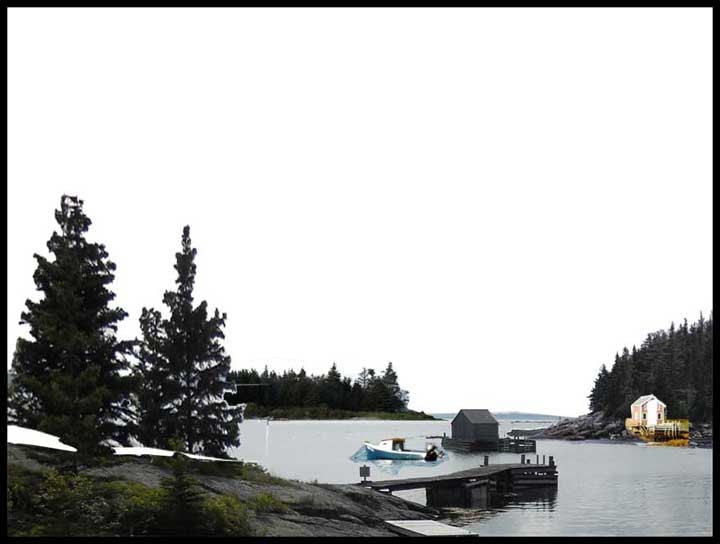 The first thing I did was to ink the block in tiny little places for where I wanted the lights of a fishing shack and reflections to be. Here is my block on the press with the yellow ink in place.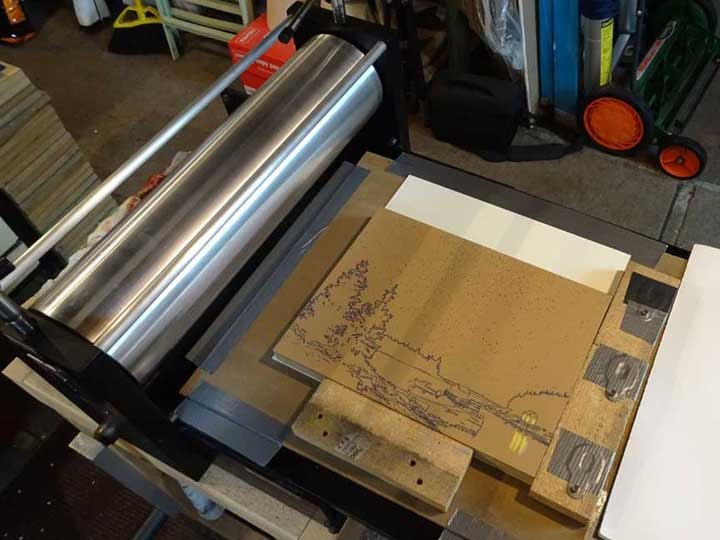 After printing just those little yellow spots 110 times, I carved away the windows and the reflection on the water along with the stars, then I printed the sky and the water. After that, I printed the land and trees in two more passes. Here are impressions two, three and four.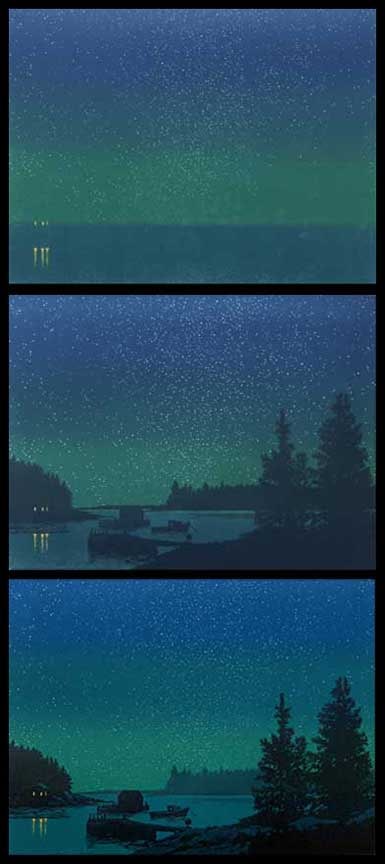 "Coastline Nocturne" Impressions two, three and four.
Finally, I brought in the darkest color for the final details. Although it looks rather black, this final color was a dark, red-violet. Here is the final print followed by a detail of the lower left.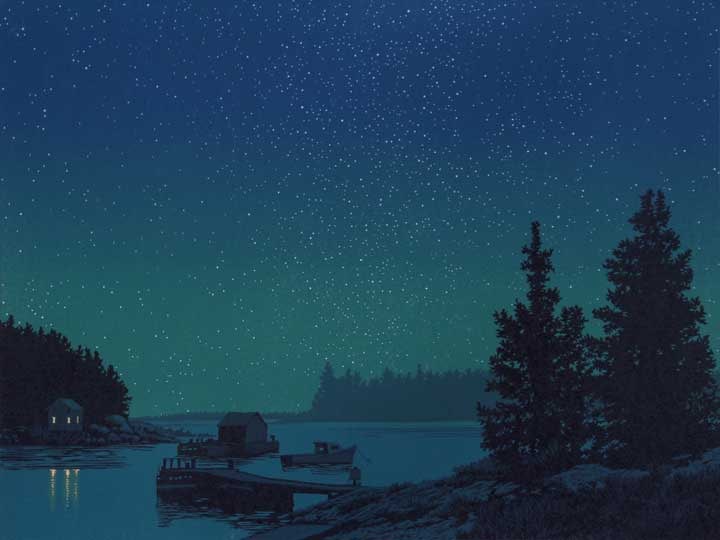 "Coastline Nocturne" linocut print, 12" x 9"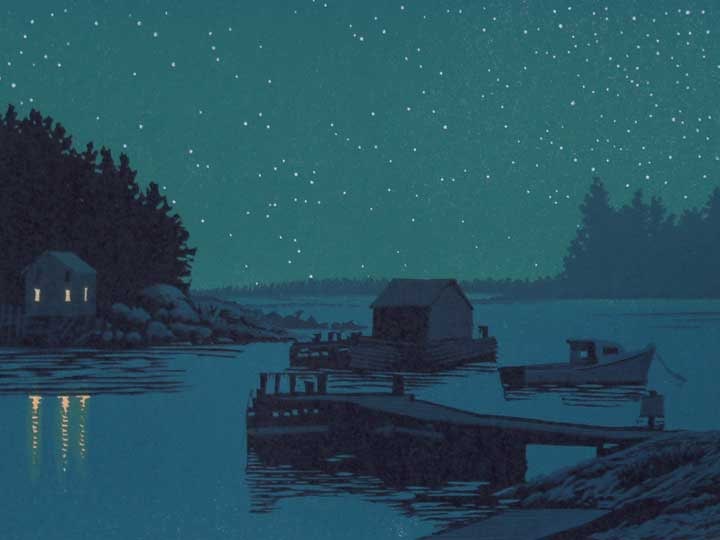 "Coastline Nocturne" detail, linocut print, 9" x 12"
I do hope you enjoyed seeing these new prints. My work has been accepted into a variety of national and regional shows. If you'd like to catch my work in person you can take a look at the galleries which carry my prints or see which shows I'll be in (on my resume). The new prints can be purchased from this website.
Do write. I enjoy hearing from you.
Yours,
William H. Hays