Collaboration, the making of "Ascutney Afternoon"
Aug 21, 2019
Hello and Welcome Friends,
Collaboration hasn't been a frequent part of making art for me. Over the course of my career I've collaborated occasionally. It's been a matter of chance, opportunity and fun rather than a plan. This one started out as chance, became an opportunity and ended up as a plan.
Matt Brown is a friend and fellow printmaker. When I first saw his work in 2012 I said, "Who's that guy? He's good." Coincidentally, Matt came into the same gallery about three weeks later and said almost the same thing to the gallery owner. Over the course of years we would see each other at various events and chat and we got along well together.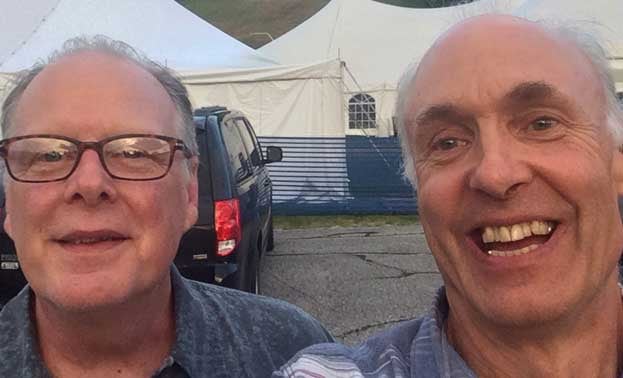 William Hays and Matt Brown at Mt. Sunapee Craft Fair, August, 2017
We were at a show opening in Lexington, MA and Matt asked me if I had ever done any large block prints. I had not and he confessed that he had not either. For me, the issue was that my press was not large enough to do large work. Matt does not use a press, pulling prints in the Japanese style (Moku Hanga), rubbing by hand. But, he told me he had a large etching press that he never uses and maybe we could do a large print together.
Good idea! Let's do it. He suggested that we start with a composition from one of my prints, "Fair Skies."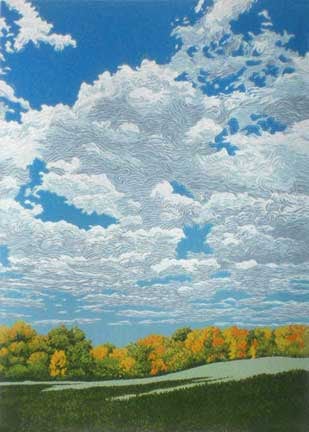 "Fair Skies" by William H. Hays, seven-color linocut, 7" x 5"
At his studio in Lyme, NH, we reworked the composition and transferred the image to six wood blocks, each about 28" x 21". I took three of the blocks with me and Matt kept three. We carved them and then got back together to look at what we'd done and see how they might fit together. We pulled proofs of the blocks and discussed what needed to be done. This process was repeated several times over the course of months. We ended up with about eight wood blocks to begin printing.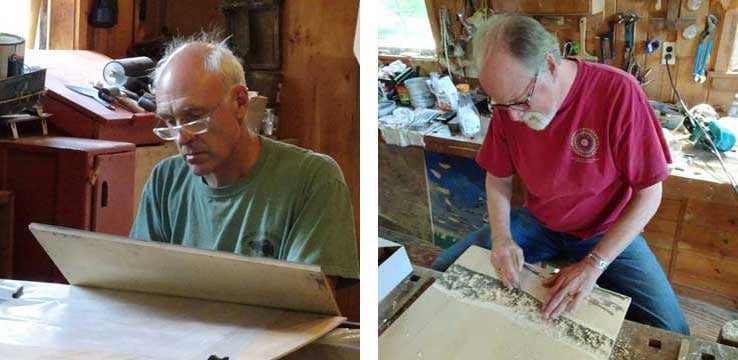 Matt Brown and William Hays carving blocks for "Ascutney Afternoon"
Matt did much of the tweeking and additional carving after we got started printing. Proofing sheet after sheet, Finley Doyle and Todd Renninger were with us for two full days of printing. We were printing with rice paste and water/pigment in the Moku Hanga style, rubbing them by hand with a barren when only smaller parts of the blocks were being printed. But with large areas of color we used an etching press to get more uniform (and easier) prints.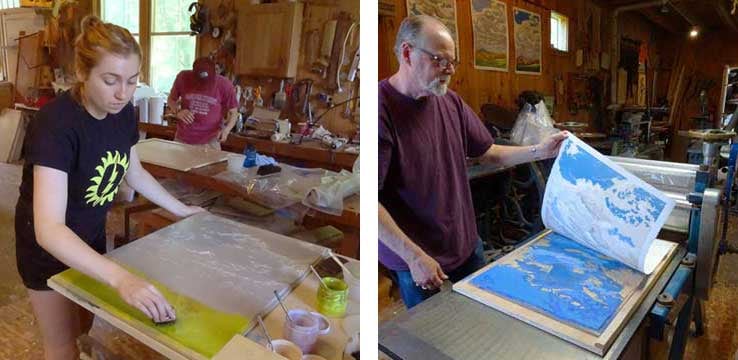 Finley Doyle and Todd Renninger (left) inking blocks. William Hays revealing the print on press.
I don't know how many pieces of paper we used. There were many which were purely trials of the colors or the carving, some sheets on which mistakes were made, and in the end, we ended up with 15 good prints.
Proofs of "Ascutney Afternoon"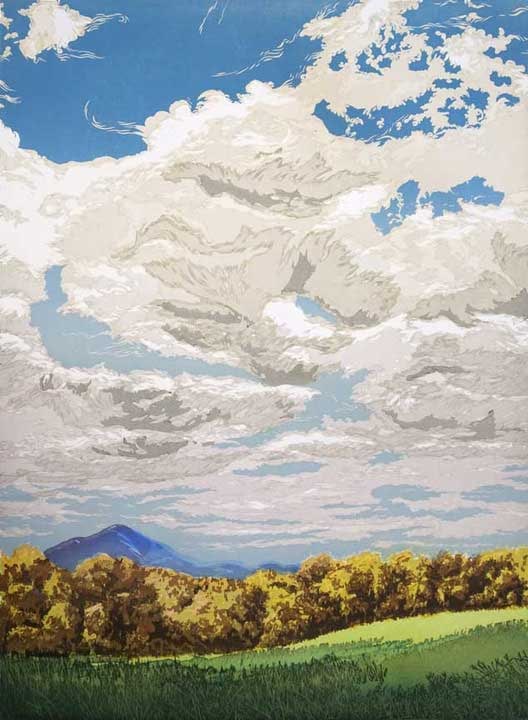 "Ascutney Afternoon" (1st state) woodcut 27¼" x 20½"
That was in 2018. This summer, 2019, we got together once again for another two days of printing (without Finley this time). Matt had recarved one of the blocks completely and further adjusted others. We had also discussed changing some of the colors. It was very interesting to see the new version of the print. This time we completed 20 prints (of the second state).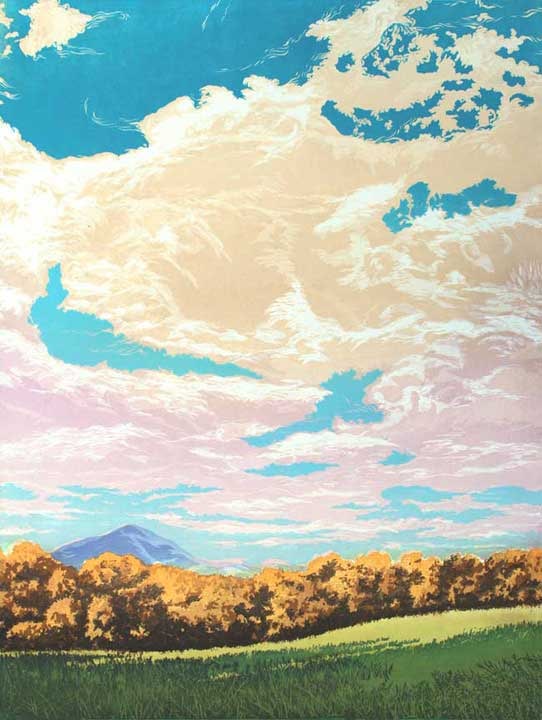 "Ascutney Afternoon" (2nd state) woodcut 27¼" x 20½"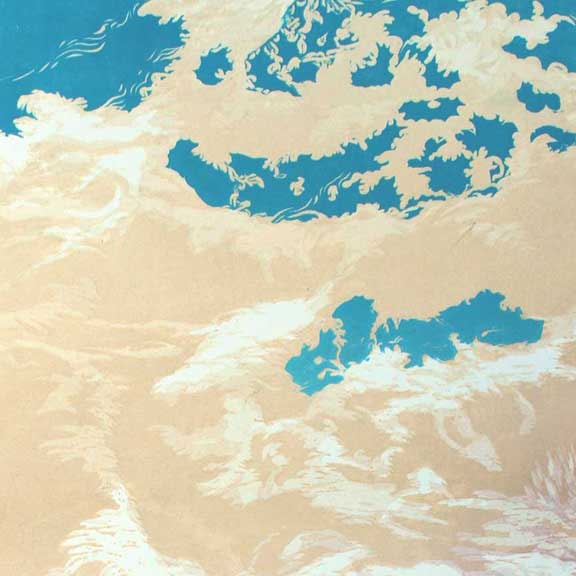 "Ascutney Afternoon" (2nd state), sky detail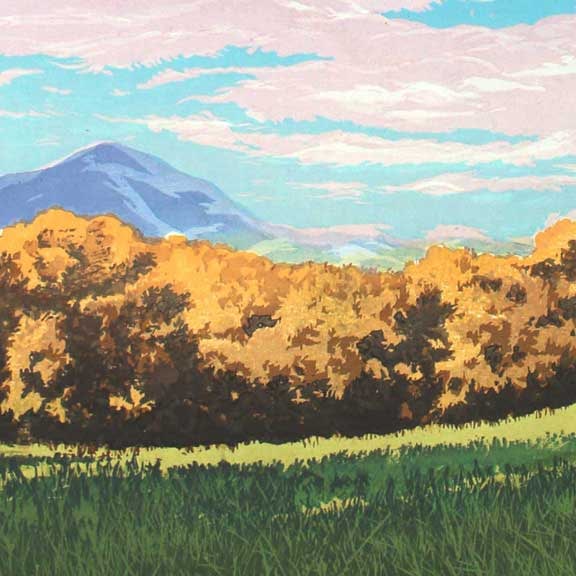 "Ascutney Afternoon" (2nd state), foreground detail
Over two years, this was all time well spent with some wonderful folks. This project got both Matt and I thinking about working larger. My largest print to date has been 11" x 17". My press will allow a larger size but not by much. So I am receiving a new etching press this week and you'll see more of this larger format in the future. My thanks to these folks for their inspiration.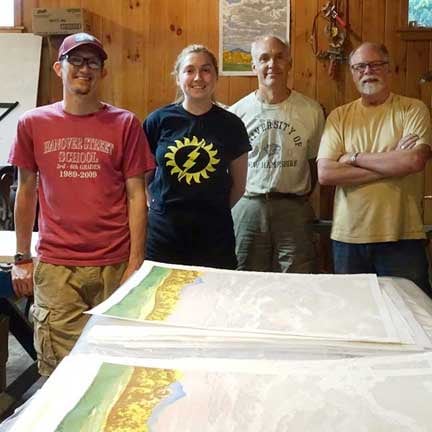 Todd Renninger, Finley Doyle, Matt Brown and William Hays
I'm so pleased to have this new print in my body of work. I hope you've enjoyed seeing it take shape.
Feel free to write. I enjoy hearing from you!
Yours,
William H. Hays