Dawn In The Woods
Feb 19, 2023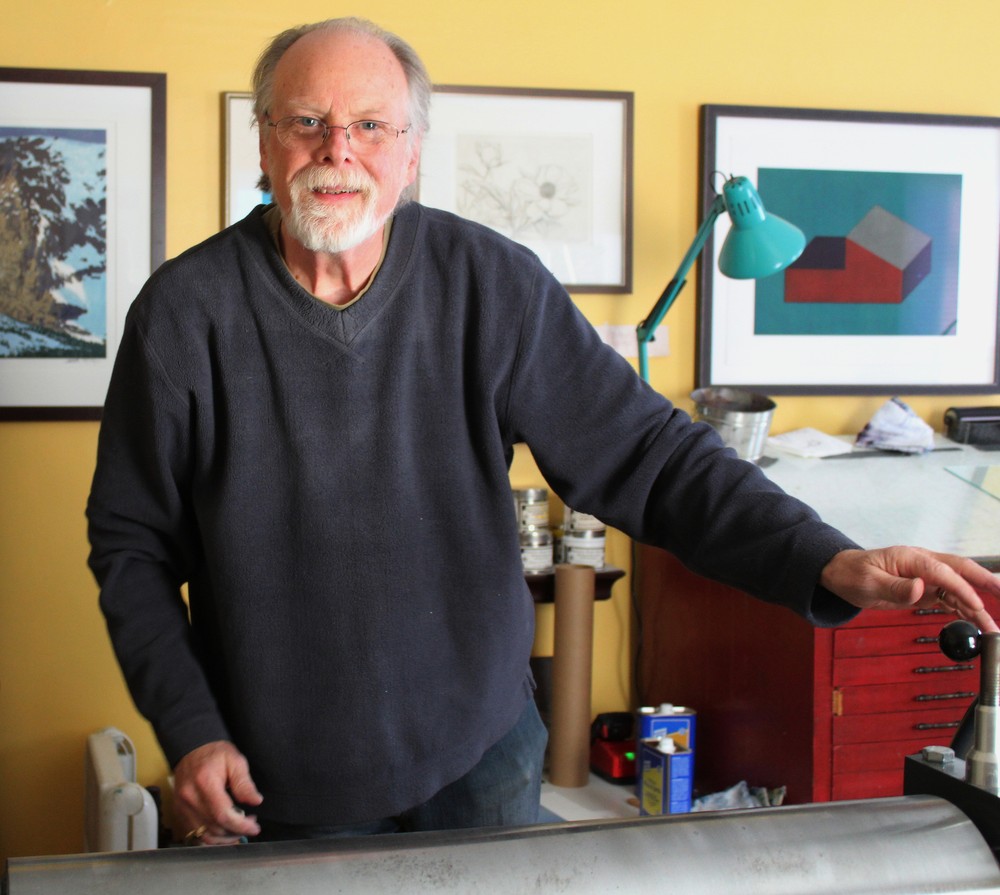 HELLO AND WELCOME FRIENDS,
I think long and hard about each of my prints since it takes many hours to execute the various stages of the process. In the case of this print, I thought about it for twelve years. In 2011 I did a (now sold out) print called "Ice Dawn". I always liked it very much. I thought I could do better though. It percolated until the end of last year when I thought I'd give it a go. Here's the source of my inspiration: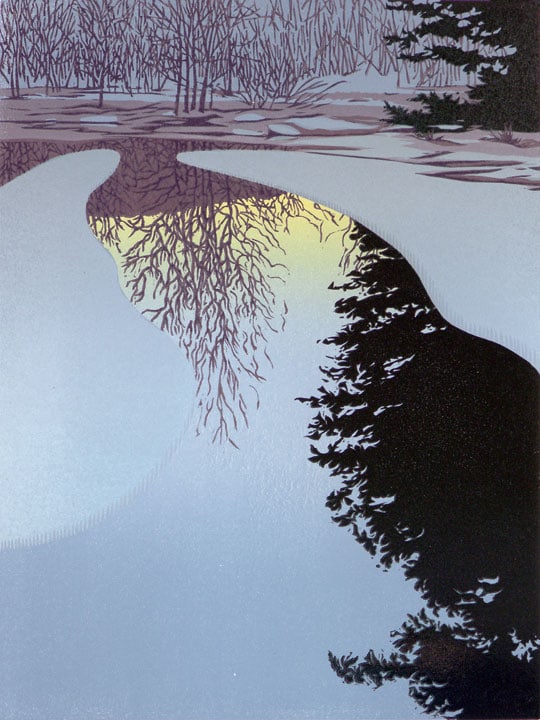 I looked through my cache of reference images. I found a picture that had what I was looking for. The file name had just had a file number to identify it so I thought it was one of my pictures. But it was not! My partner remembered sending it to me some time ago and I had forgotten about it. The picture was taken by a local woman (Elizabeth Denny). I asked her permission to use the photo and I'll look forward to her reactions when she sees the finished print! Here's her photo: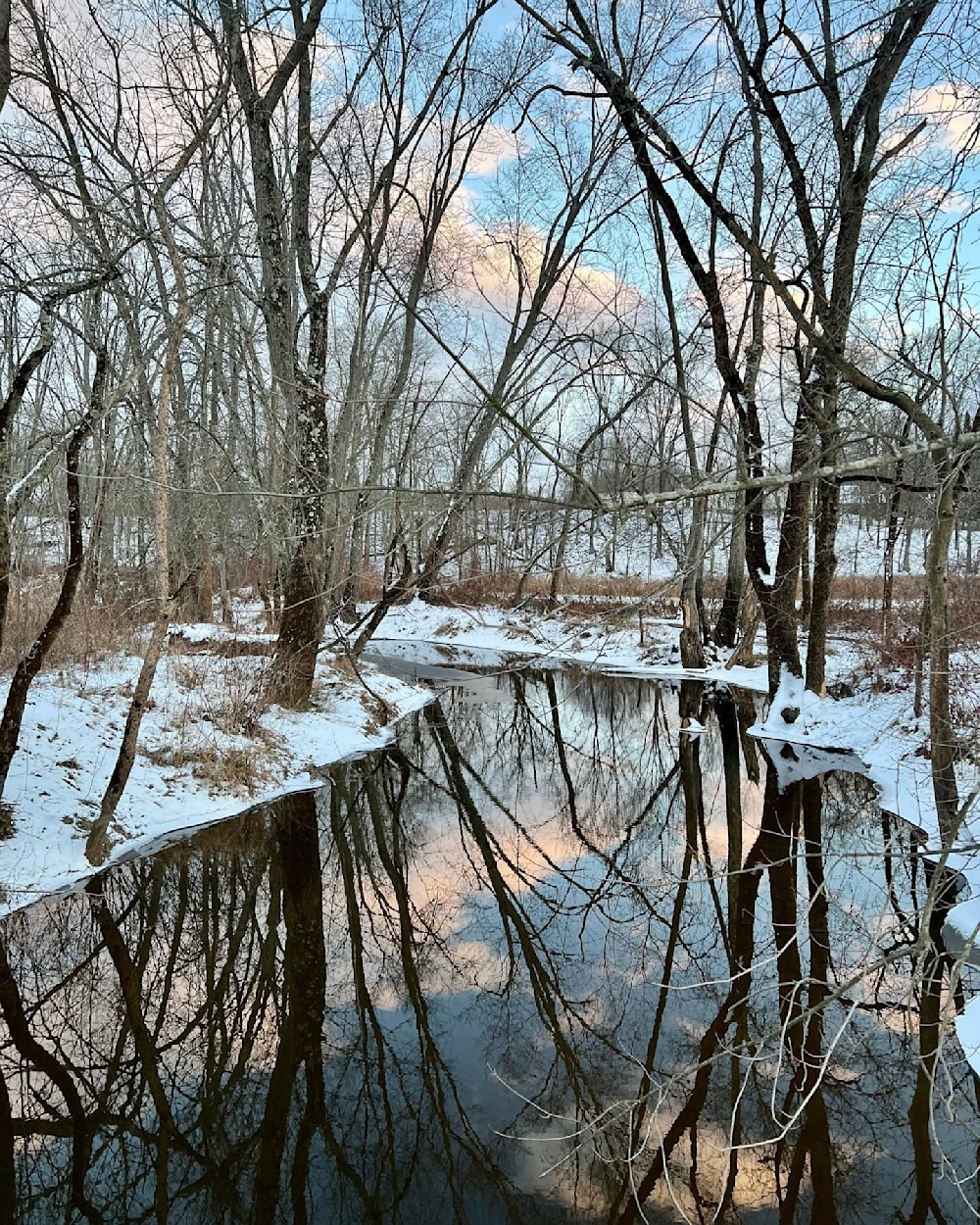 But, as I said, my inspiration was "Ice Dawn," with the morning sky reflecting on the water. So I cropped the image and added a few things then got underway.
I began with the sky reflected in the water, an upside down sky. Then I laid down the snow on the ground followed by the beginnings of the forest. Here are the first three impressions: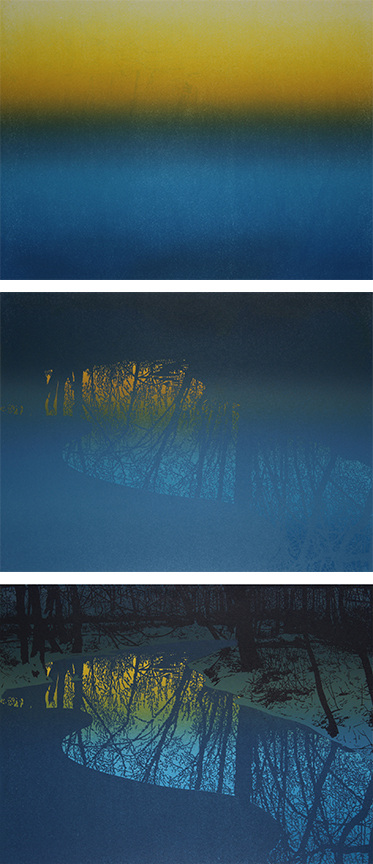 It is quite a dark print, right from the beginning. I have to admit to being influenced in my choice of colors from my studies of some of the 20th century Japanese printmakers. It is still a little surprising to me how dark one can mix a color and still have it be far from black. In this case, the really dark colors are all purple/grays. The layering over other colors changes what I mix from the palette to the print. I often have to do several test prints to adjust the color to achieve and effect and anticipate what is to come.
As you'll see, there are foreground branches which will appear in the lower left foreground. I wanted to show you a detail that is difficult to see in the digital images. These branches were the last thing printed. It required some pretty precise carving to have these thin elements in two tones. On the left is the second to last impression. The branches are essentially black. Then I printed the last purple/gray on top of them after carving away what I wanted to be a quiet shadow and outline: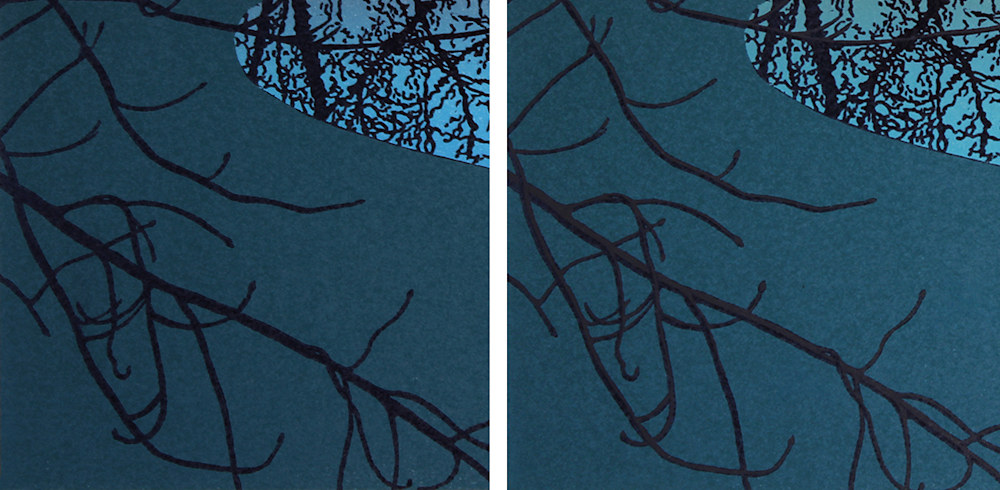 I know, I know... a detail that perhaps only I will see. But I just had to do it!
And here is the final print, "Dawn."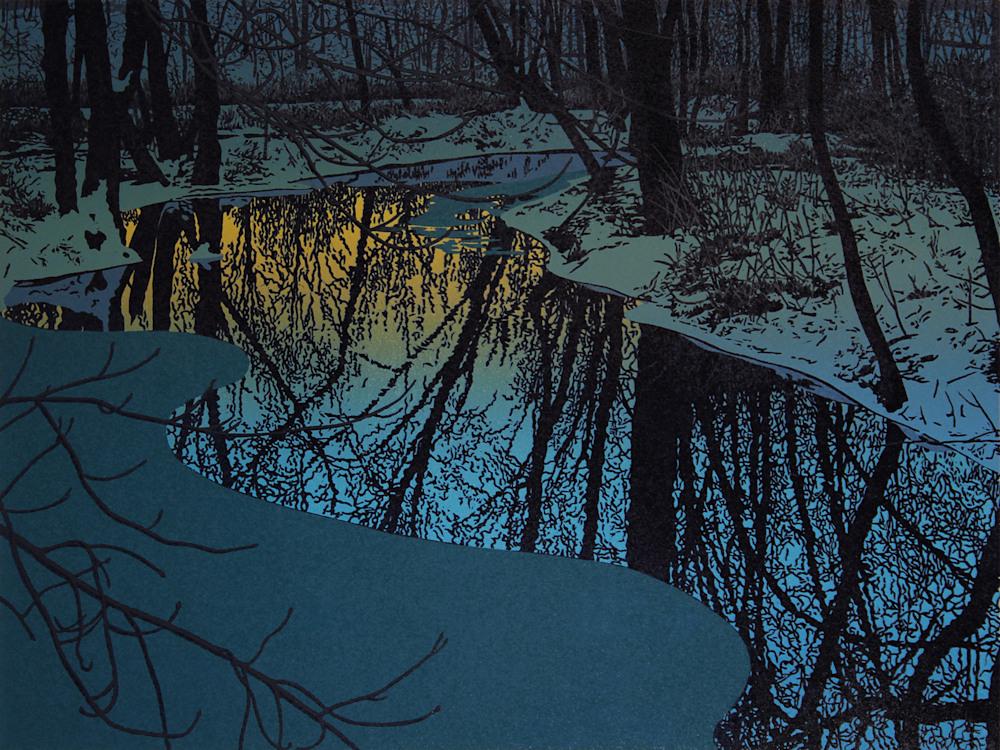 "Dawn", linocut print, 9" x 12" (23.5 x 31cm)
I think that what I like best about this print is the very low key (dark) color combinations. In particular I was very pleased with the way one can look back into the forest, extending the space from the foreground branches all the way into the murky, more distant light of the forest at dawn.
Needless to say, this project kept me busy for some weeks. But this is my work and I love it! I do hope you enjoyed seeing this process. I find it very interesting and I hope that you do too. Of course, this print is available for purchase on this website. Should you find you're passing through Western Massachusetts, get in touch. I have been receiving visitors from time to time at my studio and I'll be very happy to show you what I'm working on these days.
The galleries which represent me are open regular hours these days. So if you're near one of them, do drop in to see my work in person. Take care of each other and take care of yourselves.
Don't hesitate to drop me an email. I enjoy hearing from you.
Yours,

William H. Hays