Forest In Moonlight and murals by Orozco
Apr 01, 2012
Hello and Welcome Friends,
This time of year is always a busy one for us as we begin preparations for our departure to Nova Scotia for the summer. But this year has had an added level of activity. I mentioned to you last month that I had made the decision to reach out with my printmaking to galleries in the region who would represent me.
The League of New Hampshire Craftsmen galleries are in seven locations in that state. My first visit to one of these locations (in Hanover) was greeted with such enthusiasm that they took almost every print I brought to show them and began selling them right away. What a wonderful welcome!
It seemed unlikely that such a welcome could get any better, but it did. The gallery is right next to the campus of Dartmouth College. The main library building there, the Baker Library, houses the most extraordinary murals on a monumental scale by José Clemete Orozco entitled, "The Epic of American Civilization."
I knew about these murals but knew very little about Orozco other than his being a contemporary muralist with Diego Rivera. So I expected to enjoy the murals. What I did not expect was to be bowled over, mightily impressed and deeply moved. The scale (10 feet high by 26 feet wide by almost 100 feet long) is considerable but dwarfed by the scale of the narrative - from prehistory through the 20th century.
It could well be argued that they extend well into the future. Rarely has societal, spiritual, economic and political commentary in painting been so timelessly expressed in such breadth! If I sound like I'm going on perhaps too enthusiastically, let me try to temper my attempts to convey to you the impact these works of art had on me. I must say that in my life I've seen but a handful of artworks which have moved me so deeply; Michelangelo's "David" and his Sistine Chapel; Salvador Dali's "Sacrament of the Last Supper"; and Frederick Church's "Sunrise on Mount Dessert Island."
It was the last two panels which locked up my opinion of this work. I despair at trying to communicate to you these superb commentaries on the crush of greed for power and money, its emptiness, its lack of truth and its capacity for destruction. and its ability to distort beauty and defile truth. Ultimately, in Orozco's world, avarice is overthrown by the transcendent truth of divinity in the personage of Jesus returned to earth.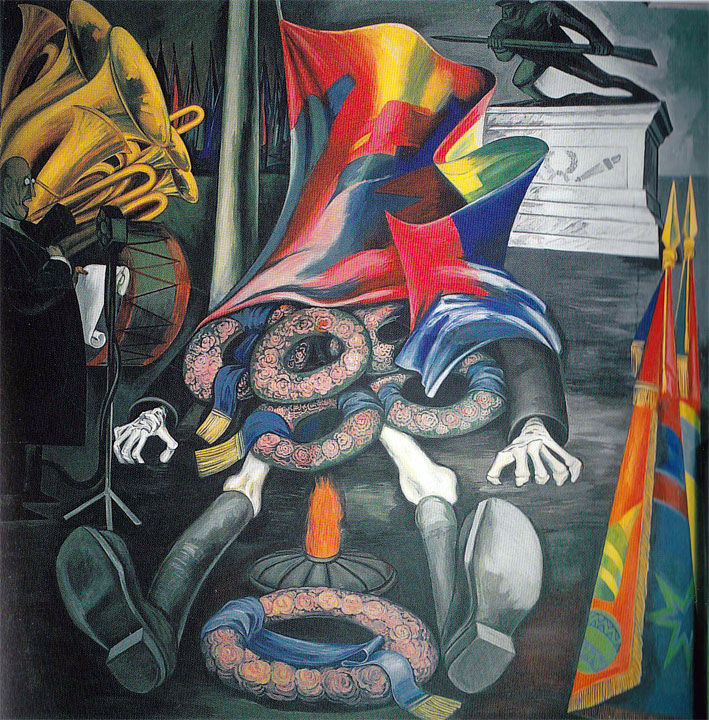 Above is "Modern Human Sacrifice." Here the dead soldier is eulogized by the politician and celebrated by the brass band, covered in wreaths of flowers. At his booted feet, the eternal flame. The sashes and monuments pay tribute to the soldier's sacrifice while the flags of his country cover his remains. His agonizing grip of the earth betrays that his rest is hardly in peace.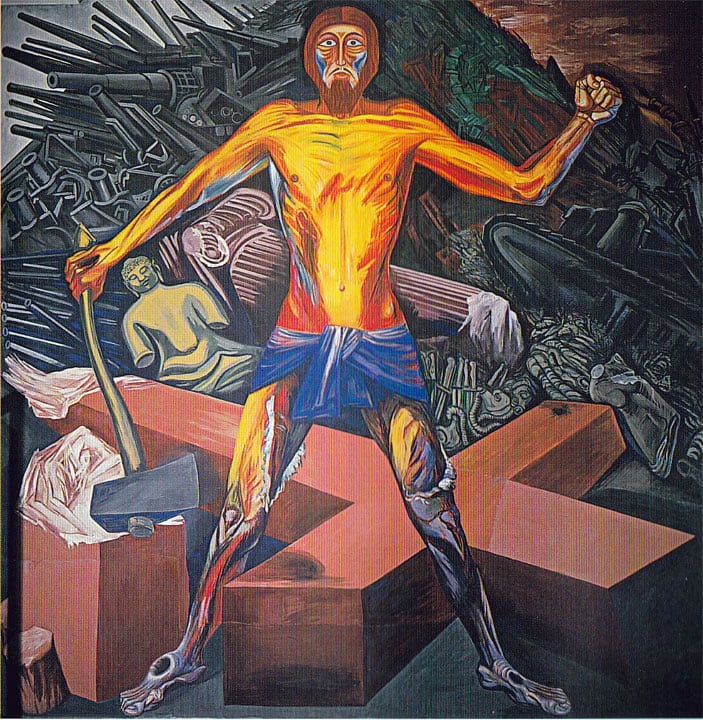 Above is "Modern Migration of the Spirit." Here the returned Christ has felled the cross of his crucifixion and toppled the corrupt societal foundations of war and institutionalized religion. The skin of his mortal remains peel away to reveal the brilliant colors of his flaming, spiritual truth. His raised fist becomes flesh again and his iconic mask face leaves no uncertainty about his resolve and his power.
If you can, go see this magnificent work of art.
OK, my turn! I showed you "Abundant Earth" last month. This next print is a meditation of the unusual experience of going into a forest on a full moon night, letting your eyes adjust to the dim light and being still. And so, here's the development of this study in warm and cool grays which compose this image.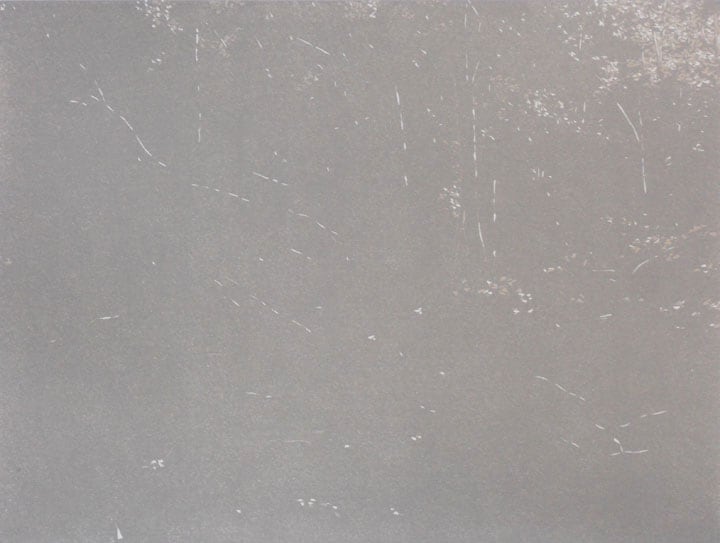 "Forest in Moonlight", second color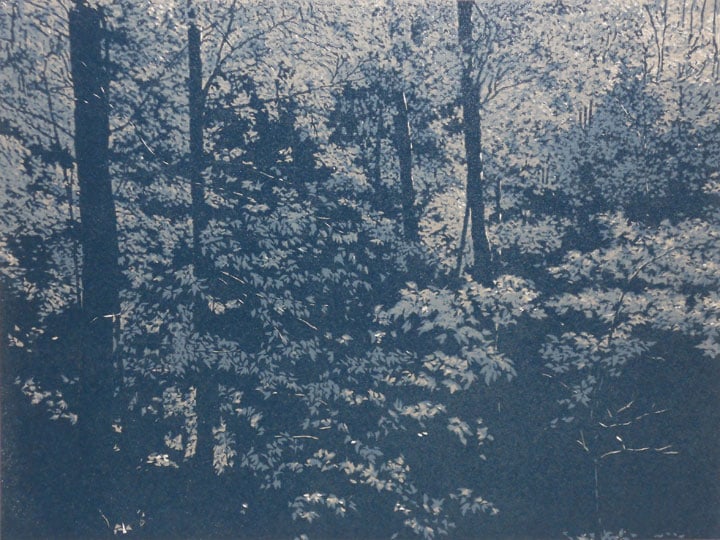 "Forest in Moonlight", fifth color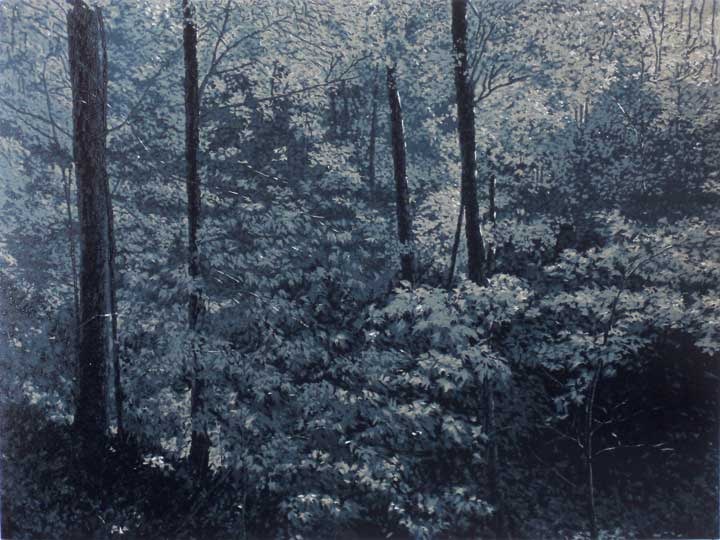 "Forest in Moonlight", 7-color linoleum block print 9" x 12"
I love this print. I think it might be for those art lovers who are enchanted by the subtlety of it. Perhaps it is not for the average person. And that is all I have to share with you for the time being. This Friday (May 4th) is Gallery Walk in downtown Brattleboro from 5:30 to 8:30 PM. I hope I'll see you in the studio [now closed] on Gallery Walk night and at any time you're in Brattleboro. I very much enjoy showing my work to folks and (take my word for it) it's much better in person than it is online. Come on by!
Yours,
William H. Hays