Halifax House and Self Portrait
Aug 01, 2016
Hello and Welcome Friends,
I had quite a flurry of activity during this past month. Because of my very positive partnership with the League of NH Craftsmen galleries, I participated in my first ever arts and craft fair at the Mt. Sunapee resort in New Hampshire. It was a great deal of work but well worth the effort. I met lots of good folks who are now owners of my work as well has fellow artists and artisans whose works I admired (and purchased). The quality of the show was excellent - it doesn't get any better. It is a fun day to put on your calendar in August of 2017!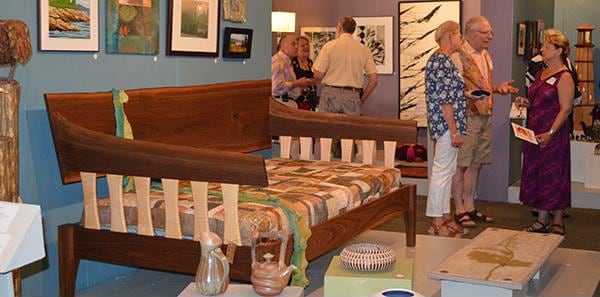 My linocut print, "Summer Moon" on display at the League of NH Craftsmen Fair at Mt. Sunapee
Since my last newsletter, most of my time each day was spent in my studio working on an image that has been with me for more than 25 years. One of my last large watercolor landscapes (painted in 1989) was, perhaps, also the best watercolor I ever did. "Halifax House" is a modest 1804 clapboard house accompanied by some of Vermont's majestic sugar maple trees. The simplicity of the building captured me from my first sight of it and I ended up doing several watercolor paintings of the house. I met the owners and they were kind enough to show their summer home to me.
Like my last print, "After The Storm", this print was done with two blocks. The first block was everything except the grass in the foreground. Just getting this drawing on the block took me two full days. It was a lot of drawing! If this looks a bit confusing, trust me - it is. I'm drawing on the block as instructions for how I am going to carve the image more than how I want it to look. Here's the block with the line drawing and just the white of the house carved away. At this point the block is ready to print the first color, a yellow gray.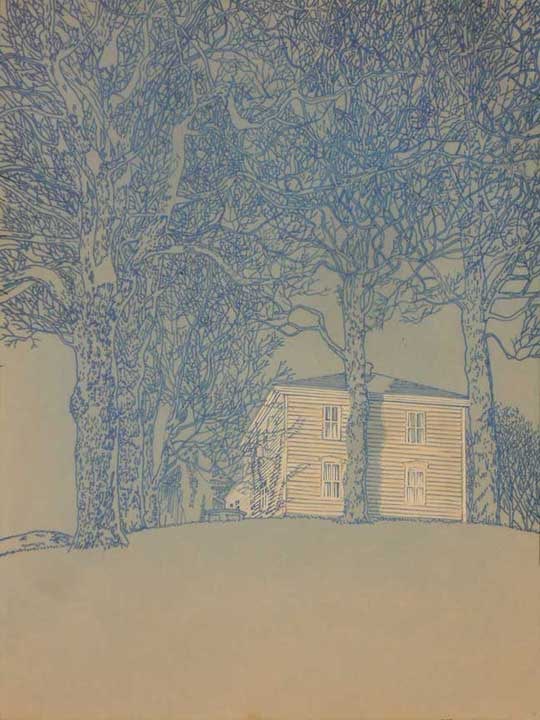 Below is a composite of the first five impressions done with this block. The resulting print is in the top row with the corresponding state of the block below.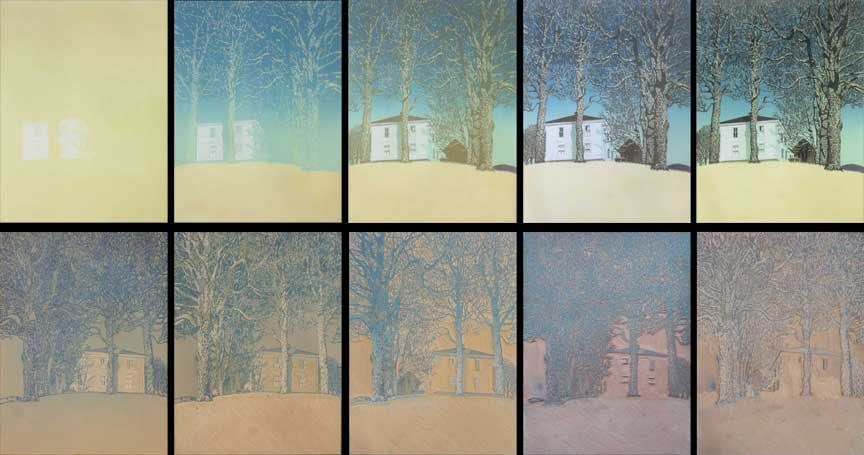 The second block consisted of carving textures of grass in the yellow shape at the bottom of the composition. This area was composed of four colors. The completed print in nine colors is below.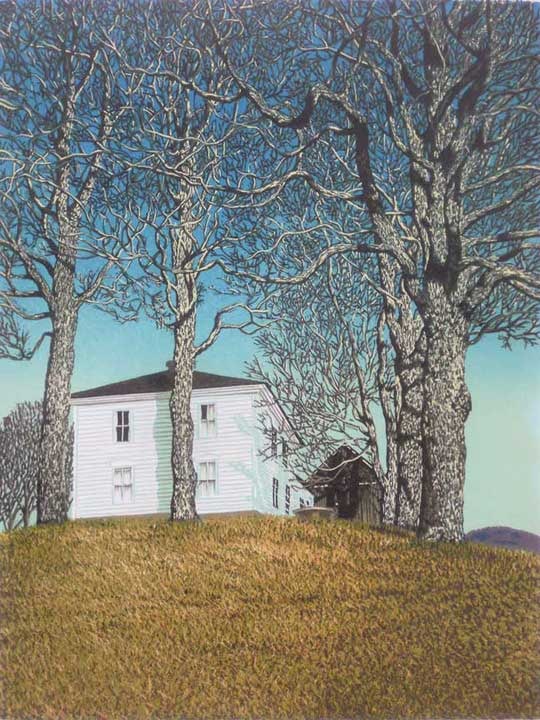 "Halifax House" 9-color linocut print, 12" x 9"
After I finished the print, I felt like I needed a break from printing. Like any good, compulsive artist, I decided to do some more printing in order to take a break from printing ;-) I had been thinking about doing a self portrait and realized that I had not done one since 2005. That portrait was an oil painting - and I looked quite a bit different than I do now - a lot more hair, a beard, a little more weight....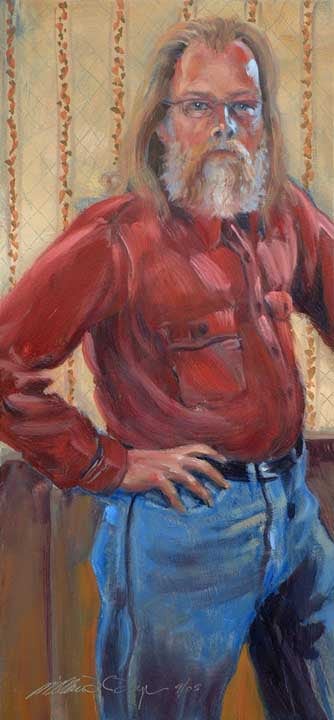 "Self Portrait 9/05", Oil on Panel, 24" x 11"
Of course, self portraits have a long tradition in western art. And just as long is the tradition of the very serious self portrait. I've often heard, "But you look so serious!" I explained to a friend, "Yes, serious. Have you ever tried to look at yourself in the mirror and smile for a half hour (or more) while studying your own face and drawing?" The default expression in self portraits is an intense, studious gaze. But alternative expressions can be done. Here is a series of self portraits in western art. The top row is with the serious gaze. The bottom row shows how far afield such an exercise can go.

As with all of my self portraits, I spent very little time on the drawing. I finesse other people's portraits but I want my own to be a primary response. So I stood in front of a mirror in my studio and did a quick sketch in pencil onto the linoleum block. I then went over that sketch with marker. Like all of my drawing for linocut printing, I was drawing more for how I carve than for what I want it to look like in the end. Here's the block with my drawing and the first part of the carving done in preparation for printing the first color.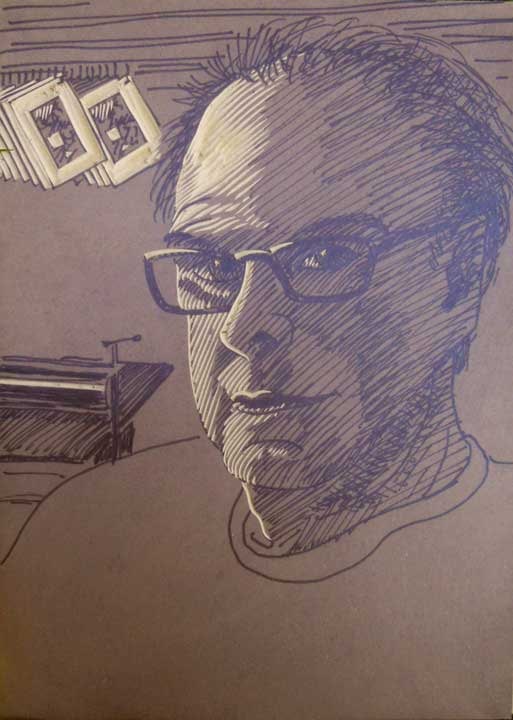 I still had puddles of color on my palette from printing "Halifax House." So I decided to use them: a mustard brown, a neutral gray and a violet black. Here's the final print - The New Me!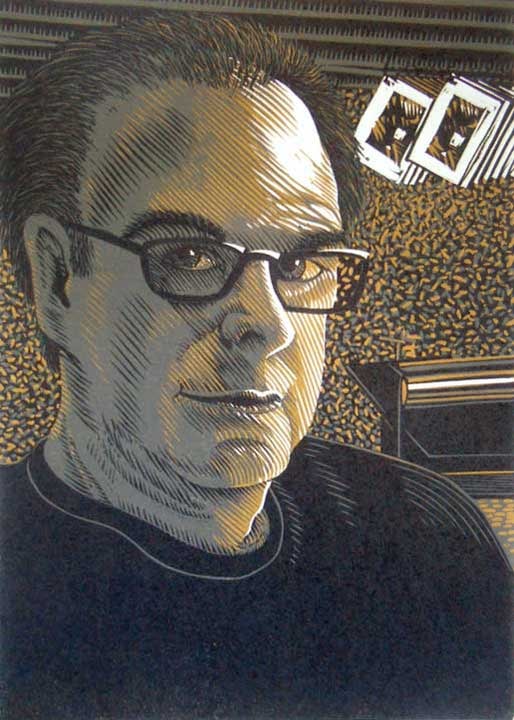 "Self Portrait" (08/16), 3-color linocut print, 7" x 5"
I enjoyed doing this print. Unlike my other work in printmaking, I shall have this print in my possession for many years to come! I don't anticipate that there will be an overwhelming demand from my audience! Not all art ends up on the business side of my activities. Some is just for the pleasure of it.
Next month I will share some more good news about my work being published. In the meantime, remember that you can purchase my prints and see them in person at the galleries which represent me. If you can't get to those wonderful shops from where you live, you can purchase my linocut prints from this website. Please do email me if you have questions or comments about my work.
Yours,
William H. Hays