In For The Night
May 11, 2022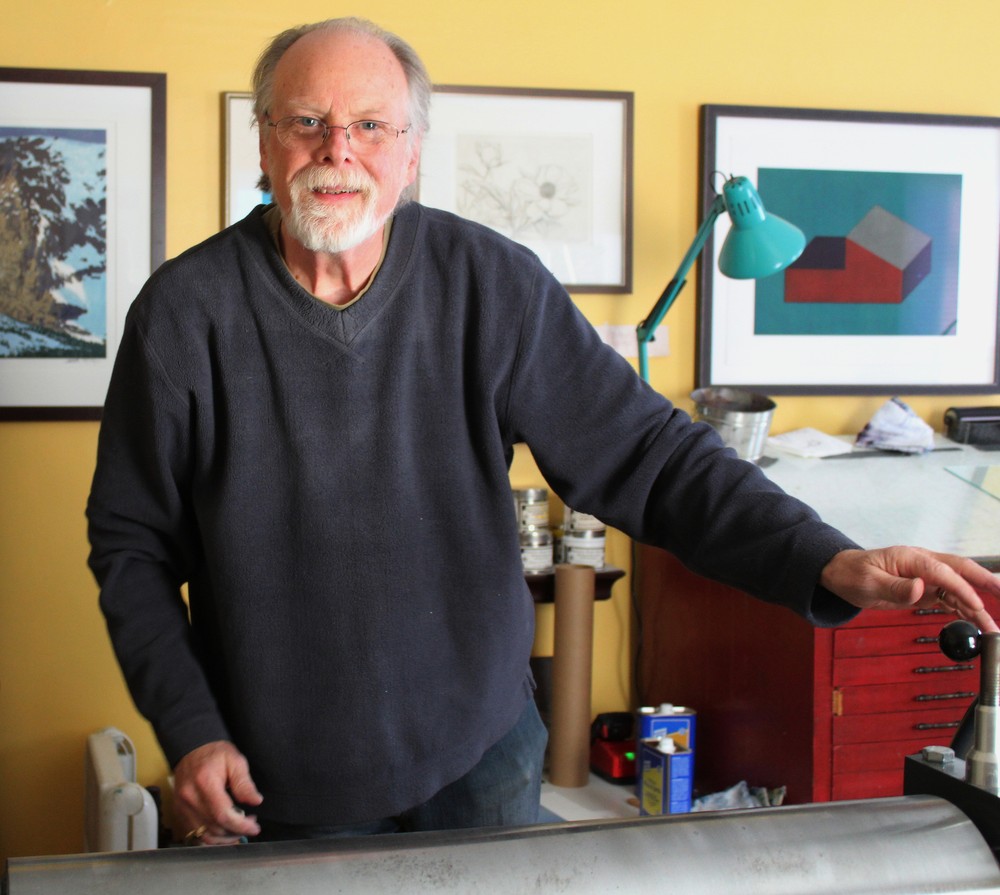 HELLO AND WELCOME FRIENDS,
This latest print of mine has a story that began months before I started to even work up the composition. My partner, Nina sent me a picture of a very well known house in Newburyport, Massachusetts locally called The Pink House. This is the picture she sent to me: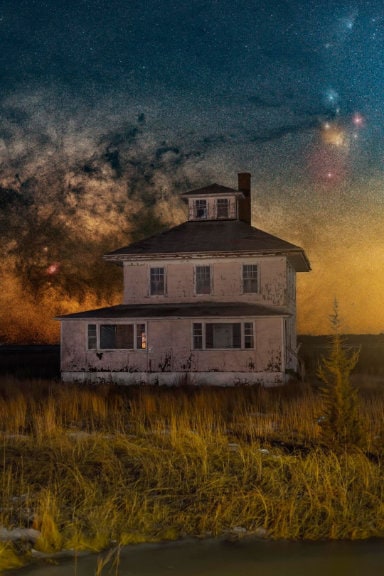 I don't know who took this photo but the author composited the house with an astronomical photo for the sky - not something I thought would work for me. The colors are quite striking and my first inclination toward working with this had to do with the color combinations. But that changed as I thought about doing a print like this over the next several weeks.
Down the street from my home is a pink Victorian house that I enjoy seeing regularly. I thought I might use a little more local inspiration and continue with the idea of a pink house. So I took this photo of that house: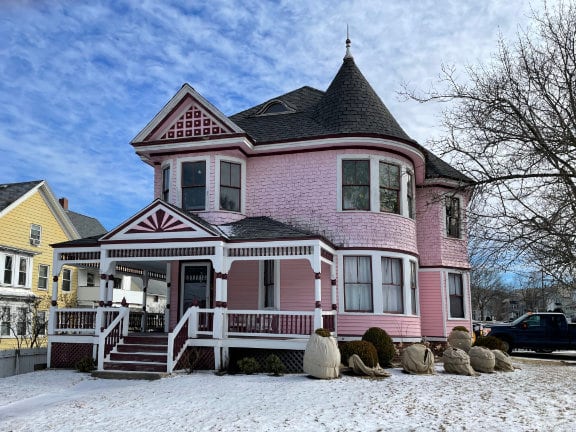 I think you'll agree, this is quite different in setting and style from the one in Newburyport. Over time I began to envision the composition in winter and I started thinking about it being a night time scene, and snowing. But I decided to change the environment/setting significantly to more reflect the countryside that surrounds me. So I borrowed some very large maple trees from a watercolor I did many years ago and a photo (I took during the day in autumn) of a country road in the mountains. The combined image and my composition was then reworked a bit using ProCreate to draw in a little snow. Here's what my working composition looked like finally: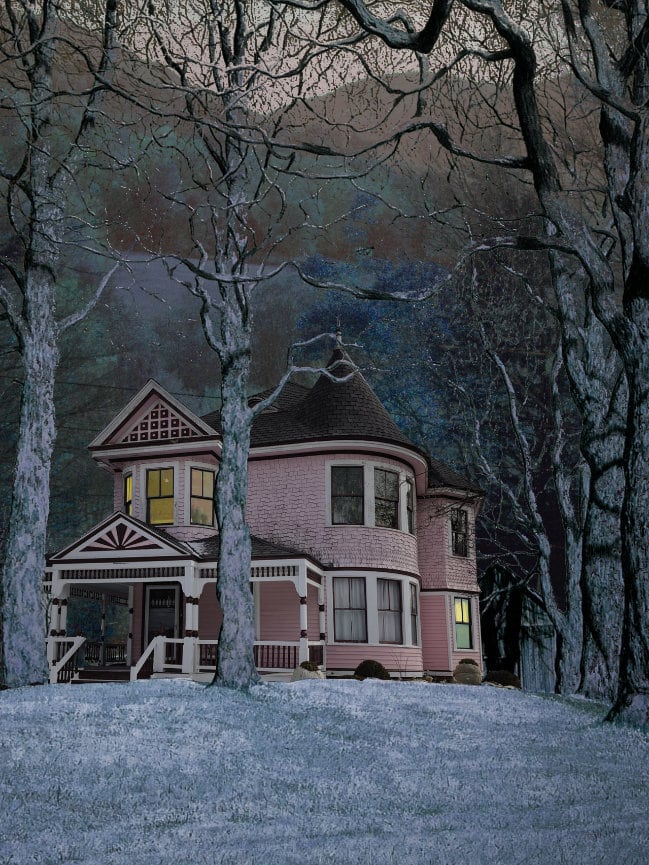 At this point my working title was still "The Pink House."
I have been reading about and looking at 20th century Japanese prints by Kawase Hasui and Hiroshi Toshida. I'm no stranger to night scenes but I studied the use of color in these master prints and then took a little additional inspiration from Mayfield Parrish (and Frederick Remington) in the use of a predominantly green tone for a night scene. This is not my usual choice for nocturnes.
But I ran into difficulty when I was trying to figure out how to print the pink house in a green landscape using my usual reduction printing method - that is, using one block, carved and printed multiple times. I decided I needed to use more than one block, in fact, three. Here are the three blocks, drawn and partially carved for the first impression: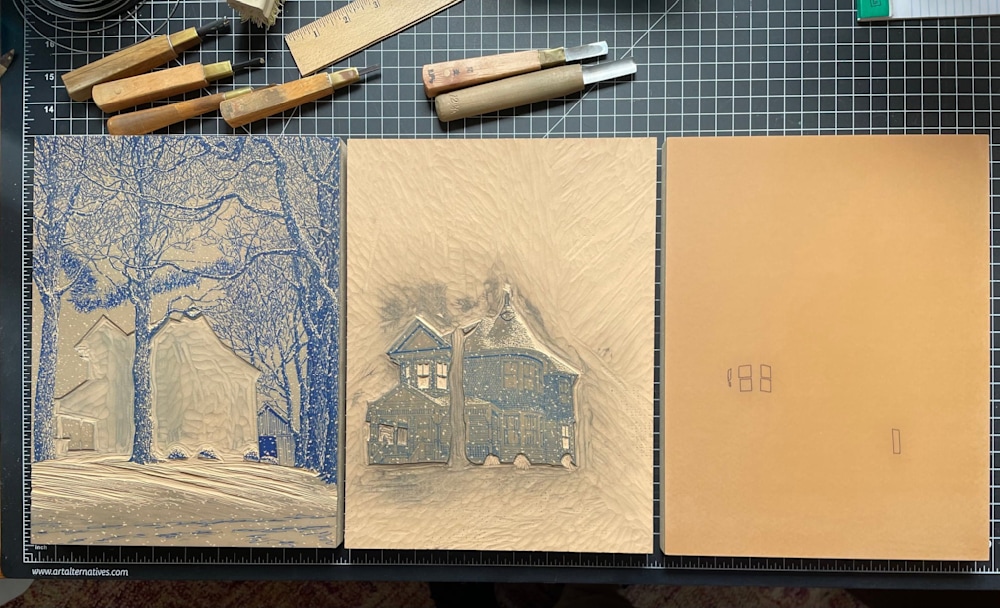 The block on the right was the first to be printed - a solid blue-green with the windows carefully wiped away and inked with yellow. So the print was immediately much darker than I usually begin with. Here are the first three impressions from these blocks: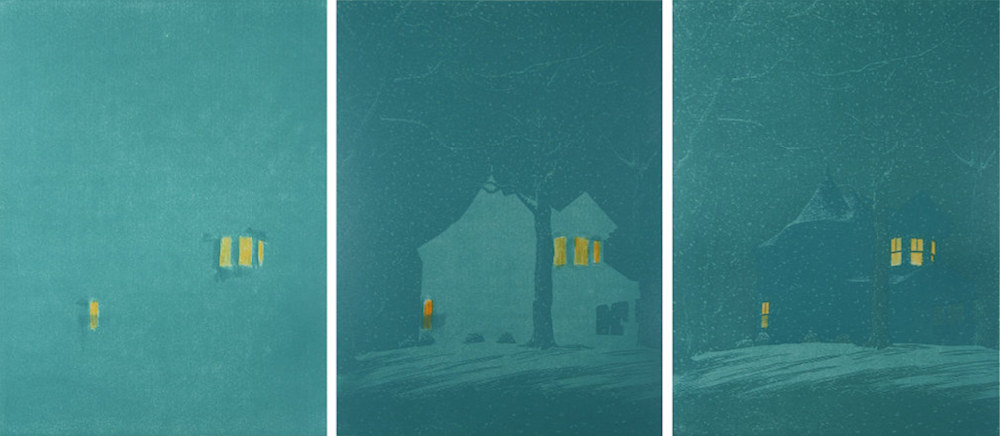 The relative darkness and lightness of the inks changes dramatically as each darker color is added. (The uncarved block was not used again after the first impression.) From here on, I alternated carving and printing the two more complicated blocks, using progressively darker blue-greens until I was ready to begin printing the color on the house. Then I had to ask myself, "What color is a pink house at night? How do I mix that?"
​After several hours of mixing colors I came up with what I believed would work, a kind of gray-purple. Here is the print after adding that color: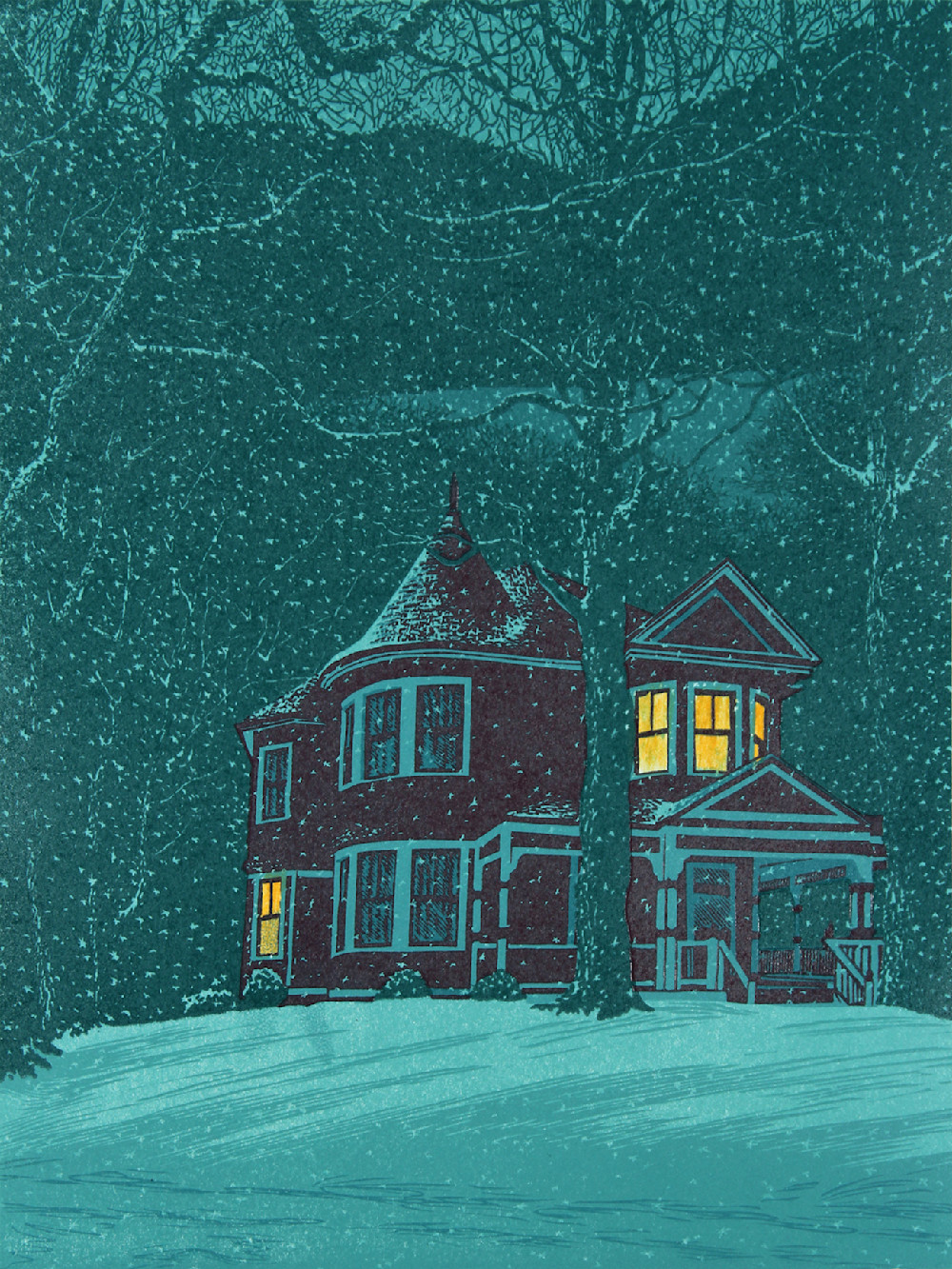 With four more impressions to go, I was hopeful that this color would lighten in relation to the addition of continually darker colors. And that is what happened. It did not feel terribly important (at this point) that the house looked pink. The color I mixed was the color I was willing to live with. But finally I ended up with a print that I think has a pretty good balance of color. Here's the final print: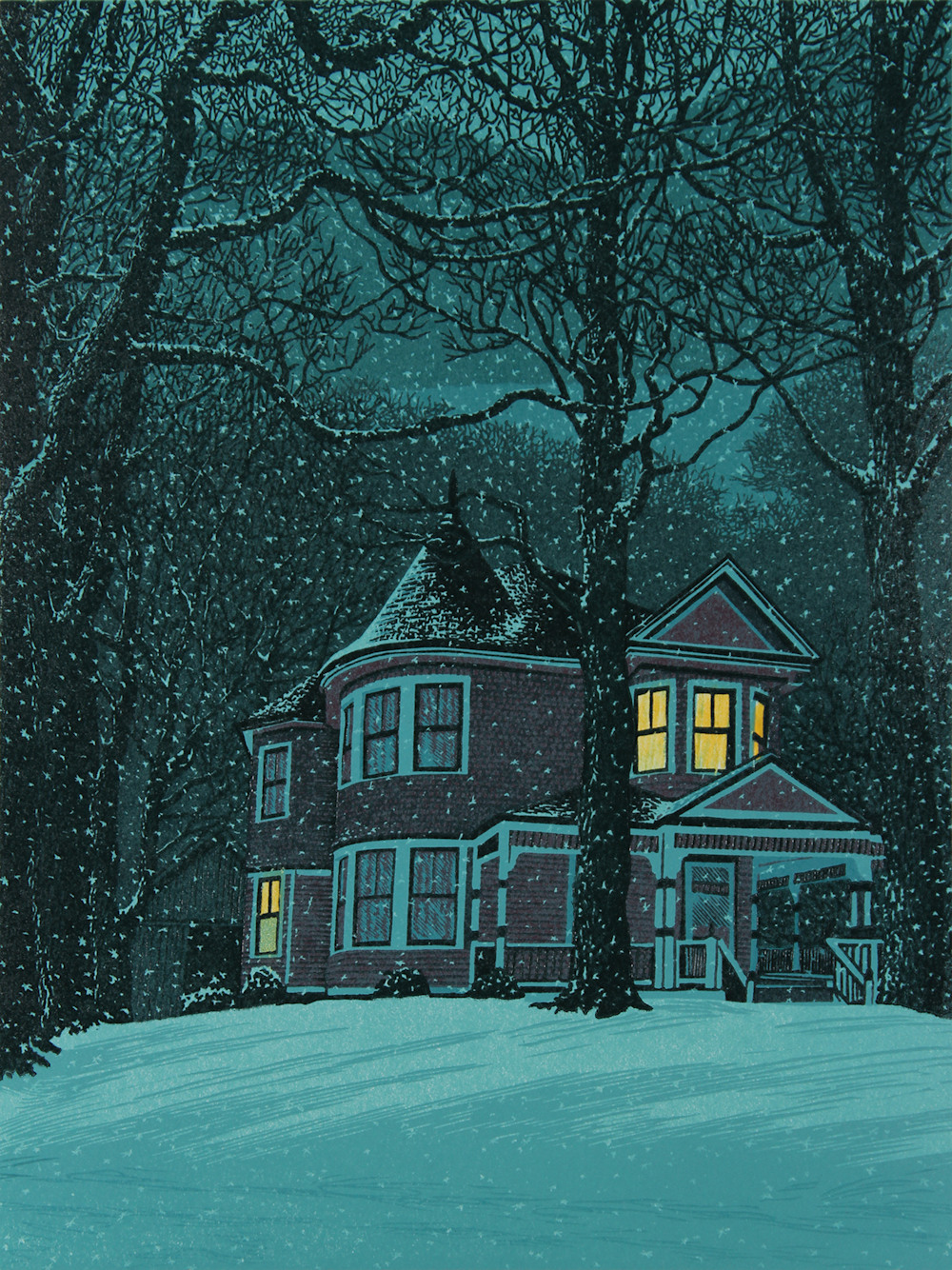 "In For The Night" 10-color linocut print, 12" x 9" (31 x 23.5 cm)
If you look carefully you can also see that there is a barn behind the house on the left hand side. Just a little touch that I enjoyed including.
One of the traditions of the Japanese printmakers is the depiction of scenes and temples as mementos for tourists. Despite their overt commercial intent, many a masterful print resulted from the work of these artists and artisans. I have used the homes and churches of New England off and on as my subjects in printmaking. I think of them as honoring the architecture that I enjoy so much while driving around in this lovely part of the United States. And with this intention, I view this print as being in the long tradition that was brought to such a sophisticated level by the masters of the woodcuts from Japan.
As always, this print is available through my website (you can also see a bit more detail here). Almost all of the galleries which represent me are open regular hours these days. Take a look at the locations and do drop in to see my work in person. The Covid pandemic is not over yet. So take care of each other and take care of yourselves. Don't hesitate to drop me an email. I enjoy hearing from you.
Yours,