In Spain I Did Love And Adore You
Jan 04, 2023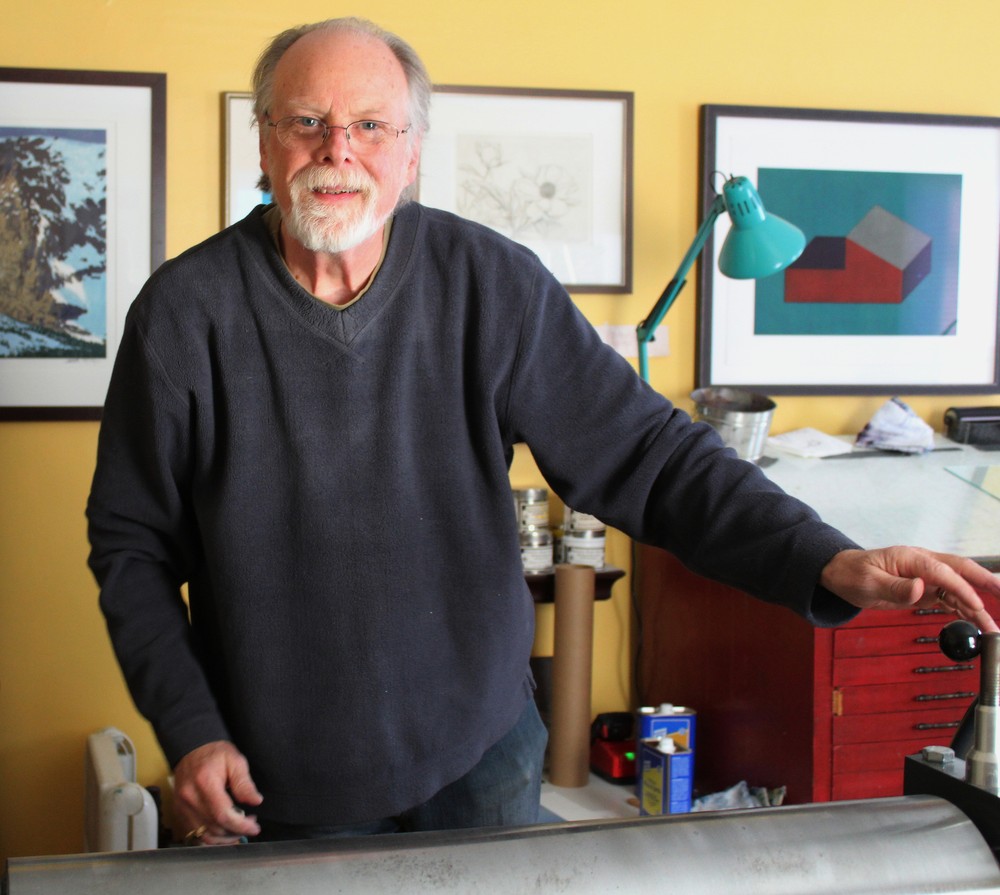 HELLO AND WELCOME FRIENDS,
You may recall from the previous entry that Nina and I spent the month of October in Spain and Portugal. We did a little bit of sketching in watercolors but we were having such a good time that our days were more filled with seeing other peoples' artworks than creating our own. Nevertheless, we all travel with our phones and seem to have a nearly uncontrollable need to document every sight and event with the camera therein. Sometimes the compulsion is so overwhelming that it takes away from the actual experience.
I would love to tell you that I'm beyond such urges... but I seem to possess some of that tendency. At least I got some lovely photographs... which I'm sure I'll rarely see again.
Below is one of three small watercolors that I did. This is from the city of Porto in Portugal. The city is built on steep hillsides and every possible surface is built on with stone, cascading down to the banks of the Douro River. The boat in the painting is a traditional design, used to transport port wine.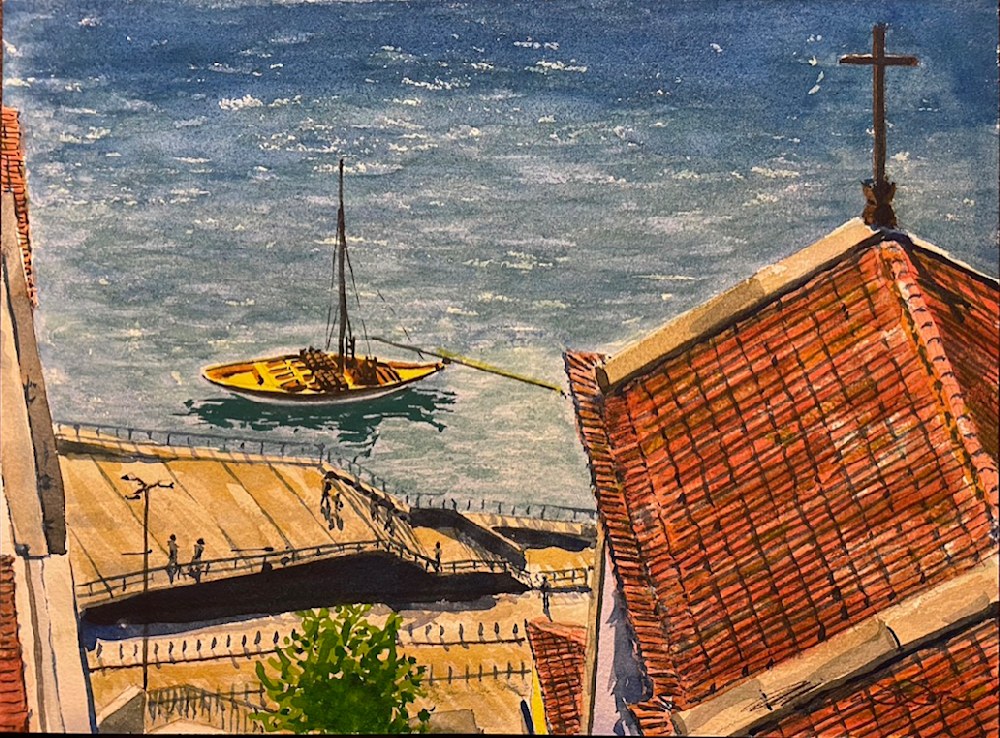 "Douro River, Porto" watercolor by William H. Hays, 9" x 12" (23.5 x 31cm)
In every place we stayed and explored we found much that left us in awe. But perhaps no place touched us more deeply than Granada. Although the magnificent Alhambra castle would be plenty to imbed Granada in your mind, it is the rest of the town, especially the Albaicin neighborhood, which left such fond memories with us. This was the view from our accommodations with the Alhambra lit up on the hillside.
We walked everywhere, uphill, downhill and again. But of all the memorable views, one small side road entrance caught my imagination. So I got started on this print in December. I decided to work with two blocks, one for the buildings and one for the overflowing cascade of jasmine and plumbago (the blue flowers). Here are the first three impressions. The first is the blue and gray with clouds wiped away on the block to reveal the white paper. That is why you will see that the clouds are different in every print.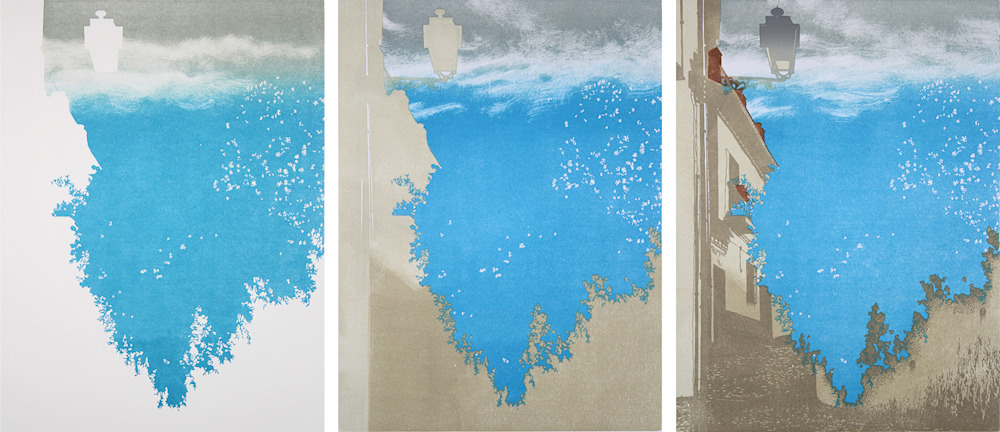 From this point I continued to add to the area of the buildings. In all, that area was printed five times. You might also notice that there are two or three colors applied with each impression. So the print looked like this when I was finished with that block, the buildings.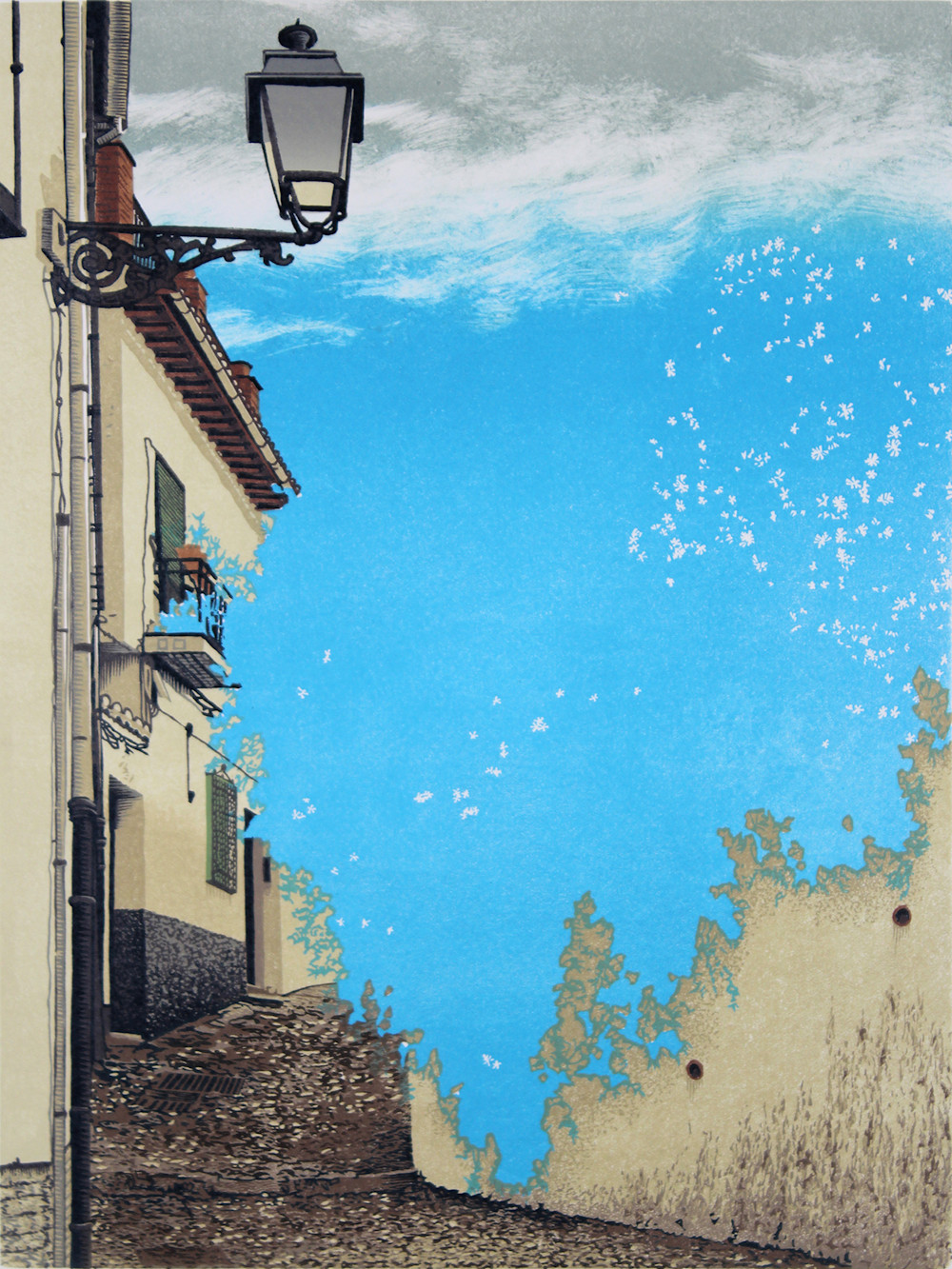 Then I began to layer the flowers, then the foliage over the blue that was first printed. Below are the last three impressions of the total ten.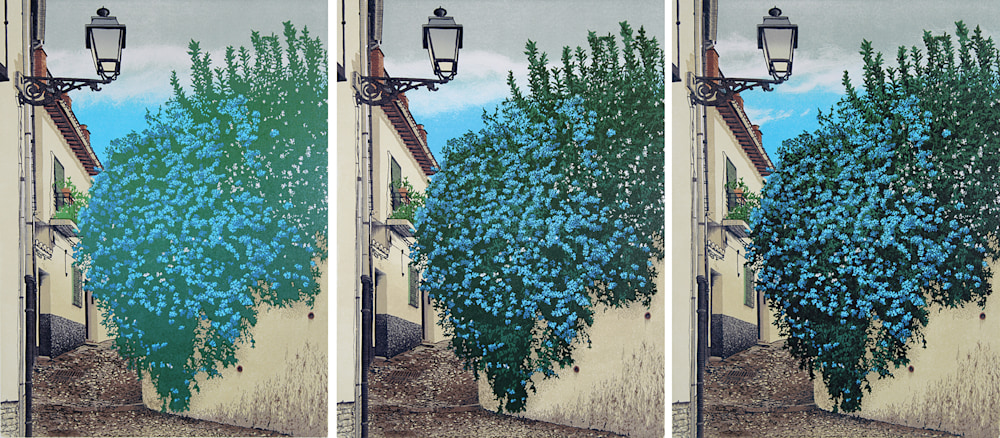 And the final print, "Jasmine Enchantment", 12" x 9" (31 x 23.5cm)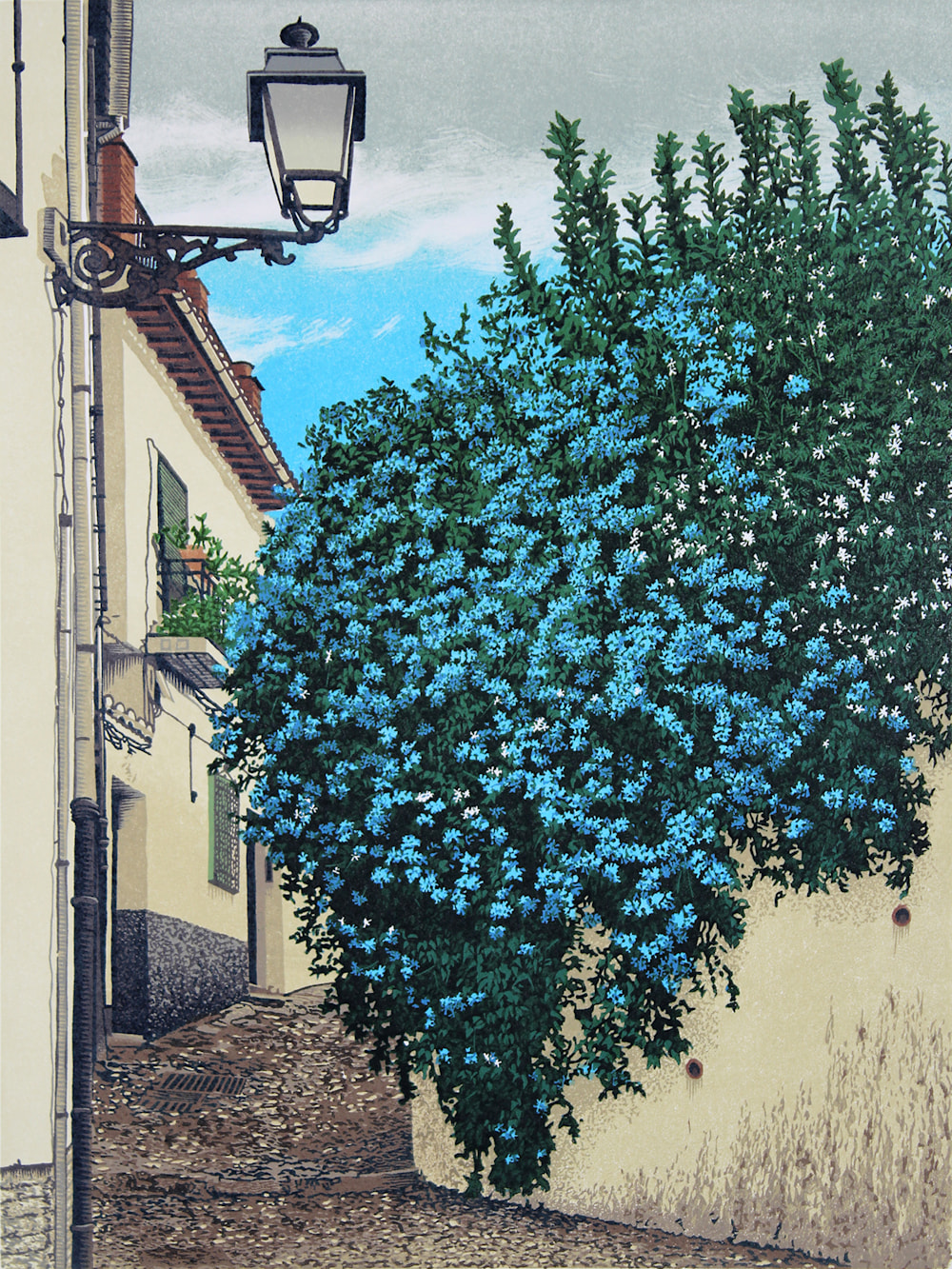 Aside from the sentimental value (for me), I found this print to be very interesting in how it progressed. I hope that you thought so as well.
"Jasmine Enchantment" is available for purchase through this website. The galleries which represent me are open regular hours now. Take a look at the locations and do drop in to see my work in person. I post pretty regularly on Facebook if you would like to follow my work there. Take care of each other and take care of yourselves. Don't hesitate to drop me an email. I enjoy hearing from you.
Yours,