Jim's Farm and Deep Wood Falls
Mar 01, 2015
Hello and Welcome Friends,
Winter is a good time for me. The dark, quiet days are conducive to working in the studio. The light is low and my head is down as I carve and print my reduction linoleum block prints. In past winters, I did the same when I was painting in oils. Winter is a good time for me.
I have two new prints to share with you this month. But first I have to share some big news!
After 27 years of living and working on the third floor, on Main Street in Brattleboro, Vermont, I am going to be moving. I'll still be in town but in my home rather than a public space. The Artist's Loft Gallery will close on April 5, 2015, after 25 years. I will continue showing my work in the galleries where I've already established myself in northeastern United States.
In Brattleboro I've always shown my work on Main Street and that will still be the case. Only now my work will be in Gallery In The Woods, just down the street from my studio - at street level, no stairs. Owners Dante and Suzanne Corsano are long time friends and I am honored that they've taken my printmaking in with such enthusiasm.
One more thing: I'm having a studio sale! I've never had one before and probably won't have one again. Since I'm moving everything, it will be best if there are fewer things to move, such as paintings. I'm not showing oil paintings in galleries anymore. So I'm offering a large selection of my oil and watercolor paintings (not the linocut prints) from years past at (drum roll please) 70% OFF retail prices. The sale will be at The Artist's Loft, 103 Main Street in Brattleboro for two days only, April 24th and 25th. So put it on your calendar and come see.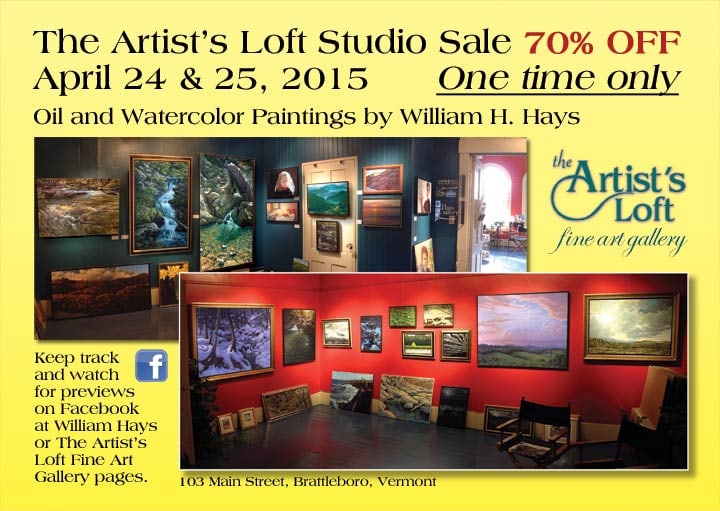 Now.... On to the new artworks!
This first print uses some of the composition elements I've worked with before, such as the farmhouse and barn (which I used in "Midnight Clear"). The brilliant light of winter, the stark contrasts of shadow and beautiful blues have always made winter a particularly attractive subject for me. In carving for the different impressions, it is challenging to find what works and what doesn't in depicting snow.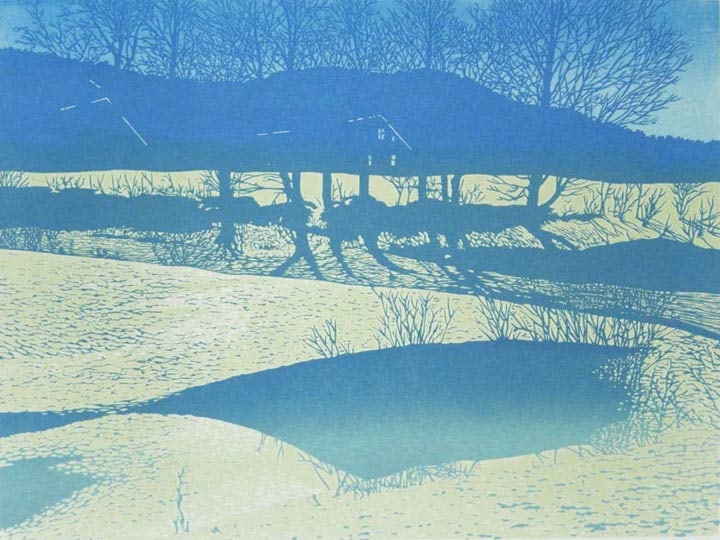 "Jim's Farm". this is the print after the second impression of seven.
My father was James R. Hays. He was in his last month of life when this print was being made. It became an homage to him. And that's where the title comes from.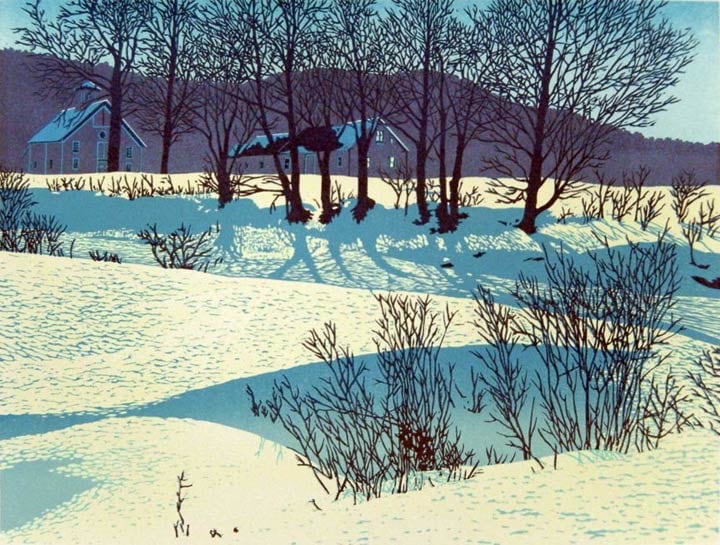 Jim's farm after the fourth impression of seven.
From here I had two more colors in mind to make it a six-color print. The sixth color was to be a dark red for the buildings. But I made a mistake along the way. I carved away the chimney of the farm house. So replaced the linoleum with some scrap and made a new chimney.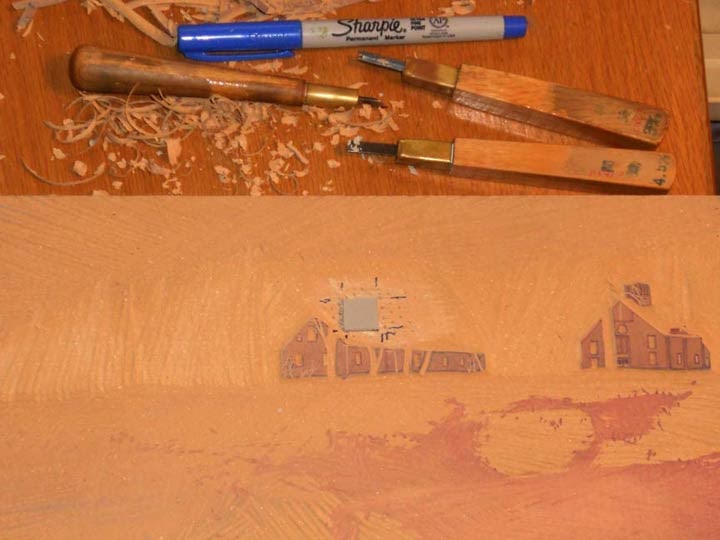 New linoleum set in place to replace the chimney on the farmhouse.
But the balance wasn't quite right in the colors after the sixth impression. So I carved another block to make the trees darker against the farmhouse, the barn and the distant mountainside.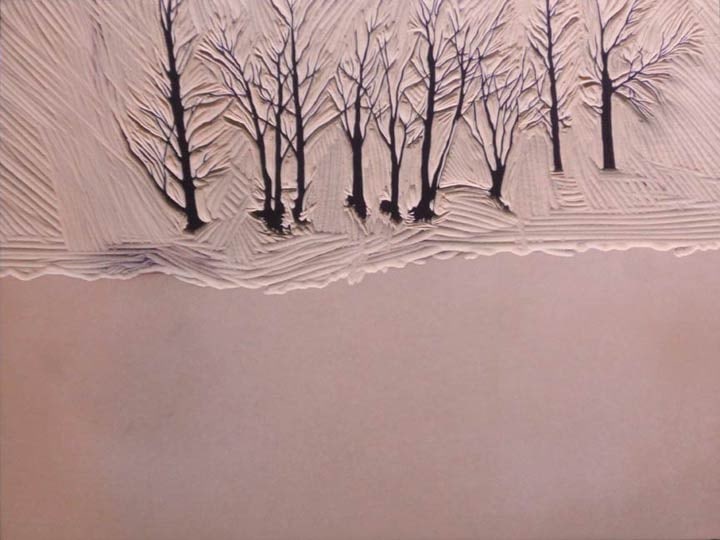 The block is only half carved since I'm not using the other half.
This pulled everything together and the print had what I was looking for: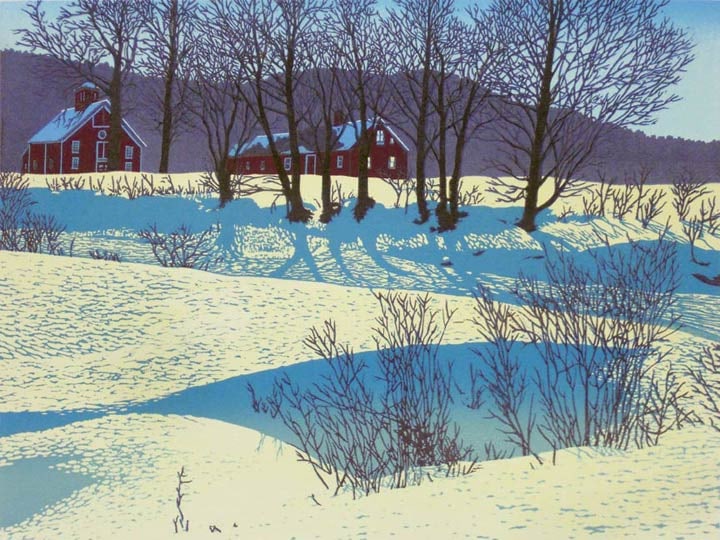 "Jim's Farm" 7-color linoleum block print, 9" x 12"
Just to change gears a little bit...
Sometimes while I'm printing, I realize that there is potential for a second version of the print. And such was the case here. This second version uses just the last four colors of the previous version. I only pulled two of these prints. Though the colors are quite different in appearance, they are exactly the same colors from the print above. But without the yellow and the blues underneath they are quite changed.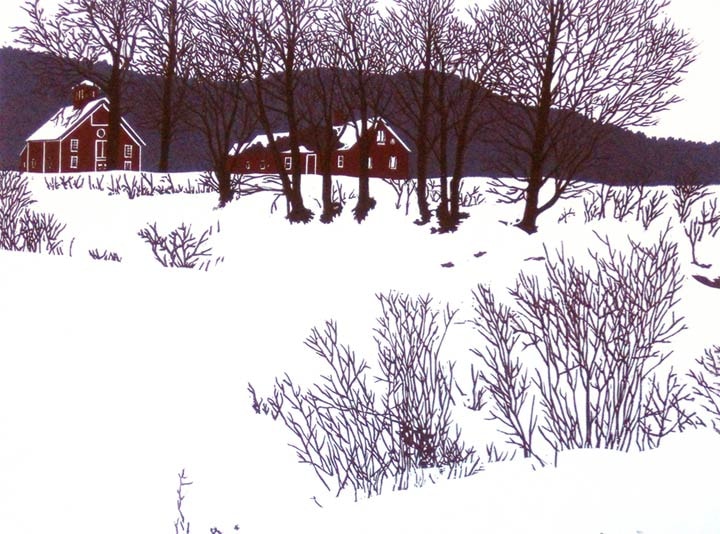 "Jim's Farm II" 4-color linoleum block print, 9" x 12", edition of 2. This fine art print is not available since the small edition has sold out.
The next print took more than two months to complete. If you include hiking around the woods near Stowe, Vermont in October, I worked on this print for more than four months. I visited Moss Glenn Falls and very much enjoyed the setting all the way around. It is the highest cascade of falls in Vermont at around 125 feet (38 meters) from top to bottom. My previous print "Solitude" is also a depiction of a part of Moss Glen Falls.
Here are the first four impressions on this 17" high print:

First four impressions of "Deep Wood Falls"
Though I will say this is a six-color print, the first impression is using three colors. The second and third are both using two Although there are six impressions, in all there are eleven colors used. It is, perhaps, the most difficult print I've done to date. The carving was extermely complicated and color choices - very particular. I only get one chance to choose color for each state of the block (I'm using just one block). It can be very difficult. In the end, I was quite pleased with the balance and tone of the print.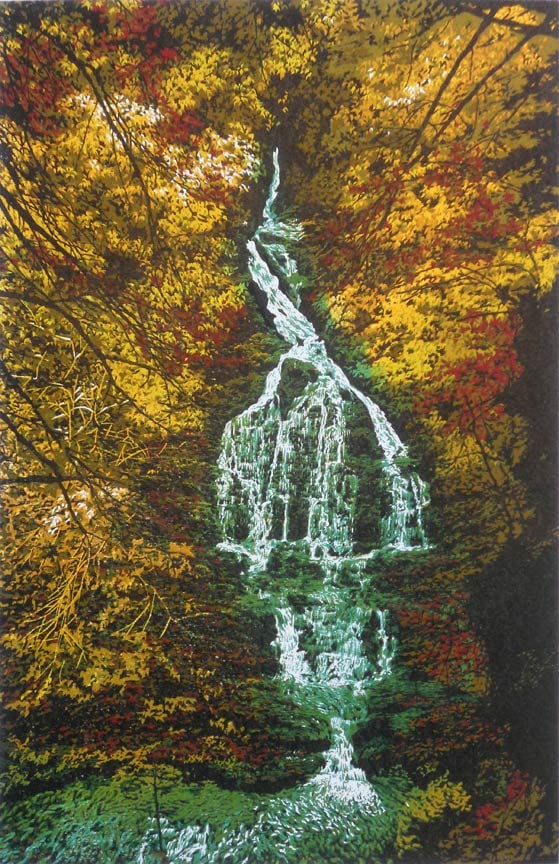 "Deep Wood Falls" 6-color linoleum block print, 17" x 11"
Like the last print, I decided to take an alternative tack and I did a one-color version of the composition: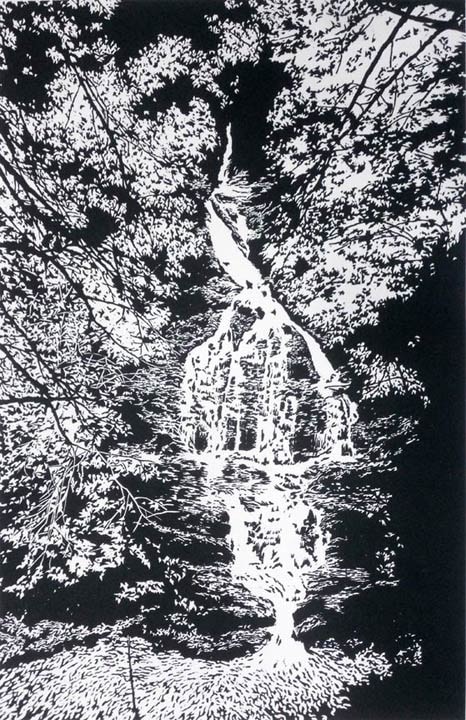 "Deep Wood Falls II" one-color linoleum block print, 17" x 11", edition of 3.
And although things continue to change for me, you are always welcome to visit my home and studio. But now you'll have to let me know you're coming either by email or phone (below). I look forward to seeing you at this last Gallery Walk (for me) in Brattleboro on Friday, April 3rd. After that, I'll be open only one more day, then the studio sale on the 24th and 25th of April.
Yours,
William H. Hays