Hello and Welcome Friends,
Let me start right in....
This print is one that started with an image I saw with my friend Myles on the way to Vermont, back from Nova Scotia. We went to a small lake called Long Pond in the Northeast Kingdom of Vermont. A small island was silhouetted against the glistening sun on the water and that image stuck with me for several months.
I added much to the simple start of my composition and ended up with a print that is in every way different than my original idea. I had intended it to be an autumn scene but I changed my mind in mid course and made it more late summer than autumn. As usual, I began by carving away just a little bit of the block to reveal the white of the paper (on the water at the bottom) and put down several colors to establish the mood of the scene.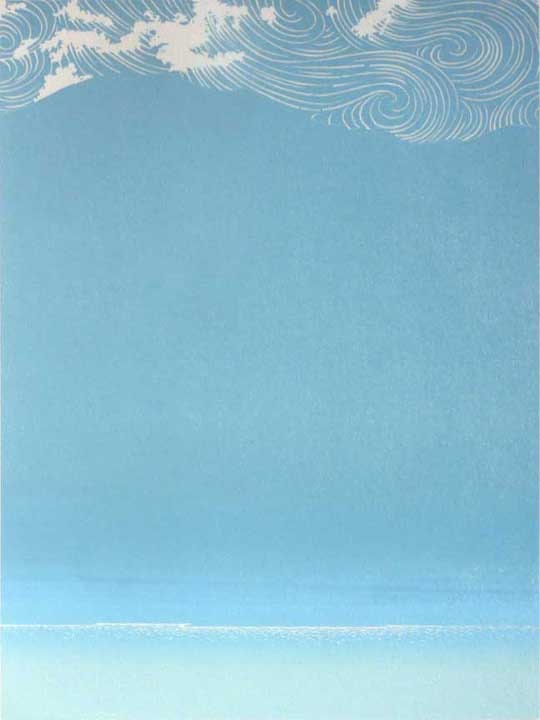 "Migration", first impression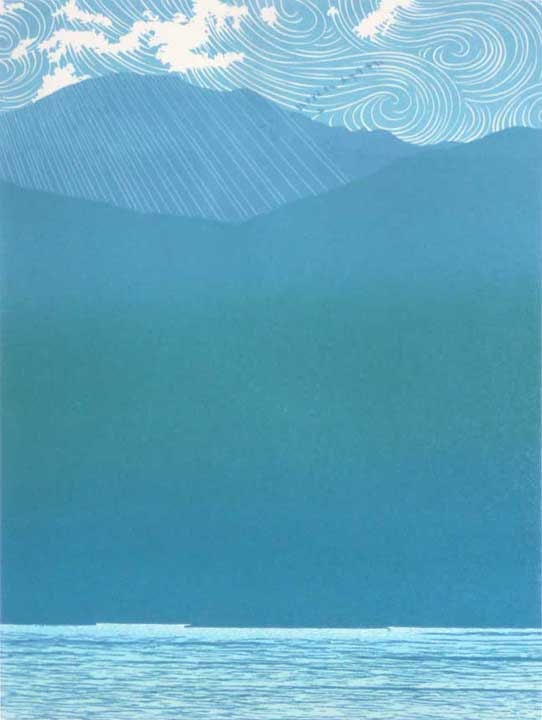 "Migration", after the third impression
Two of the three impressions so far have used graduated tints (more than one color, blending from one to the other). You can see the flock of geese beginning to appear in the sky. The next impression added the dark shadow of the midground and then followed with a lighter color of green. Usually I print light to dark. But occasionally I will go backward by adding a more opaque, lighter color next. That is often (as in this case) followed by an even lighter and also opaque color after it.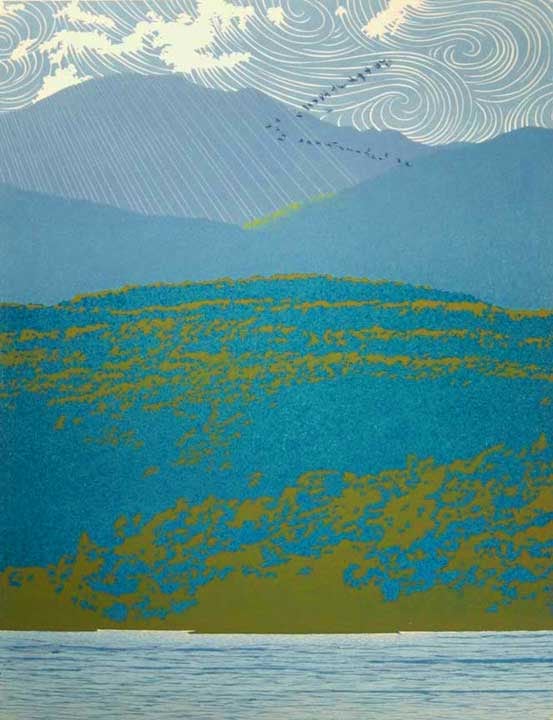 "Migration", fifth impression
The finished print below is seven impressions. The lighter green was added to the trees and then the final color, a very dark green pulled the whole print together. I'm very happy with this print.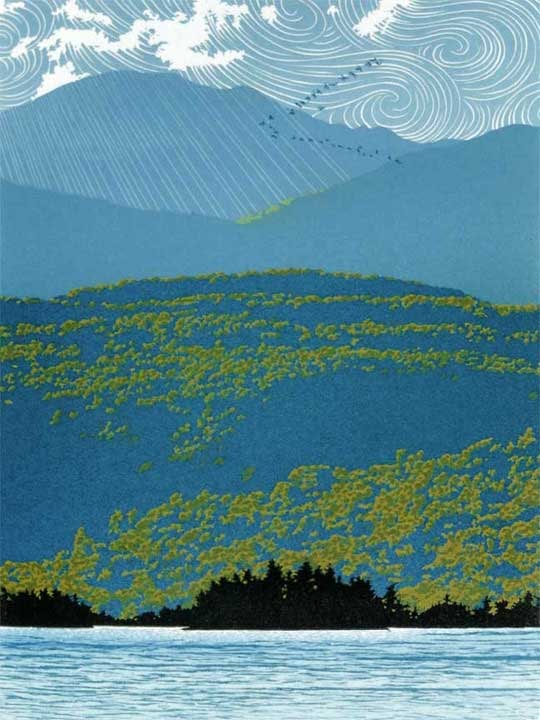 "Migration" 7-color linoleum block print 12" x 9"
This print was very satisfying for me. In particular I am very pleased with the way the motion of the wind in the clouds is suggested by the carved swirls.
You are always welcome to drop by The Artist's Loft Gallery [now closed] to visit me in the studio. As well, be sure to mark the first Friday of each month on your calendar. It's Gallery Walk in downtown Brattleboro from 5:30 to 8:30 PM. And remember, my gallery and studio are open 10-6 daily in Brattleboro. I always enjoy showing my work to folks and often have a print underway so you can watch the process. Come on by!
Yours,
William H. Hays