A Nighttime Song, "Mountain Melody"
Feb 01, 2022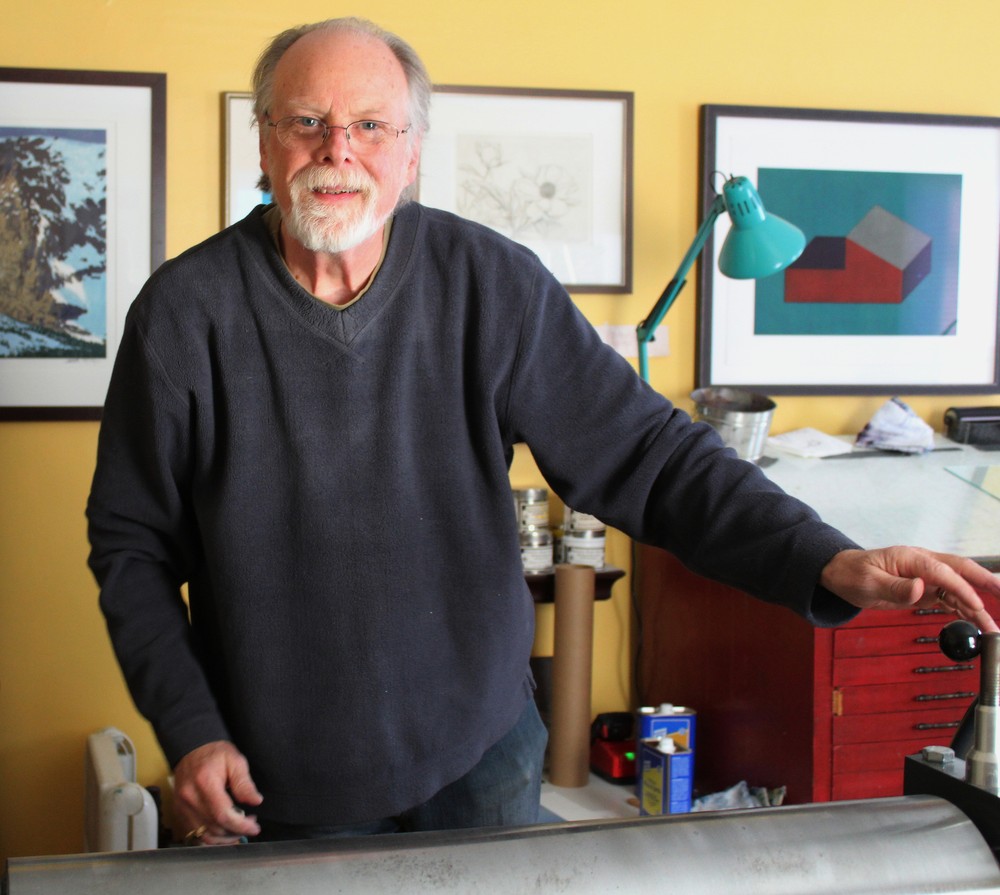 HELLO AND WELCOME FRIENDS,
When I consider what I'm going to do next I often refer to images I created when I spent my time painting in oils (mostly). In this case I took a daytime/morning scene called "Green Mountain Morning" and redrew it in pencil as a nocturne for my composition.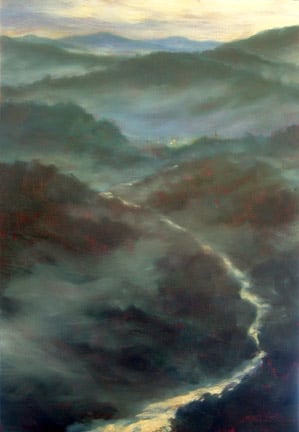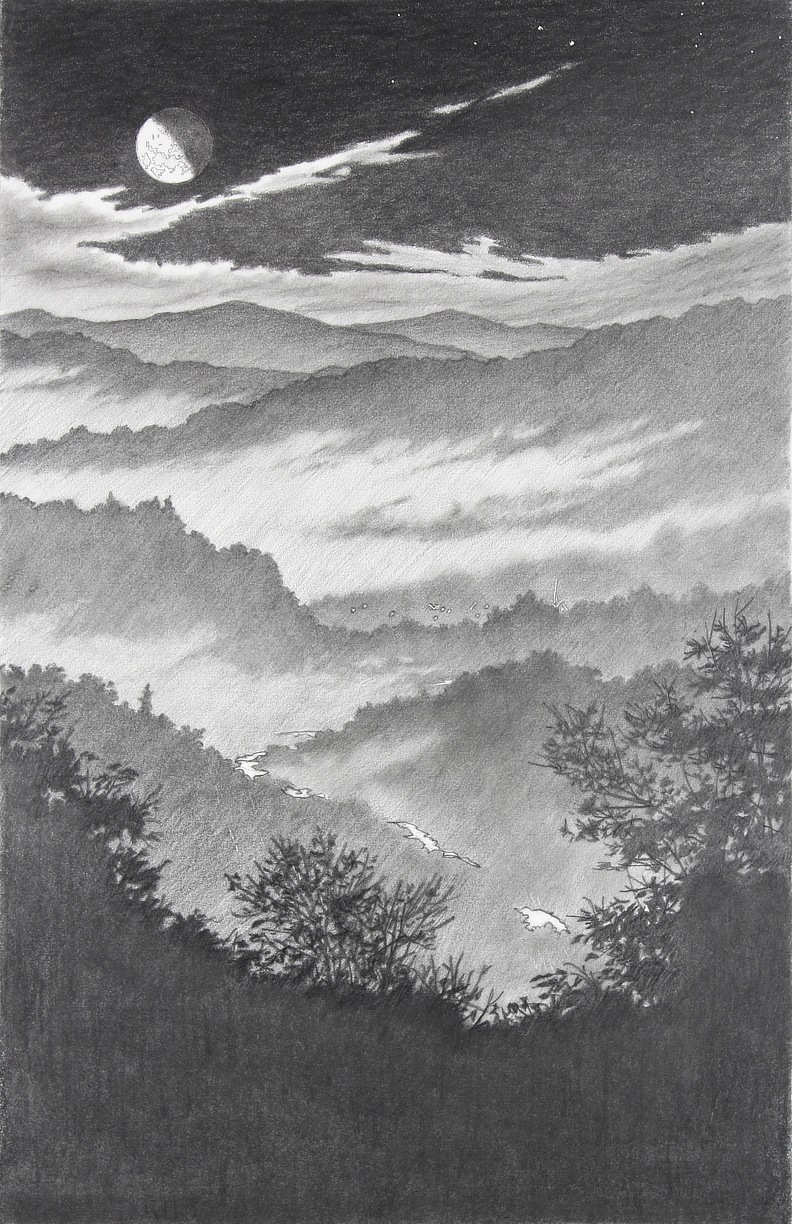 (L) "Green Mountain Morning" 2003, oil on panel, 23" x 16" and (R) Study for "Mountain Melody", pencil on paper, 17" x 11"
But before I get into this new print, I want to tell you of a video about me and my work that was produced by Dieter Wanczura of Artelino in Bavaria (Germany). Dieter and I have just begun to work together selling my work to a new audience in Europe and the US. I hope you will find this video interesting and informative. (Keep reading and I have a surprise video about this print at the end of this post.)
Painting fog in the valleys is not terribly challenging in oils. But creating fog like this in a woodcut is very challenging (more on that later). As if that wasn't enough, I decided to include a gibbous moon and show the shadow side of the moon illuminated by earthshine. I've done this one time before with a favorite print (of mine) which I did in 2020 called "Crescent Coast." It is a lovely effect.
As always, each color has to be printed separately. Since each range of mountains from the horizon down to the foreground is a different color, I could see that this was going to take quite a few impressions. Just to get the clouds, the moon and the dark sky (with tiny little stars carved out) was going to take five impressions. Here are the first five:

Impressions 1 through 5 for "Mountain Melody"
I love the richness of the oil-based colors I use and this deep, deep blue sky is a good example of that. In the sky, the fourth impression is a blue that goes from dark to light (left to right). The fifth is a transparent layer of a dark violet that reveals the dark side of the moon (which has been carved away.) But after a month, I hadn't even started in on the mountains yet, except for the far distant ranges. By the way, that spot of yellow in the center is going to be the lights of the little village nestled in the valley.
So, starting in on the mountains with fog in the valleys, each range graduates from dark to light (top to bottom) and then the fog is revealed by wiping away ink with a cotton wash cloth. I ended up going through a dozen wash clothes by the end of this print. Here is how the ink was applied using a paper mask to limit the application of a color: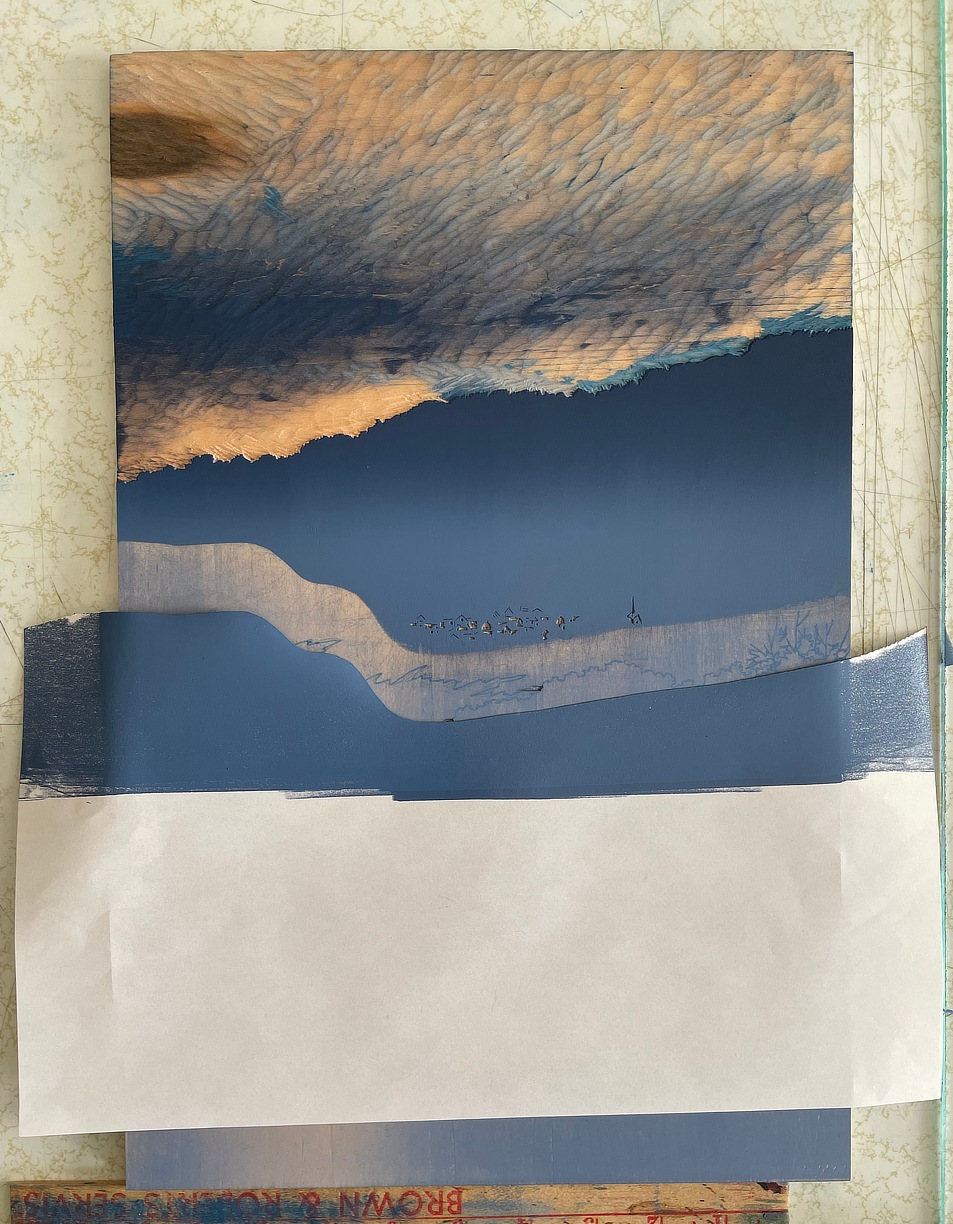 Then the ink is wiped away to create the fog: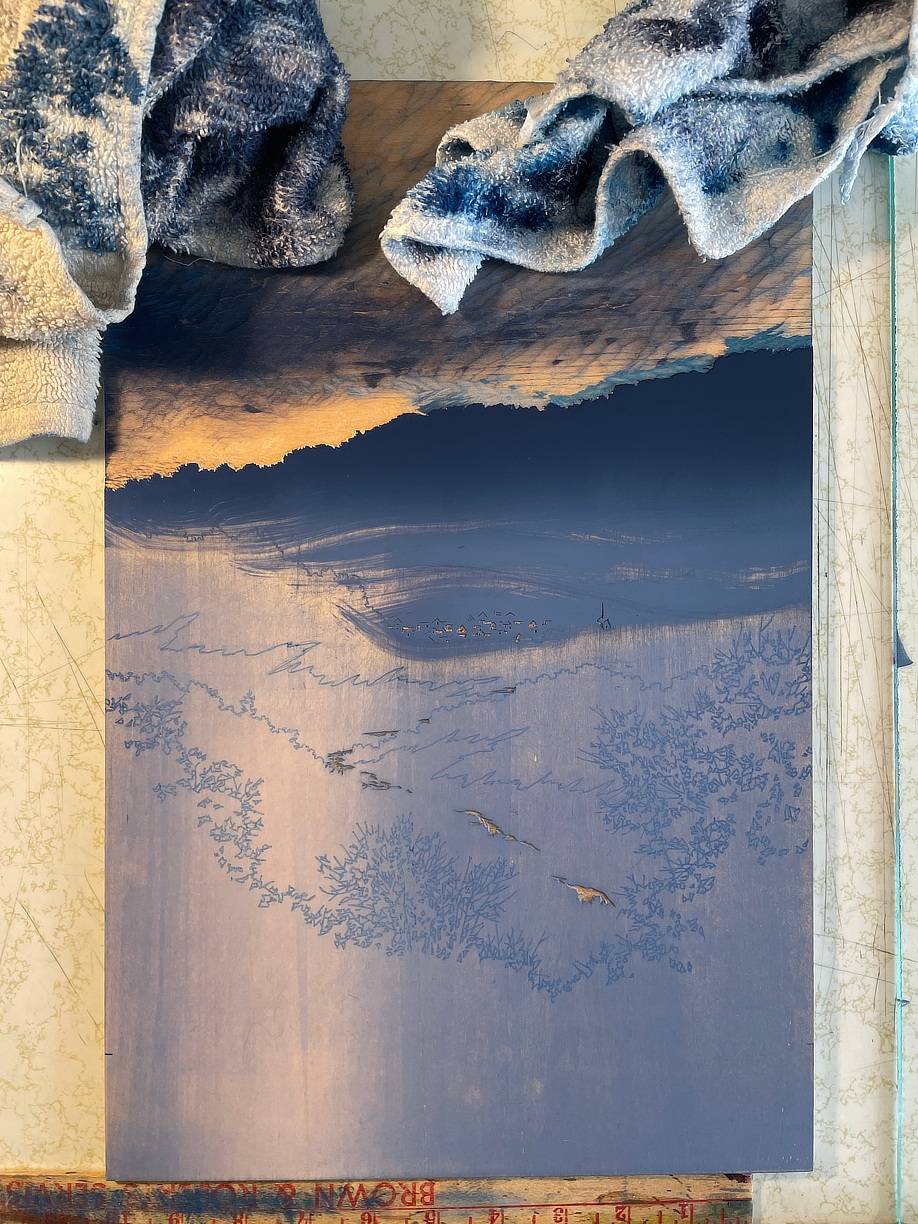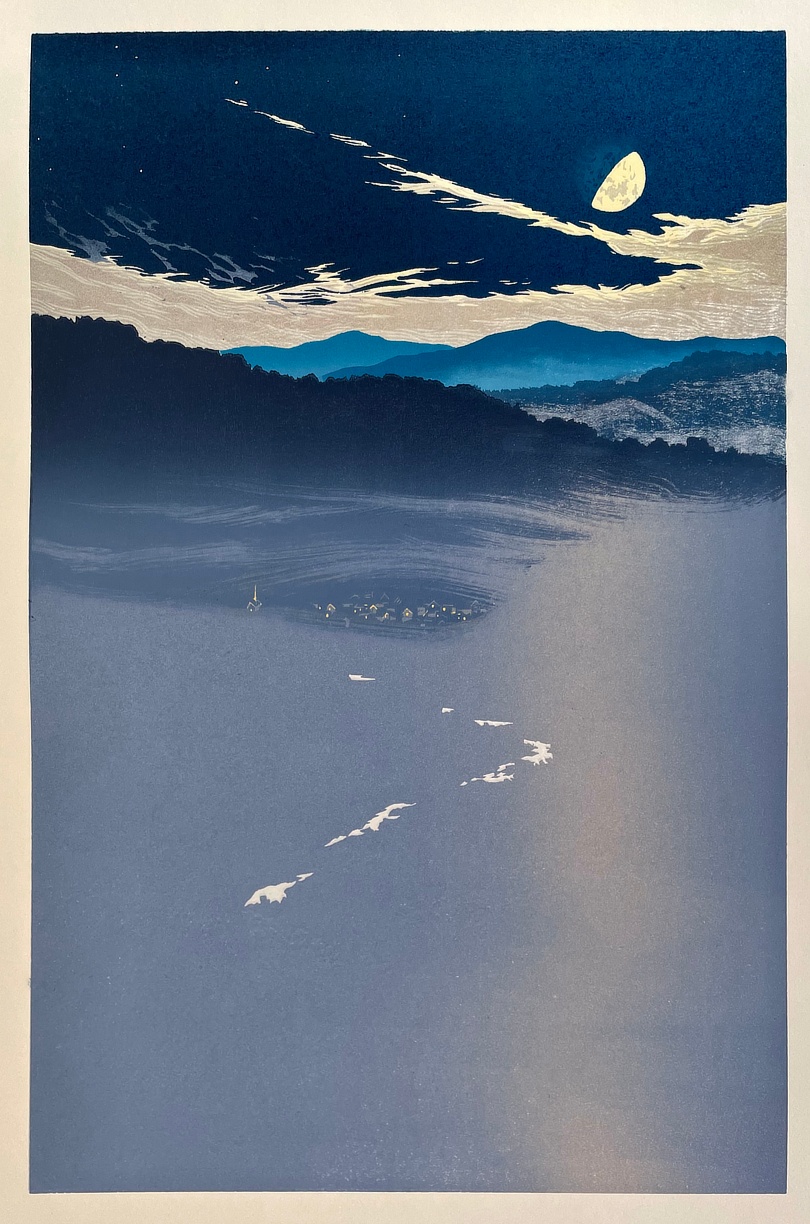 My intention was to create an edition of 100 prints. So each application of each layer of mountains was done more than 100 times and each impression took about ten minutes to do. More than once I questioned my decision to do this since it would take me three or four days to do one layer of mountains. I often tell people that the printing process is very much like a meditation, doing each step repeatedly and trying to maintain my concentration. But it can be very tiring. Still, I kept at it using my motivation of what I intend the print to look like in the end. And I was quite pleased with the final result: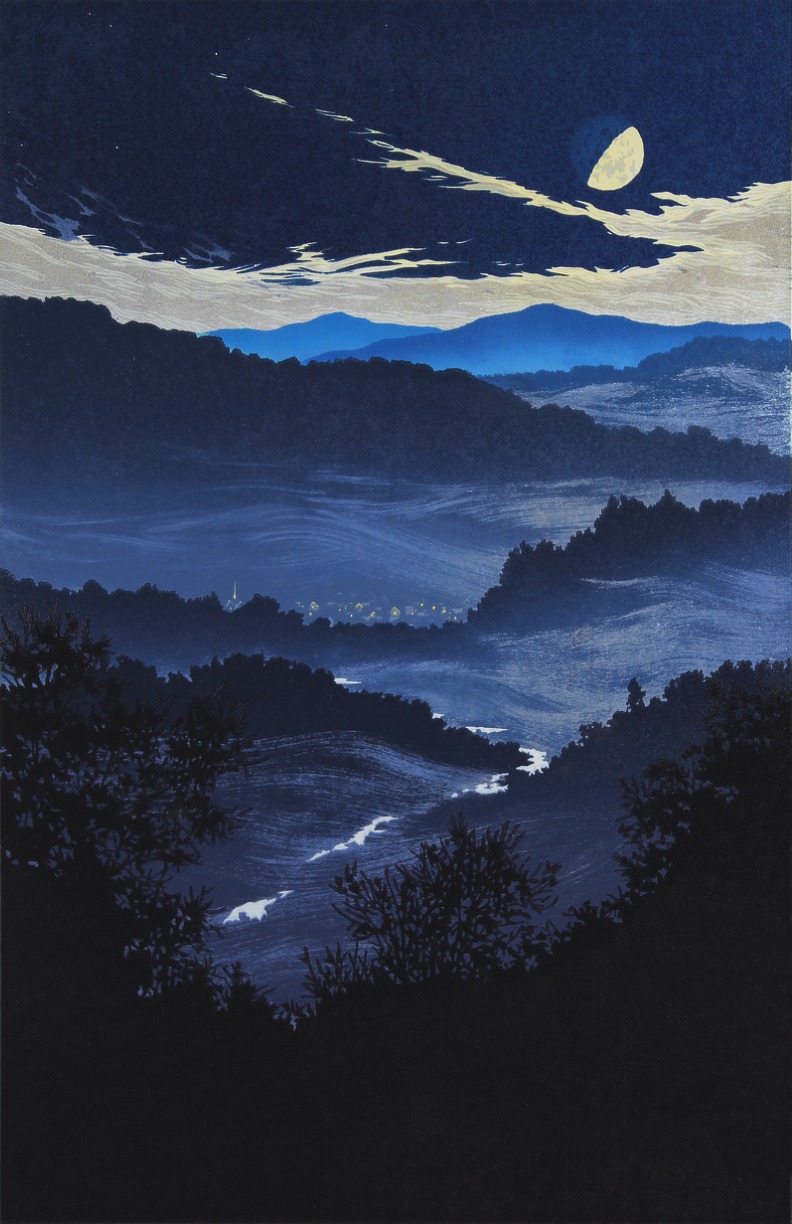 "Mountain Melody" woodcut print, 17" x 11"
Here's something new and interesting as well, a video of the whole process:
I spent nearly two months doing this print and I did get an edition of 100 prints! I felt quite a sense of accomplishment when it was all done. As always, this print is available for purchase on this website. Despite the ongoing pandemic that we are all dealing with, I have occasionally been receiving visitors at my studio. So, if you're interested in seeing this piece in person (and others, of course), get in touch. I'll be very happy to show you what I'm working on these days. I've already got another print underway!
Once again my work (three prints) has been accepted into a national juried show entitled "The Winter Palette" which will be shown from February 11th through March 25th at Fine Line Creative Arts Center in St. Charles, Illinois (just outside of Chicago). If you're in the area, drop in to see this excellent exhibit. Almost all of the galleries which represent me are open regular hours these days. Take a look at the locations and do drop in to see my work in person. Take care of each other and take care of yourselves. Don't hesitate to drop me an email. I enjoy hearing from you.
Yours,