My Dear Patricia, Winter's Gown and Patricia's Pipers
Apr 01, 2014
Hello and Welcome Friends,
They say that into each life some rain must fall (actually, Henry Wadsworth Longfellow said that). And so it has.
It has been since December of 2012 that I posted my last newsletter. After twelve years of posting updates on my latest works and news of my life, I tired of the demands of it and took a break. As well, it might be that the universe was steering me toward spending more time with my wife, Patricia. And to my great good fortune, I did.
Ironically, I ended my last newsletter with the proclamation that "2013 Is Going To Be Awesome" - and it was. In July of 2013, my Patricia graduated from this life and took her new place in the cosmos. I miss her greatly and, if you read back through almost any of my past postings, you'll see how she was a great life partner and how I love her profoundly.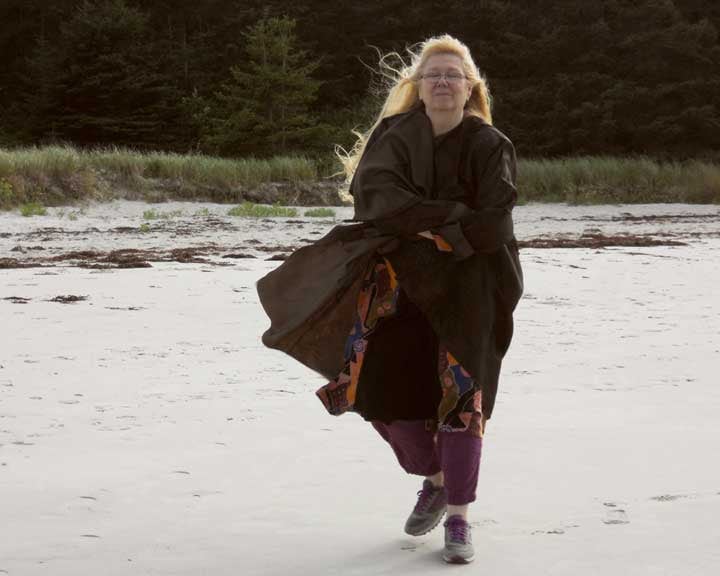 Still, over the course of the past year and some months, I have managed to produce some artworks which I hope you'll enjoy seeing.
I've not been doing any painting as it has taken a back seat to my printmaking. The change in careers and media has been very challenging and satisfying. The challenges of printmaking are considerable and I'm very much enjoying the results. They've been very well received and for that, I am grateful to all of you.
The first print is a winter scene which I've been kicking around for many years. Finally I came up with a composition I liked and I began printing "Winter's Gown" with my new press in Nova Scotia.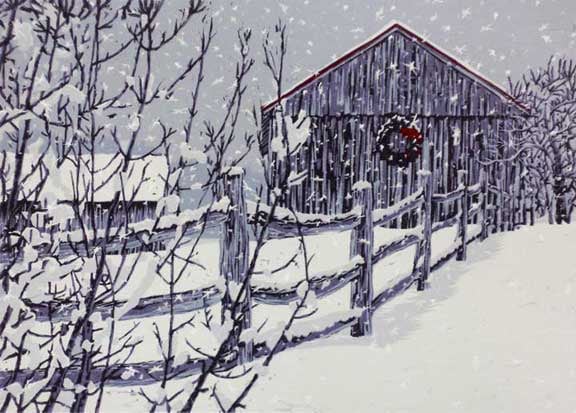 "Winter's Gown", 7-color Linoleum Block Print 5" x 7".
I was very pleased with the results and started in on the next one right away. "Patricia's Pipers" is a composition borrowed from the first reduction linocut print I ever did in June and July of 2007.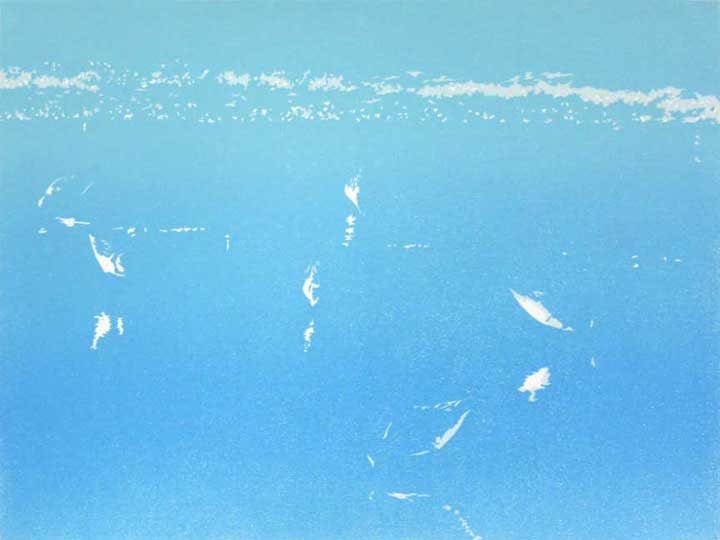 "Patricia's Pipers" after the first two impressionis, a light blue and a graduated tint of two blues.
The next stage took some careful carving, very shallow to create the texture I wanted. I had to test it out three or four times by taking an interim impression of just one color. Here's what I finally settled on for the next impression after several days carving.
"Patricia's Pipers" test impression for the third color printing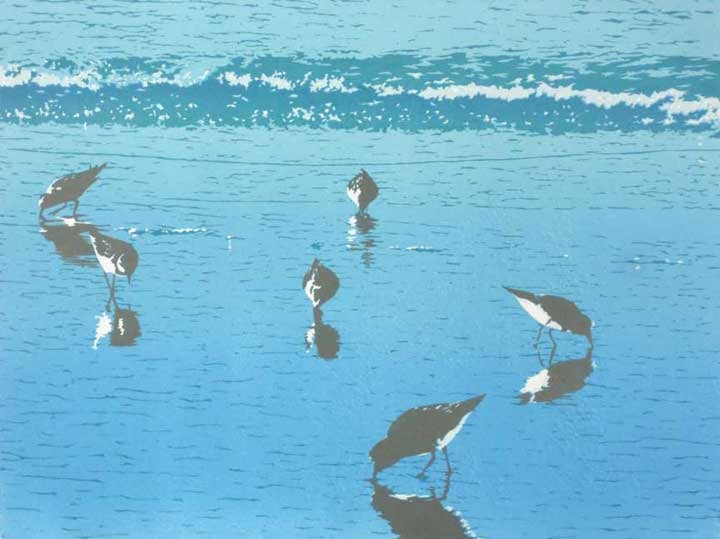 "Patricia's Pipers" with the third and fourth impressions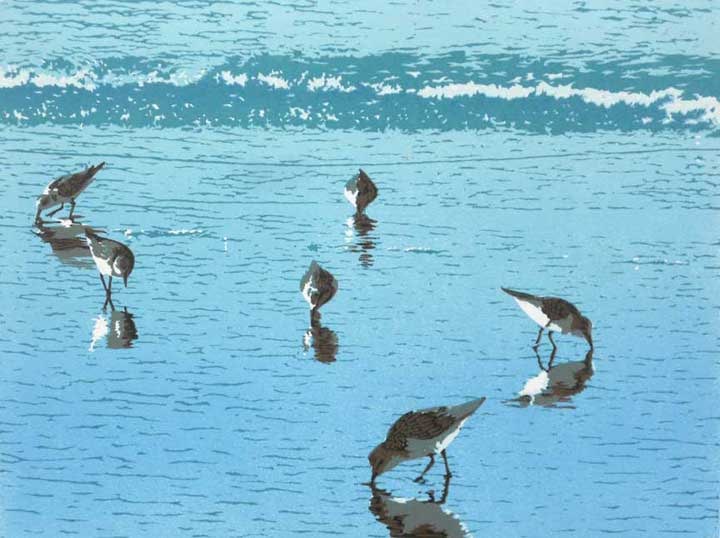 "Patricia's Pipers" 7-color linocut print, 9" x 12"
The next print is a departure for a couple of reasons. It is loaded with meaning for me, since it was done in honor of my Patricia. I wanted to do a print especially for this purpose. There are certain ways that I work which Patricia called, "quintessential William Hays." She was the reason I started printmaking at all. In fact, all of the turning points in my life were the result of my partnership with Patricia. I wanted this print to be for her to honor the end of her life here with us. We cherished every day we had together and spoke of this blessing often. Because of her fragile health, we skipped living in Nova Scotia for the summer in 2010. When we returned in 2011, we went to our home via the scenic route by taking a week to travel through New Brunswick and Nova Scotia. One place that we both liked very much was Advocate Harbour, Nova Scotia. This next print is from that place.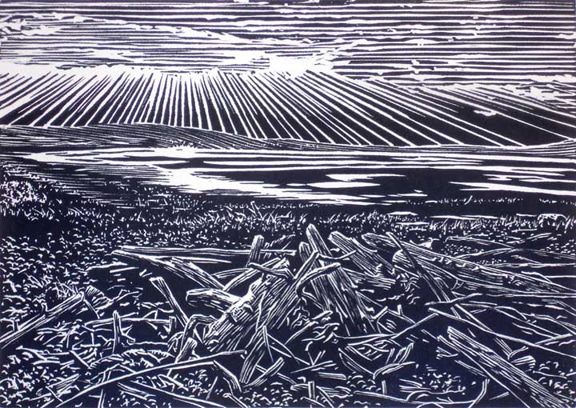 "Patricia's Sunset" one-color linocut print, 5" x 7"
It doesn't seem like nearly enough work for that amount of time. But there it is. I have another print underway right now that is coming out very good. I look forward to sharing it with you in the next newsletter - which I hope will become much more regular now that I am regaining my rhythm in work.
Do drop by The Artist's Loft Gallery [now closed] to visit me in the studio. As well, be sure to mark the first Friday of each month on your calendar. It's Gallery Walk in downtown Brattleboro from 5:30 to 8:30 PM. And remember, my gallery and studio are open 10-6 daily in Brattleboro. I always enjoy showing my work to folks and often have a print underway so you can watch the process. Come on by!
Yours,
William H. Hays