"Sunshine Snowfall"
Apr 01, 2018
Hello and Welcome Friends,
This newsletter is much more brief than most. Hope you enjoy it.
Long ago, when I was young and just starting to have exhibits of my work, I had a show of my watercolor paintings from a six month trip I took to central Asia. At one point a fellow (who I don't remember) was asking about my work and commenting on the paintings. He became a little thoughtful and offered me a bit of advice. He said, "Paint what you know. What you know best will yield the best work. Look in you own back yard."
I've never forgotten his words. And so this past month I did exactly that. I was struck by the morning sun on the heavy snow cover in my back yard from my bedroom window. The low light was brilliant yellow and it was snowing with the sun shining brightly. This was the inspiration for my print.
Here are the first four impressions of the print. The first two impressions used three colors each. The third, just one color. The fourth, two colors. The final impression, just one color for ten colors in total. Inking multiple colors on a block with a brayer (roller) is very time consuming when printing an entire edition. Doing so is working with a blunt instrument. I can follow my drawing on the block and stay pretty well within restricted areas but there is often overlap in each print and each ends up unique because of it.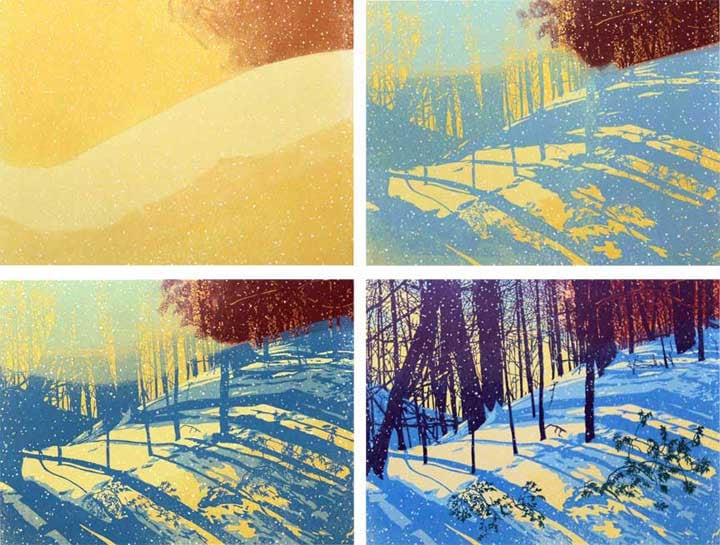 "Sunshine Snowfall", impressions 1-4
And here is the final print.
"Sunshine Snowfall", 9" x 12", five impressions, ten colors
I do hope you enjoyed seeing how my print took shape. So far this year my work has been accepted into seven national (US) competitions and two regional shows. I've been fortunate to receive two awards and have had quite a few sales of the prints in these shows as well as in the galleries which represent me. If you'd like to catch my work in person you can take a look at the galleries which carry my prints or see which shows I'll be in. The new print above can be purchased from this website.
Do write. I enjoy hearing from you.
Yours,
William H. Hays