Night Flight
Jan 01, 2017
Hello and Welcome Friends,
Every print I do has a story. They take quite a bit of time to plan and execute and this month's project illustrates that better than most. So let's get started!
Inspiration is a word often used when discussing the creation of a work of art. It carries with it the image of a breath (literally) of creativity which comes from the ether and lands in the artist's head. But it is usually more straight forward than that, involves much more work and is fairly easily traced.
Many times I've visited the Wadsworth Atheneum in Hartford, Connecticut to enjoy their wonderful collection of works by 20th century artists. An image which stuck with me over the years is a painting by Andrew Wyeth called "Northern Point" which was done in 1950. It is a simple composition with the striking viewpoint of being on the roof of a barn or home with an old iron and glass lightening rod in the foregroung, overlooking a simple arc of the Maine coastline.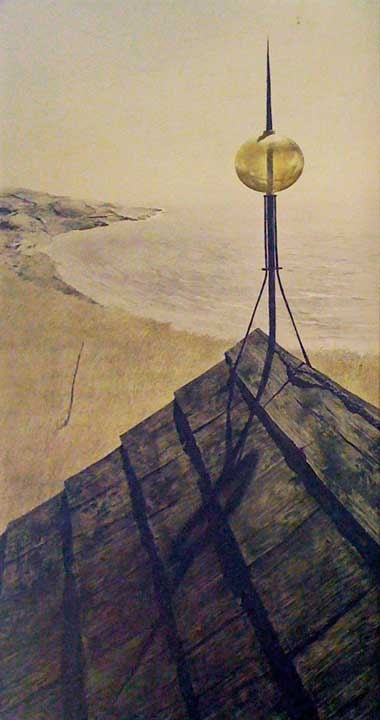 "Northern Point" by Andrew Wyeth, Egg Tempera on Panel
But I had remembered the painting quite differently! I remembered the painting as looking down on a church steeple - and that is the perspective I wanted to explore, at night with snow falling. The church I had in mind is the Congregational Church on Main Street in my home town of Brattleboro, Vermont. I've used this building before in one of my first successful reduction linocuts, "Illumination." But a view from above the steeple, looking down was not at my disposal. That's where creativity becomes very useful, indeed. So I got started on a drawing which ended up taking about a week to complete.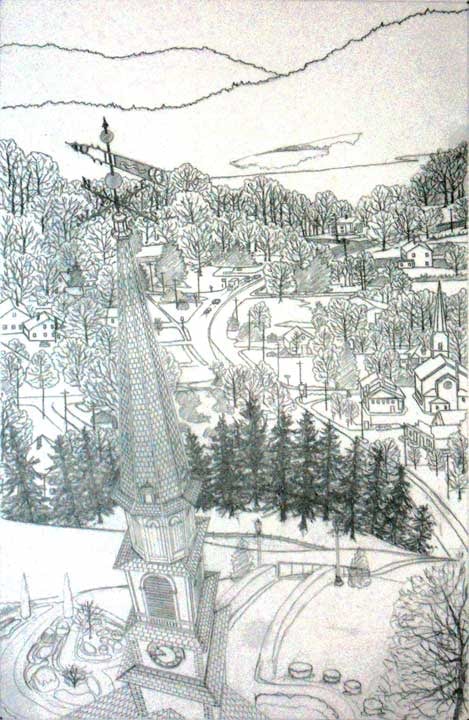 Preparatory drawing for "Night Flight", pencil, 17" x 11"
Since embarking on linocut prints, my drawing style has changed quite a bit. I'm actually thinking of the drawing more as a guide for carving than an image of what I want the composition to look like. The drawings often end up looking more like elaborate cartoons than tonal, traditional drawings. And that is the case here.
After transferring the image to my block of linoleum with carbon paper and going over it again with indelible ink, I began my printing before carving away any of the block. This first impression from the block was done by applying the ink with a brush (rather than a brayer/roller). I inked all of the little windows and areas of light with a golden yellow. It took four days to do this first impression on 110 sheets of paper (for a final edition of 100). Here's an image of the linoleum block on press, inked for the first impression with the complete drawing: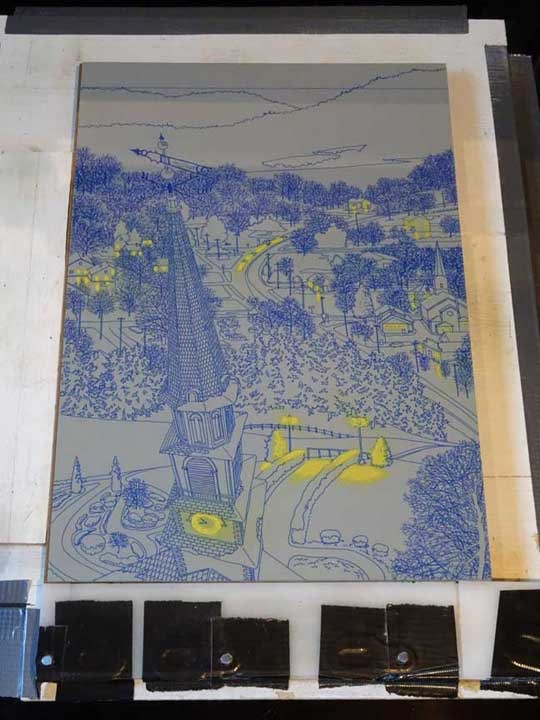 The next four impressions revealed the glow of the yellow below the layers of color which followed. Here are impressions two through five. The last of these (the fifth) impression took more than a week of carving in preparation for printing - all of the trees and buildings....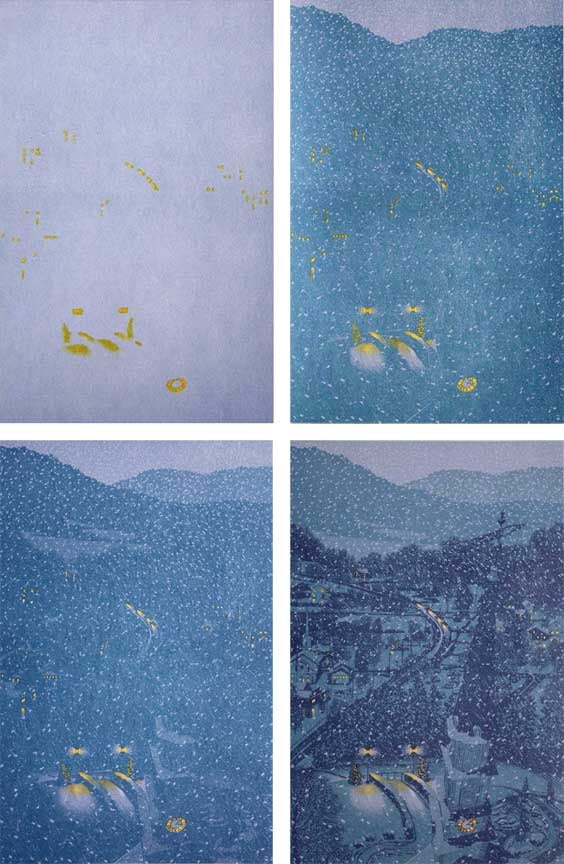 Two more colors/impressions were added after this, a warm gray and a violet that is almost black. The final print is seven impressions.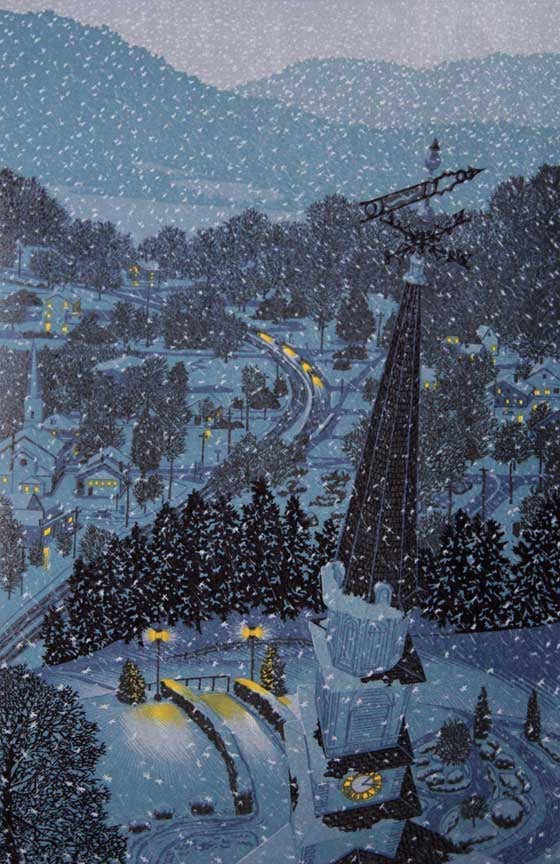 "Night Flight" 7-color linocut print, 17" x 11"
I don't usually do this but I think this print invites a couple of detail shots when viewing it online: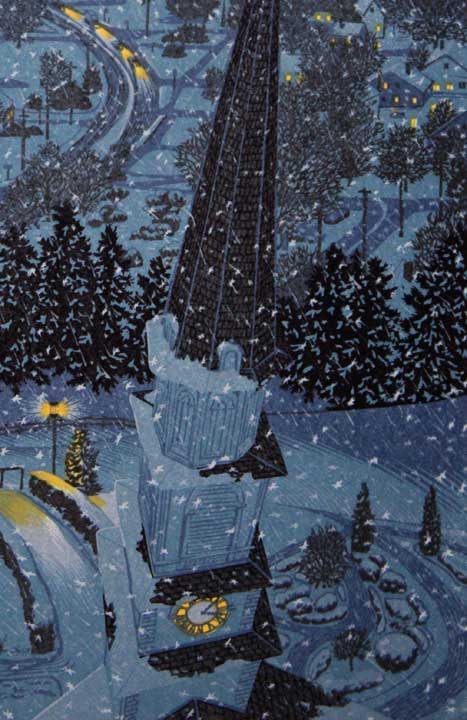 "Night Flight" detail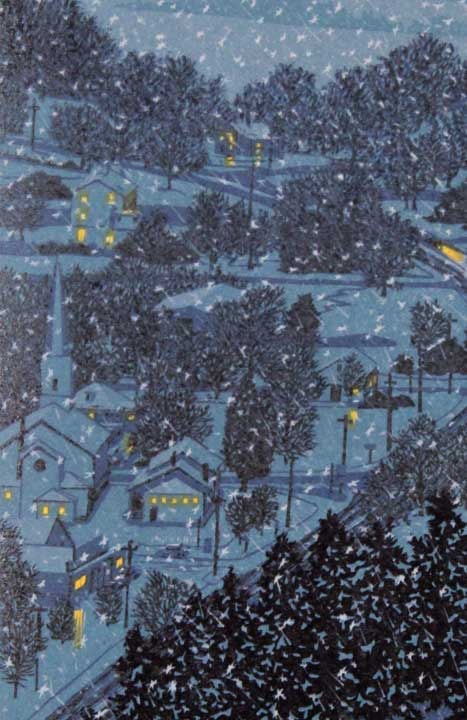 "Night Flight" detail 2
This was a difficult print to complete, probably my most ambitious to date and I'm quite happy with it. This print can be purchased from this website (unframed or matted).
I enjoy hearing from you... if you've read this far. I know it's a lot of text and images for one print but I enjoy the process and sharing it with you.
Yours,
William H. Hays