Peace while in turmoil: "Crescent Coast"
May 22, 2020

HELLO AND WELCOME FRIENDS,
The last print I did ("Downeast") was fairly true to the source material, a small watercolor I did at Mt. Dessert Island. In this next print I diverged quite a bit from my original painting.
The source of my inspiration was an oil on canvas entitled "July Coast." I did it in Nova Scotia in 2003. I was a dynamo in those days and would do between 5 and 10 paintings a month!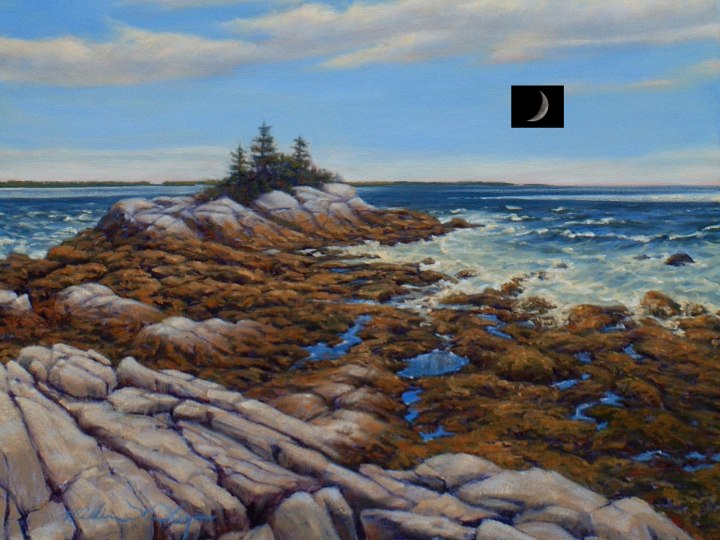 "July Coast" 2003, oil on canvas by William H. Hays
Now you may have noticed that there's a black rectangle with a crescent moon in the sky. Of course, I added that in the computer after playing around with the idea of a full moon earlier. You also noticed, no doubt, that this is a daytime painting. But I wanted to do a nocturne. I think I enjoy the deep, rich colors, so I do quite a few over time.
Anyway, I drew it out on the block, keeping in mind that I was going to carve this image. The rocks in the foreground, the trees and much of the water is pretty straight forward for me but the seaweed covered rocks, in moonlight.... I wasn't too sure how to draw my instructions for how to carve that.
I have told many people that I think very much in terms of patterns and rhythm when I'm composing a linocut and when I'm carving it. There are very limited tools I use: a knife, a V-shaped gouge, a U-shaped gouge. That's it. So I find patterns which describe a texture and then try to carve that pattern with continual changes and manipulations so that it isn't repetitive. Then I vary the pattern in density to create rhythm.
Blah, blah, blah! Art Speak.
So here is the first impression of the print: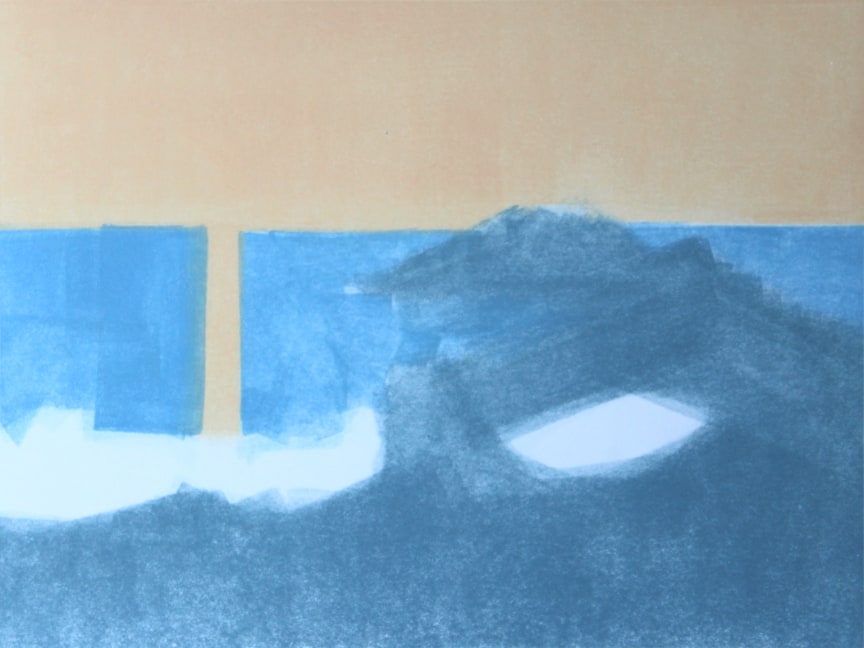 Impression #1 for the linocut print, "Crescent Coast"
One of my artist friends said it looked like a Milton Avery painting at this stage.
These first impressions can be very rough and accurately applying ink to curves and contours with a brayer is a crude way to paint. But... I have an idea. That vertical stripe of salmon is going to be the moon reflecting on the water and the blue will be the brightest part of the ocean and.... It all changes so much from here!
The next stage took a little more thought because I wanted to create a quarter moon with the shadow side of the moon visible from earth glow. I also wanted the colors to be really rich and saturated. So I decided to print the next set of colors twice - with one significant change. On the first impression I covered the end of a dowel with a piece of t-shirt and carefully removed the shadow side of the moon. I did not do that on the next impression and got the somewhat ghostly shadow side to appear and nice dense color: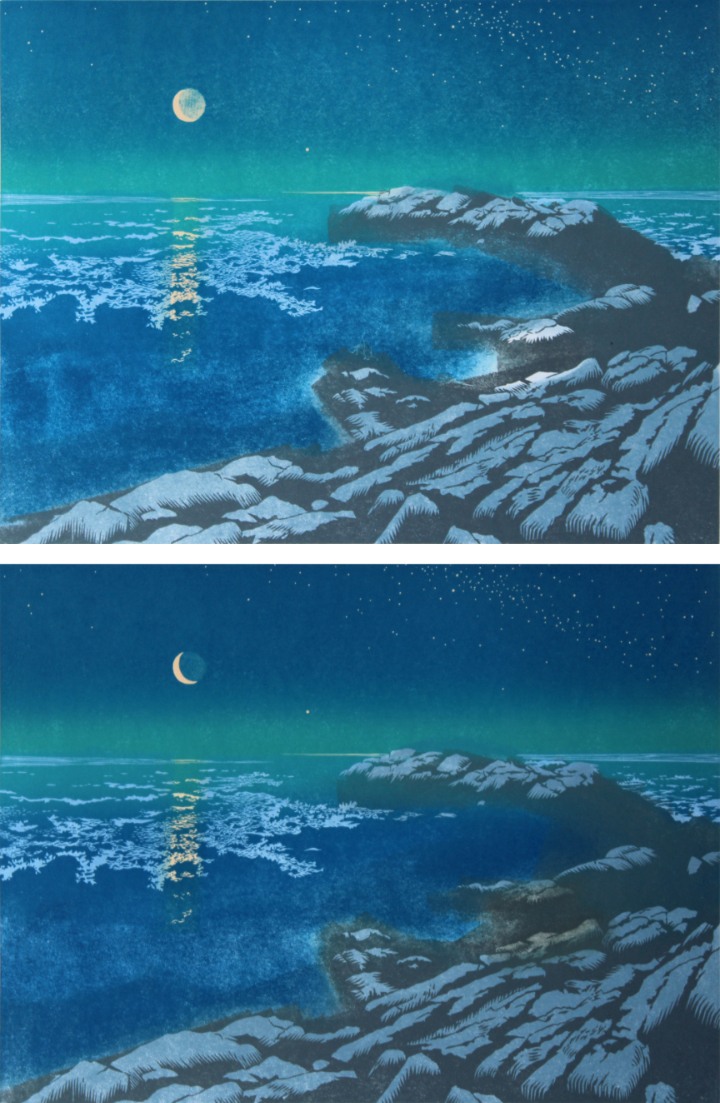 And here are 110 spots picked up off the block along with my trusty dowel.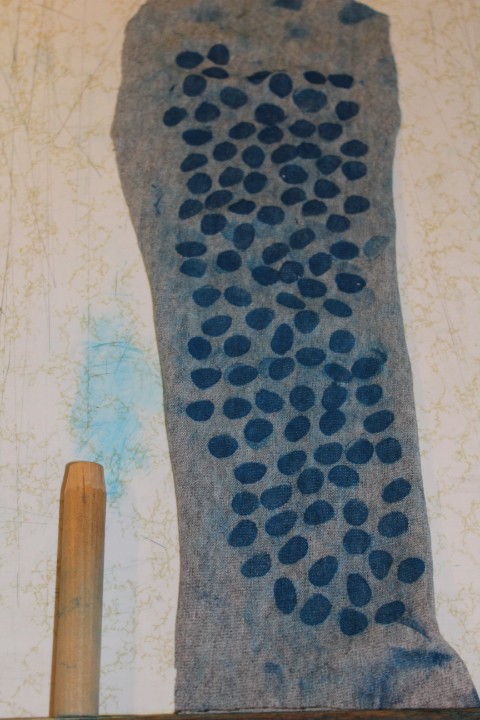 From here all I just needed to fill in the deep shadows with two more impressions. As I mentioned the carving was challenging and took many days. But in the end I am very pleased with this print.
"Crescent Coast" linocut print, 9" x 12" by William H. Hays
This print took an exceptionally long time to do. I started it at the end of February. After a week I had it drawn out and ready to begin printing. I took a couple days to do some business work and by the time I came back to the print, the world was being consumed by the tidal wave of Covid-19. It took the wind out of my sails and I did no more work on the print for another 5-6 weeks.
Fortunately, I returned to it and then spent another 3-4 weeks carving and printing to get the final result.
Of course, this print - along with quite a few others - is available from this website. Also, you can see the print in higher resolution. If you're finally out and about and you're near one of the galleries which represent me, do drop in and see my work in person.
Take care of each other and take care of yourselves. Don't hesitate to be in touch. I enjoy hearing from you.
Yours,