Tranquility On The Water, "Serenity"
Oct 30, 2019
Hello and Welcome Friends!
Like the picture of me working above, this has been a busy time for me. I just love working on my new press. And being able to produce larger prints thrills me! OK, just one more time: my new, larger press in my little studio.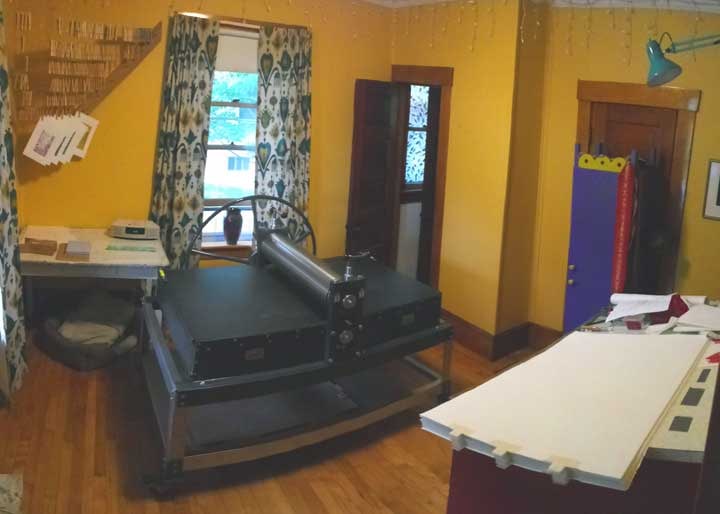 Once again, for this new print I went back to my days of painting in oils. The subject matter is one I've addressed many times - the West River in Brattleboro, Vermont. I don't know exactly how many paintings I've done of this place. Suffice it to say, many.... The painting I decided to work with is entitled "West River Sunset IV."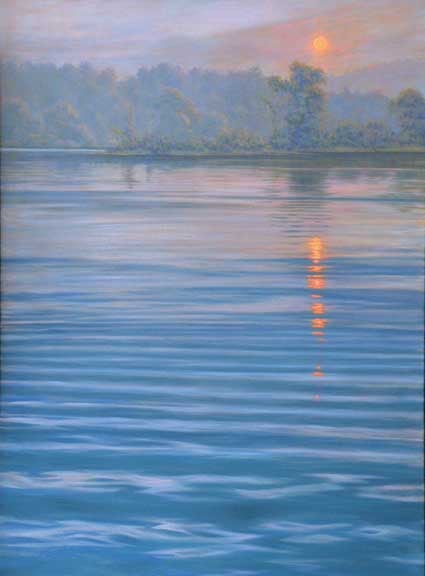 "West River Sunset IV" 2001, oil on canvas, 28" x 38"
After converting the image into a drawing, I transferred it onto the wood block. The first impression I made was with none of the block carved away, just a solid block of color. One by one, I carved the block further and layered transparent and semi transparent colors on top of each other. This is almost like watercolor painting, except that it is in extremely slow motion.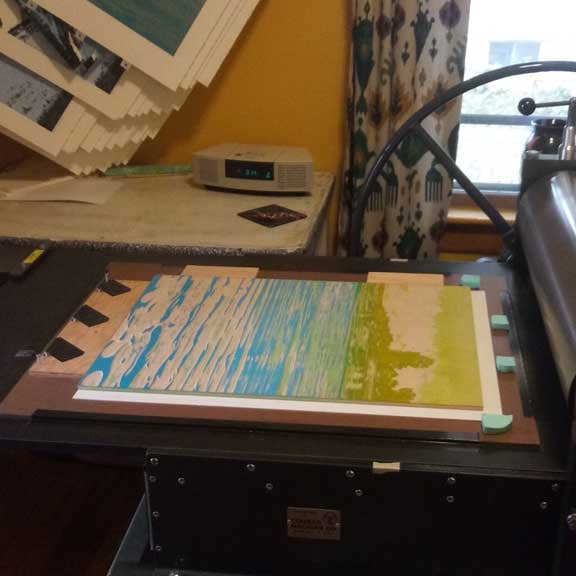 Wood block for "Serenity" on press
On the second and third impressions, I used a towel to partially wipe away the ink in the sky, creating clouds. I like the effect of this but there is a high degree of unpredictability in doing these wipes. They are never in exactly the same place or done in precisely the same way from print to print. My prints are always original works of art. This process just makes them a little more unique from print to print within the edition. As you look at the stages below, you'll notice that the clouds are different in each print.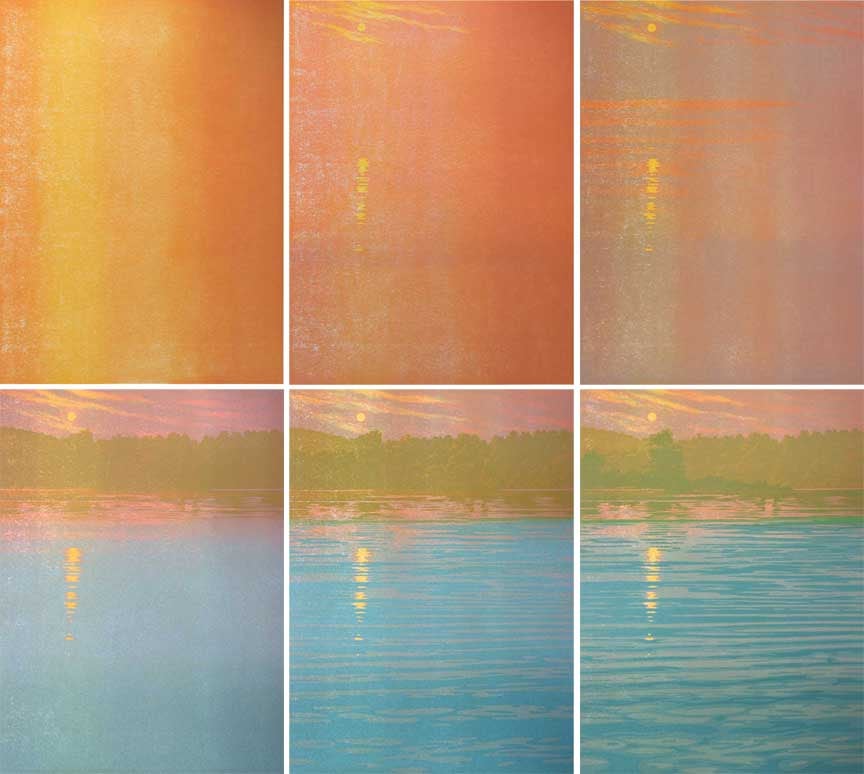 "Serenity" impressions 1 through 6. Woodcut, 25" x 18½"
I ended up making eight impressions altogether and, as usual, this print took about a month from start to finish. I love the atmospheric effect of the layered colors. I also enjoyed carving the shapes in the water. It's an interesting balance between rendering and patterning. It's always a little bit difficult to have a clear idea of what a work of art is really like when you view it online. Following the completed print, below, are two details which might help with that.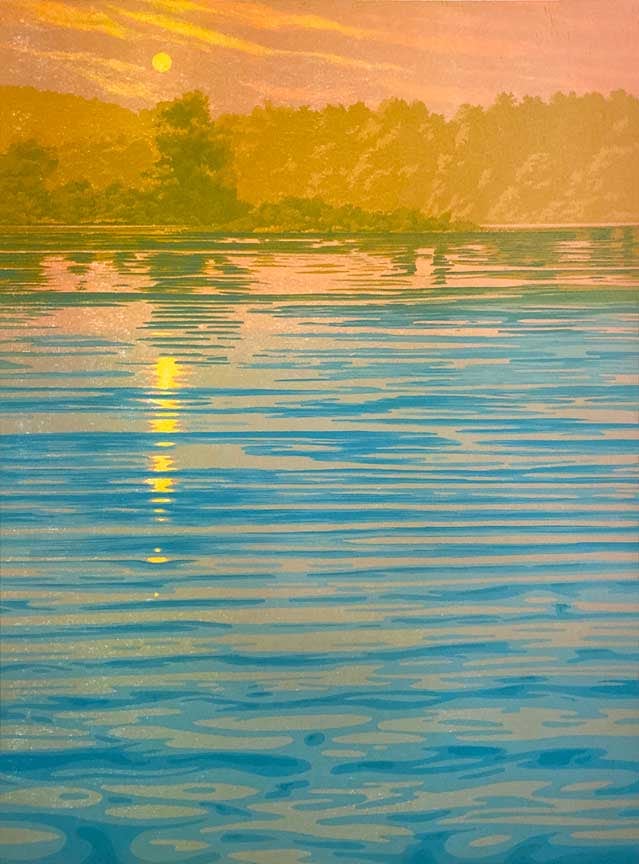 "Serenity" woodcut, 25" x 18½", by William H. Hays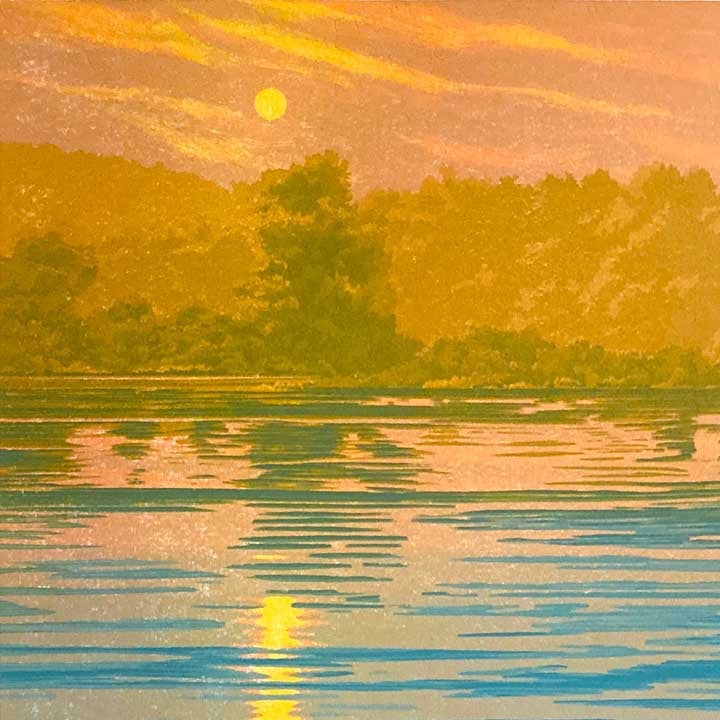 "Serenity" (detail)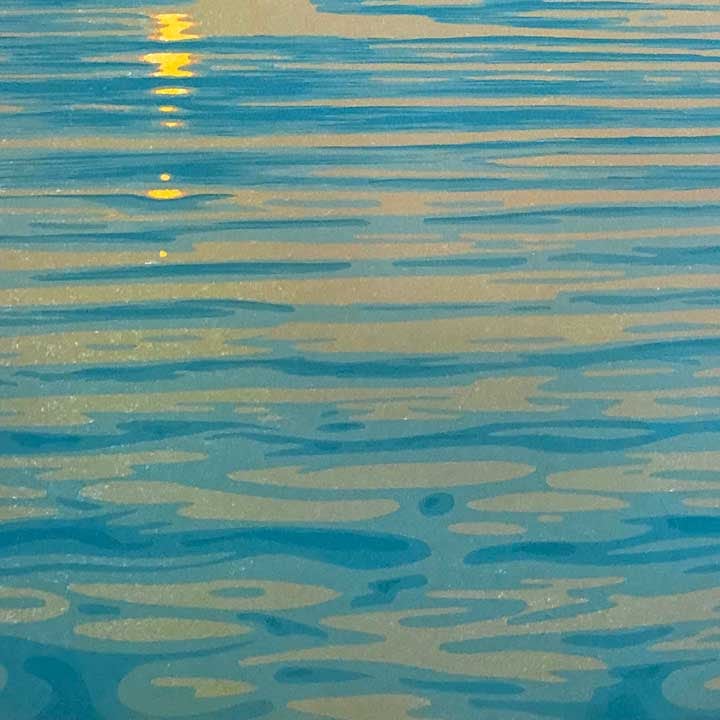 "Serenity" (detail)
And so, another print is completed. I hope you've enjoyed seeing the process. I always find it interesting to look back. Let me know what you think. I enjoy hearing from you.
William H. Hays