Stickneybrook
Oct 01, 2014
Hello and Welcome Friends,
It's been a busy summer and my ability to produce more prints has been curtailed. Nevertheless, I've managed to complete what I believe to be a fine print and I'd like to share the process with you.
Like almost every work of art I do, I began with a drawing. I knew I wanted to do an image of Stickneybrook, a place near my home in Vermont. I've done half a dozen watercolors, at least nine oils, sketches, and now this block print of this special place. It holds much allure for me. Each time I visit, I get out of the car and feel as if I'm seeing the place for the first time, despite 27 years of visiting.

The drawing began with two photographs, one recent and one taken years ago. I combined various aspects of each into a composition and began working out the arrangement of forms in pencil. As I was drawing, I began to recognize the problems with how I was going to break down the colors to get the image I wanted. The complexity of it was considerable and I had trouble keeping it straight in my head. So I began coloring in colored pencil to show myself how to do it.
Once I got enough information in the drawing to see what I was going to do, I wrapped the drawing around the block and (using carbon paper and a ball point pen) transferred the drawing to the block to begin carving. One aspect of the drawing for a linoleum block print which is different than for a painting is that I'm, in essence, drawing a set of instructions as to how I'm going to carve. So it doesn't necessarily look like what I expect the final print to look like. It took me a week to do the preparatory drawing. Here's the drawing after I've used the ball point pen to outline my areas for carving: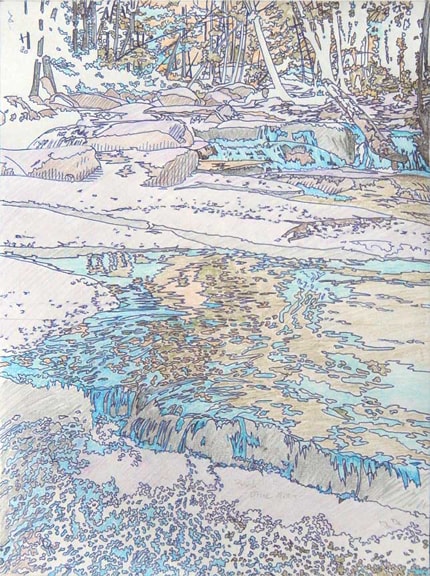 Preparatory drawing for Stickneybrook
As I was doing the drawing I developed a list of the colors I would use and what order they would be printed. This list changed two times and, despite all my consideration and planning, I changed my mind up to the last moment when deciding what colors to apply in the first impression. Rather than just one color, I applied three; a light gree-yellow, a more golden yellow and a light, blue gray.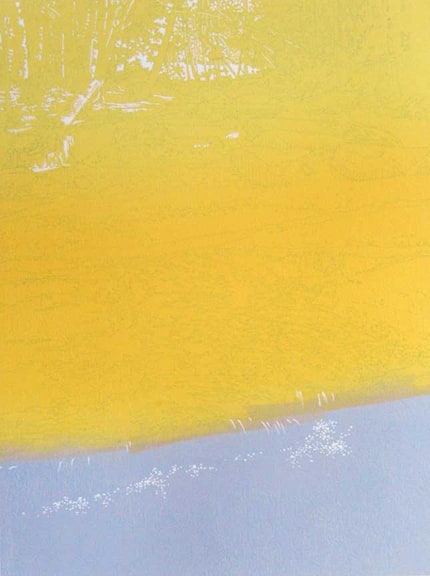 Stickneybrook" first impression
Note that you can see a ghost of the drawing from the block which transfers in printing the first color. This disappears with the addition of more colors.
Continuing with my carving and printing for the second and third impressions, I adjusted by color list continually as I went along. At the end of the third impression, I had already applied eight different colors. Below are the first three impressions.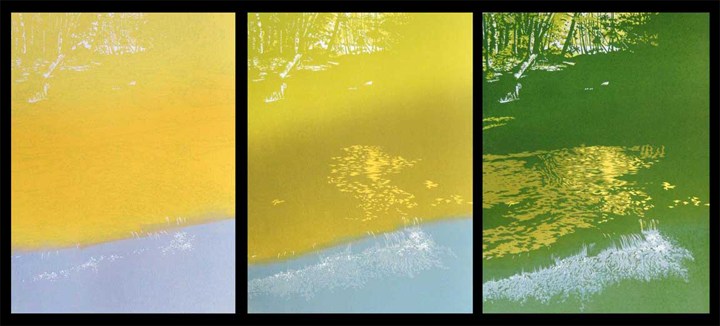 "Stickneybrook" impressions one through three.
In the fourth impression I veered away from the progression up to that point and injected a beautiful graduation from a warm green-brown to a sky blue and then an intense blue at the bottom. This gives the print a ghostly appearance at this point. But I know where I'm going, so I don't pay too much attention to the state of the print at this point, except to make sure the impressions are good quality.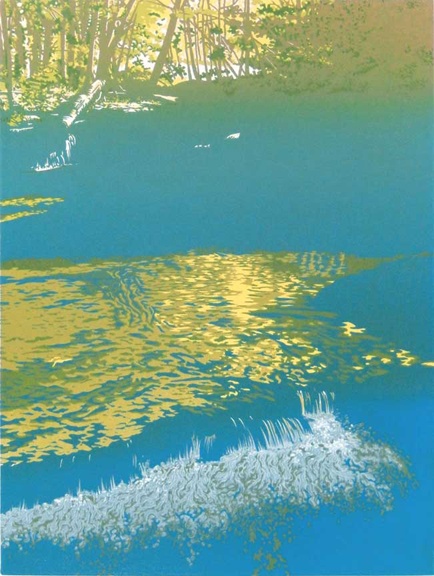 "Stickneybrook" fourth impression
In the next impressions I've added the first dark color to begin bringing the composition together in more of its final form. I'm going to skip showing you the next step and continue on to the sixth impression. At this point, I have added the darkest colors I'm going to have in the print. The upper two thirds is a dark brown-red. The lower, waterfall area is a dark blue-green. From this point, the colors will begin to be lighter in value as they are added on top of the six impressions so far. But these dark colors will essentially serve as black with the addition of the lighter colors around and on top.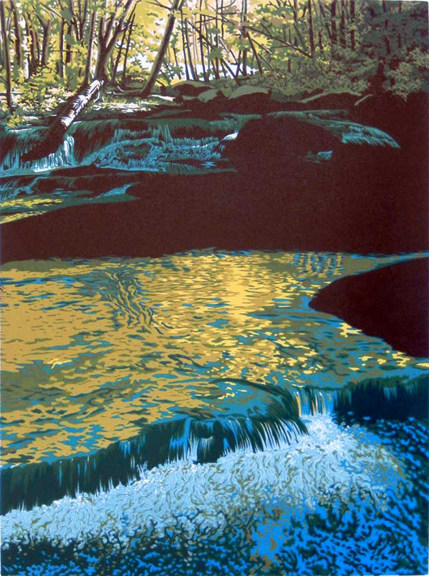 "Stickneybrook", sixth impression
The following images are a compilation of all nine steps of the process followed with the completed print.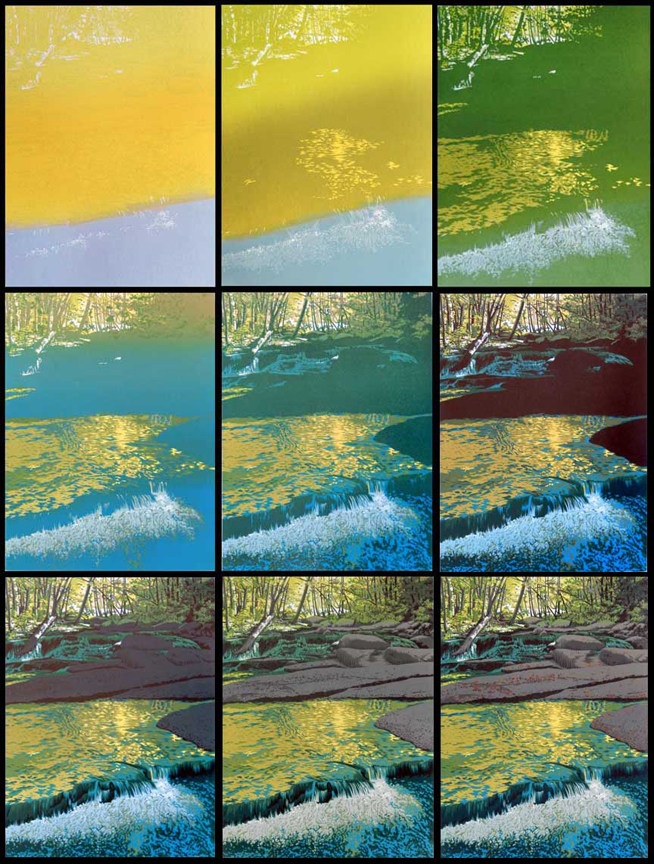 "Stickneybrook" first through ninth impressions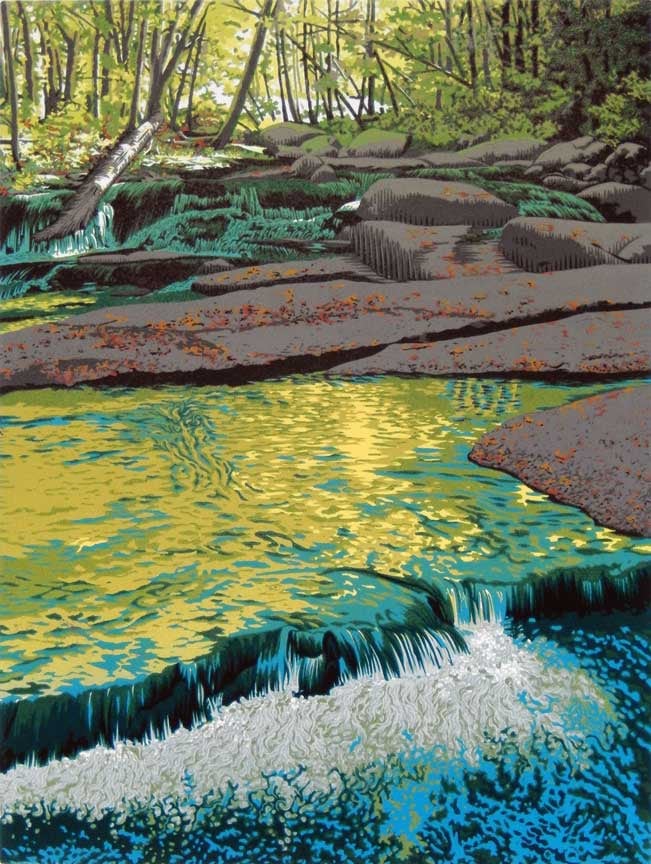 "Stickneybrook", 9-color linoleum block print, 12" x 9"
In all, I spent more than five weeks creating this print. I learned much and am pleased with the results. I enjoy showing people the process because it is something we rarely get to see - even more rarely with printmaking at this level. I hope you enjoy seeing it as much as I do sharing it with you.
Do drop by The Artist's Loft Gallery [now closed] to visit me in the studio. As well, be sure to mark the first Friday of each month on your calendar. It's Gallery Walk in downtown Brattleboro from 5:30 to 8:30 PM. And remember, my gallery and studio are open 10-6 daily in Brattleboro. I always enjoy showing my work to folks and often have a print underway so you can watch the process. Come on by!
Yours,
William H. Hays