Summer Falls and Island Universe
Apr 01, 2016
Hello and Welcome Friends,
It's a beautiful spring day in Vermont and my work in the studio is coming along very well this past month. I love watching the flowers poke their heads up from the litter of the winter. My favorites are the grape hyacinths in our yard. They're so delicate and such a lovely color.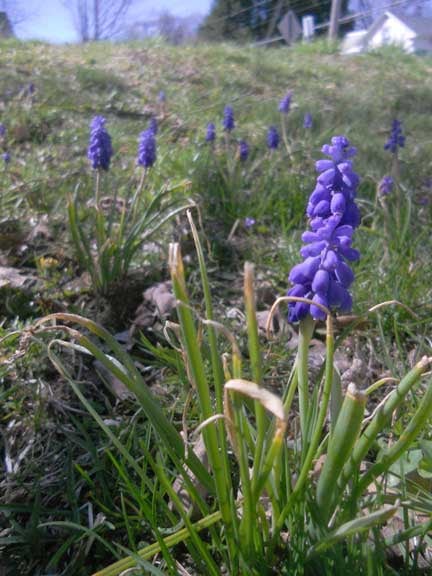 The first print is did in March started out much more simply than it ended up. I don't know how many colors I planned for this print, but it ended up to be many more impressions than I anticipated. I began with another version of a sketch of a waterfall on Stratton Mountain in Vermont. I've done several oil paintings and two previous prints of this place. All have been based on a couple of small pencil sketches I did on location. The last prints were larger. This one just 5" x 7".
To begin with I laid down two colors to tone the overall print, a blue in the lower area and a warm gray at the top.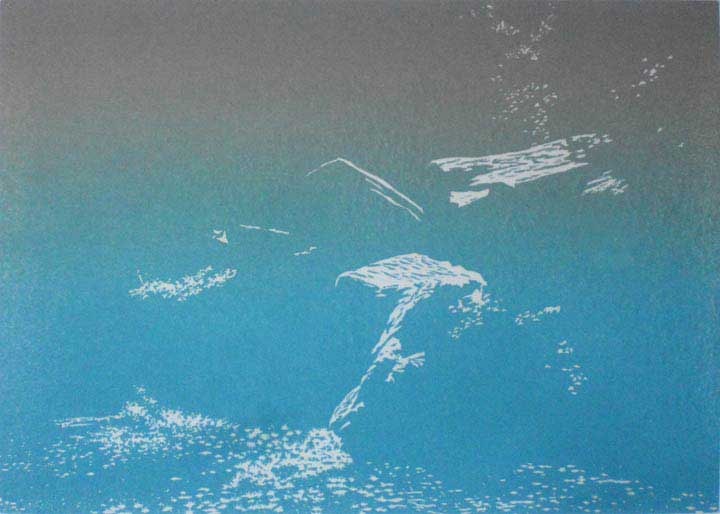 "Summer Falls" first impression
I followed this toning layer with two more colors, graduated in the opposite direction. The combination resulted in a nice, rich undercoat onto which I heaped layer after layer of colors. Here is the second step followed by a composite of twelve steps: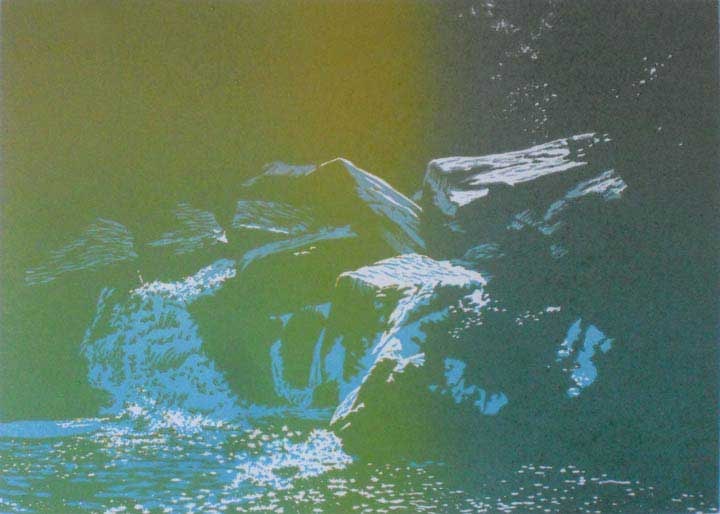 "Summer Falls" second impression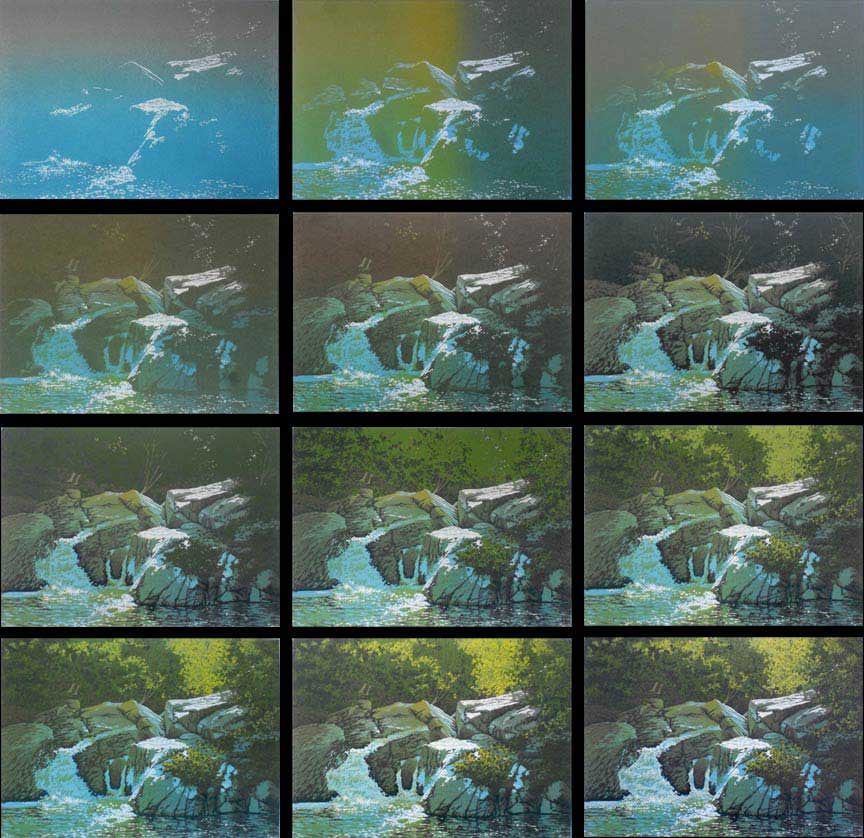 "Summer Falls", first twelve impressions
There is much subtlety in this print and I'm quite pleased with the tone and feeling of the image. Here's the completed print in 13 impressions, 13 layers of oil-based ink - which took quite a while to dry!.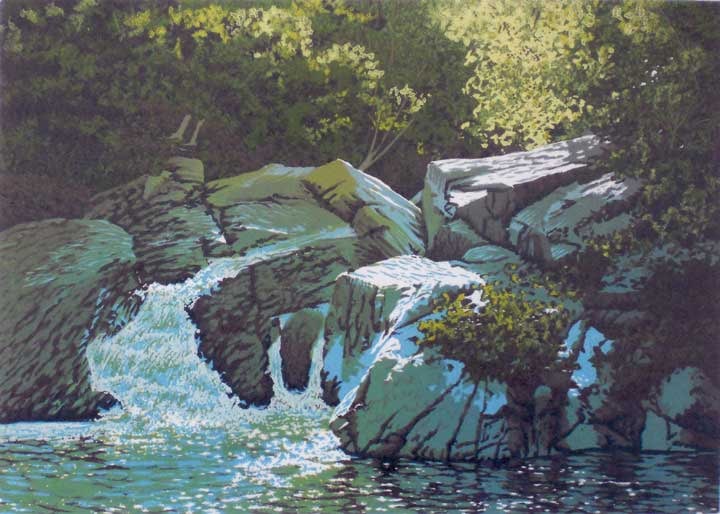 "Summer Falls", 13-color Linoleum Block Print, 5" x 7"
I have to admit that I was rather tired after so much work on this little print! So the next was intended to lighten up my work load just a little bit. Also, there's more of a story behind this one.
Shortly after my wife's death in 2013, one night a dear friend of mine took me to a place near my home in Nova Scotia called Beach Meadows.There we set up beach chairs and settled in to watch the Persied meteor shower. The evening was clear and cool and the stars were bright with the faint cloud of the Milky Way arching overhead. The gentle lapping of the waves on the sand completed the experience and the picture in my mind for this print. The island just off shore made a perfect pairing for the title.
The first impression was a graduated tint for the sky and a gray-blue from the horizon line down. There was a great deal of carving for this first impression. It was a trial for my eye sight drilling all those little holes with a knife! The second impression mirrored the colors of the sky over the gray-blue. Here are the first three stages of the print followed by the completed image: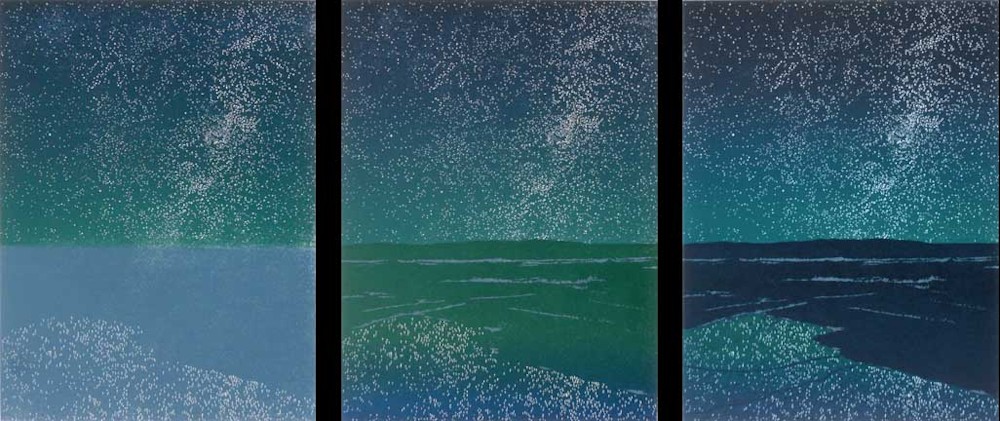 "Island Universe", first three impressions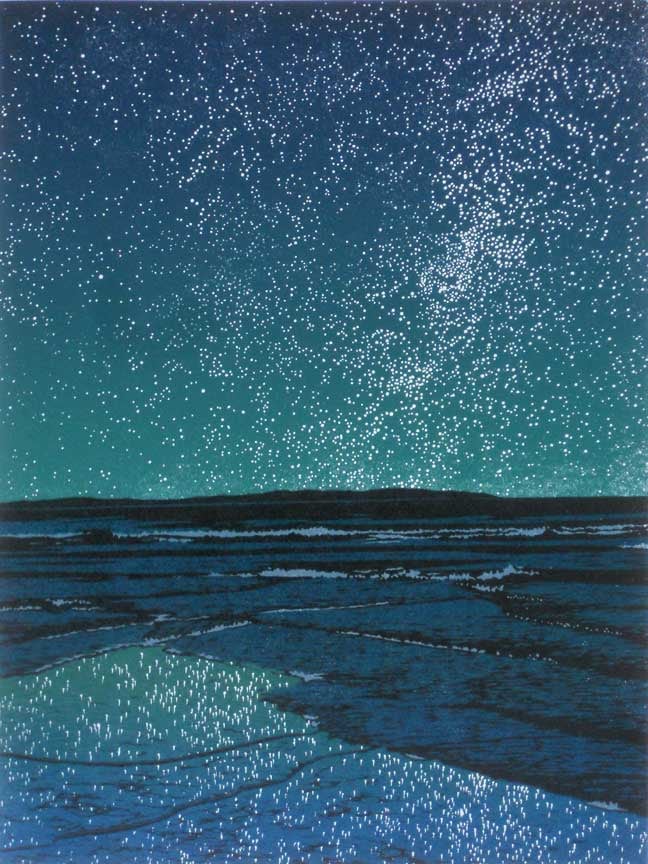 "Island Universe", 4-color Linoleum Block Print, 12" x 9"
I'm in the process of gradually expanding the geographic range of galleries which represent me. I want to tell the folks who live near Boston that the A Z Fine Art Gallery in Winchester, Massachusetts has relocated to a beautiful new space where you can find a selection of my work on display - and, they are excellent framers! In New Hampshire, the new League of New Hampshire Craftsmen gallery in the welcome center (on I-93 northbound) in Hookset now carries my work. Lastly, the Salmon Falls Artisans Showroom in Shelburne Falls, MA has remade their exterior and they are featuring on of my prints (Moonlight Lead) on a poster - nice and big! Thanks folks!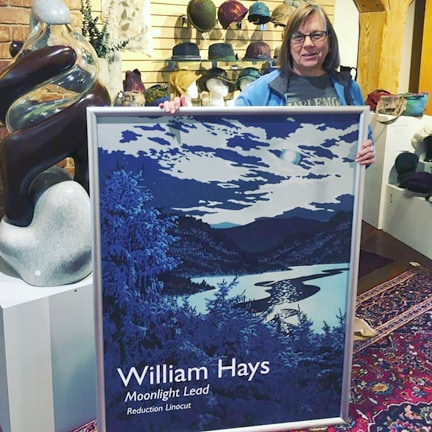 If you visit a gallery which doesn't have on hand one of my prints that your interested in, just ask them and they can order it for you. Just to let you know, the prices on my website are the same as the prices in the galleries. I don't sell matted or framed prints online - just the print itself. Naturally, the matted and framed prints cost more.
And so I'm starting in on the next print - of course - and I look forward to sharing it with you along with some very special news to come. In the meantime, do take a little time to browse through my gallery of linocut prints to enjoy my works on paper. I find that after nine years of printmaking, many of my editions of prints are now sold out. So if you find one that strikes your fancy, don't put it off. Most can be purchased through this website. But some are only available in the galleries which represent me. Email me if you would like to know where you can see them in person.
Yours,
William H. Hays