Hello and Welcome Friends,
Back at work in the studio and hitting my stride once again! This time, I'm delving even further back in my memory to revisit an image which has stuck with me for almost three decades.
In November of 1987, my late wife and I were driving from Alaska to Vermont via the Grand Canyon. (Admittedly, it was the long way!) But we saw some wonderful country in the US and Canada. Nearer the end of our journey we were camping in the Smokey Mountains of Tennessee. Having been born and raised in Virginia, I was in familiar territory. Forest fires in the west were raging and the smoke (appropriately) was tinting the sunsets in rosy tones. One evening, the full moon was rising over Cade's Cove and this image stuck with me for many years.
I began my interpretation of the memory by putting together elements from four of my photographs into a composition in black and white. By eliminating color, I was better able to concentrate on how the different layers would go together. But even this proved to be something of a sketch in that I changed my mind several times in the course of making this print.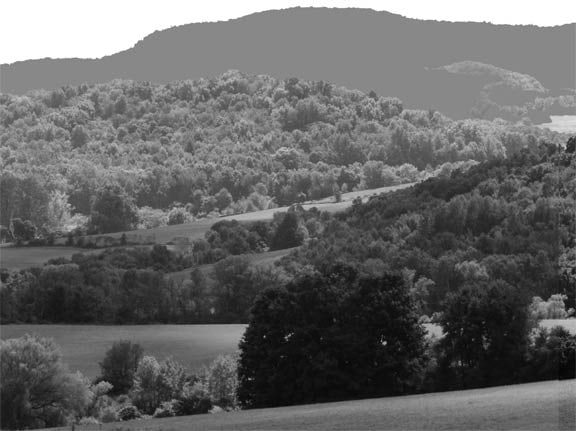 In this piece, my whole approach was different from any of my previous linocuts. With my first impression, the mood was set by not including any white (blank paper) in the image. I wanted to tone the whole thing down to a middle range of colors and values. Even with this in mind, this is a significantly darker start than I usually do. I wanted to create a poem composed of color tones.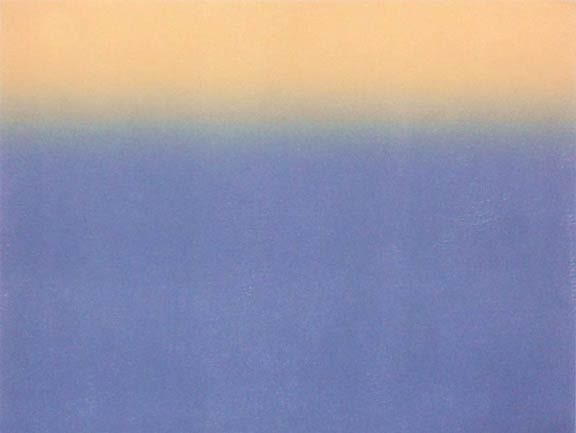 Hereafter, I overprinted this yellow and blue beginning with transparent colors which would use these two tones to create a harmony of muted colors. The second impression added four more (transparent) colors to end up with five new colors and the original yellow for the moon. Below is the linoleum block with the moon carved away (left), my palette for the second impression, and then the resulting combination of six colors blended.

Below is the (partially complete) sequence which followed the above, and then the finished print.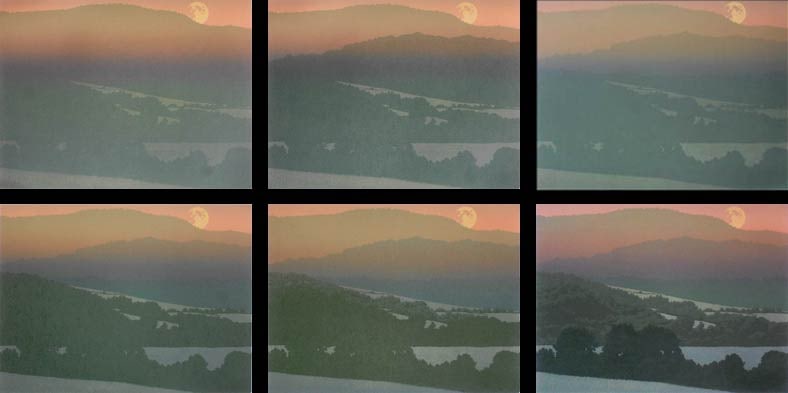 "Summer Moon" impressions three through nine.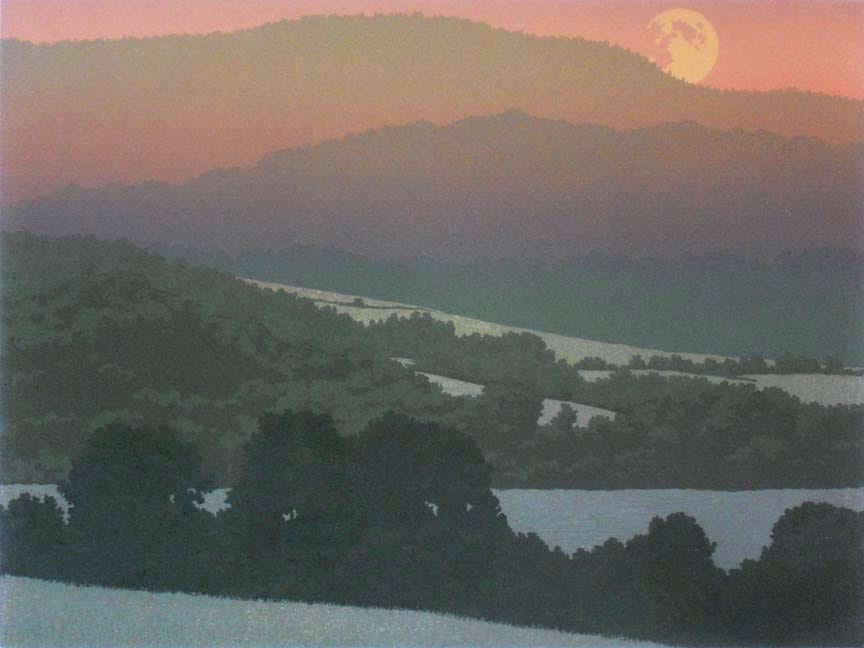 "Summer Moon" 10-color linoleum block print, 9" x 12"
In all there were ten impressions to make this print. And so I describe it a 10-color print. But this is a simplification. The finished print incorporated fifteen colors in total. Since they were mostly transparent, there are even more combinations. The range of colors is close and subtle and I love the way they fit together to create the atmosphere of the scene.
As I write this, I am already starting in on the next print. I can hardly wait to see it and show you the results. It will take me about a month. So patience is something I've learned to cultivate. I look forward to hearing from you.
Yours,
William H. Hays