Tail Wind Migration and Moonlight Lead
Jan 01, 2016
Hello and Welcome Friends,
It's been almost one year since I last composed a newsletter. And there have been good reasons for that delay! I and my dearest purchased a 100 year old home and we renovated it from top to bottom over the course of most of 2015. The last project to complete was my studio. I needed to get back to work at my art. And so I am.
Some of October and all of November and December were spent on my two latest linocut prints. Returning to my printing has been a pleasure. I do enjoy the process. It is very different than the oil painting I spent most of my career doing. Printmaking is methodical, well-planned, very time consuming and unfolds one gradual step at a time. The end product is often different than I might have envisioned when I started. But I've learned to be flexible, dogged and creative in my use of carving and printing to make an edition of what I hope to be a beautiful print.
People often ask me about my process, how the prints are made and from where my ideas originate. One of the most common questions is about my source materials. "Do you use photographs?" is often asked. My answer always covers more sources than just photographs. I do use my own photos but they are often changed almost beyond recognition.
In this first print, I began with three photos I took in the Hoosick Valley in upstate New York, just over the southern Vermont border. I love the feel of the area and have taken inspiration several times from it. Each of the three original photos lacked what I was looking for. So I combined them into a single composition using Photoshop. Here is the original combined photo image: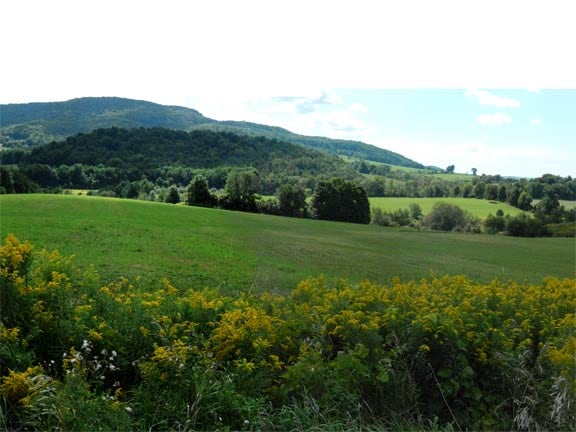 As I considered this image (while renovating my house) I thought that it still lacked what I was looking for. So I spent several days gradually composing a pencil drawing which became the final composition. Here is the pencil drawing: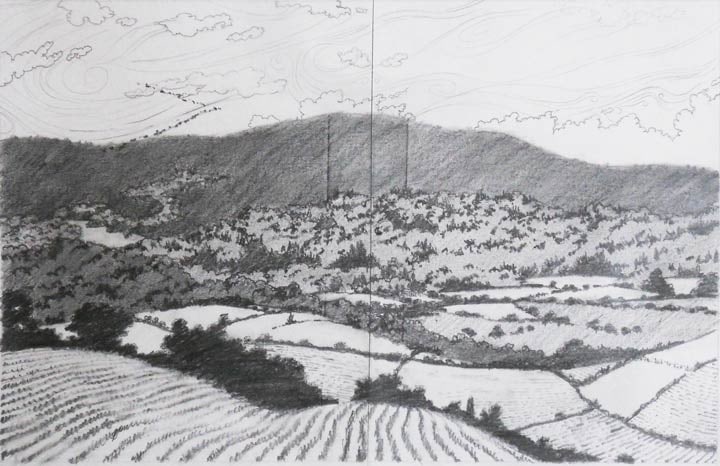 The drawing was transferred to an 11" x 17" linoleum block and I began carving and printing. As you'll see from the first three impressions below, I was printing multiple colors of ink with each impression. In the end, the seven impressions I used to create the final print included about twelve colors (and two blocks). Here are the first three stages: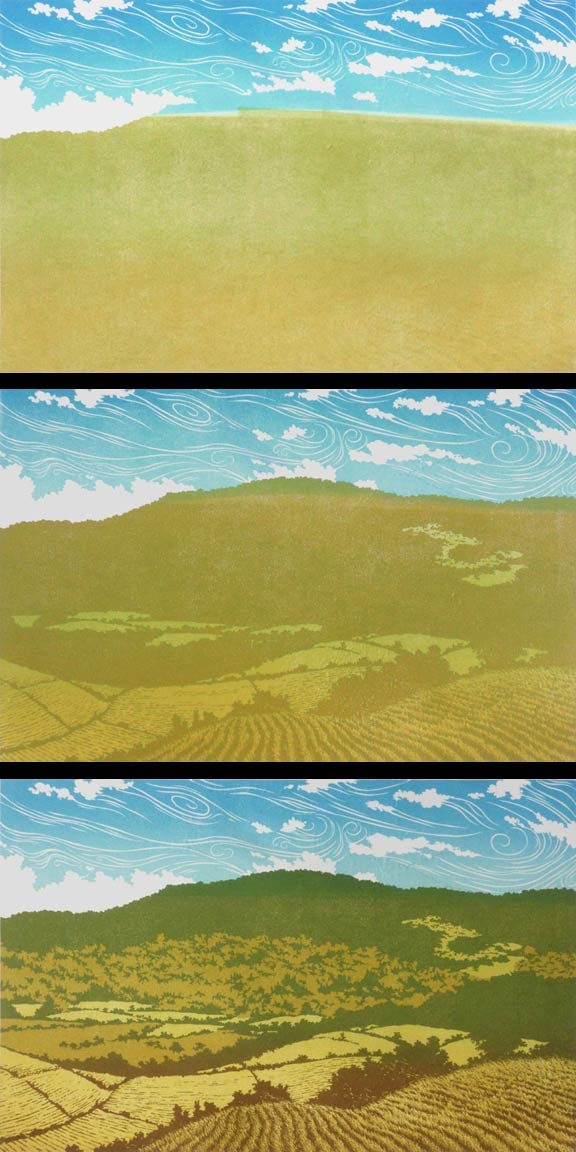 "Tail Wind Migration" these are the first three impressions (top to bottom) made with one block, sequentially carved and printed using multiple colors for each impression.
The next two impressions resulted in this state of the print: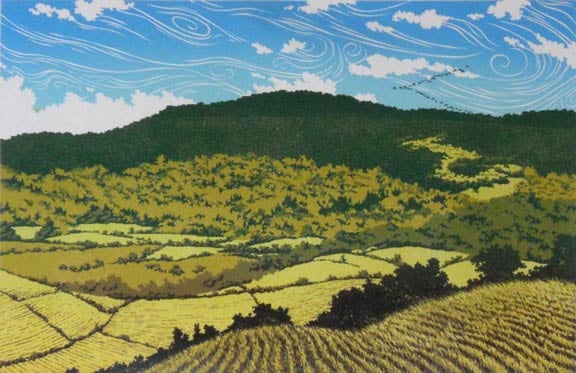 "Tail Wind Migration" after five impressions.
From here I could see that I had carved away an area (or two) which I wanted to change with the next impression. In order to overprint what has already been carved away, I needed to carve an additional block to hit those areas. Along with that, I carved the existing block for the last impression. The last printing was done with two blocks, using two colors each. Here are the blocks and my ink palette and brayers (rollers) for applying the inks.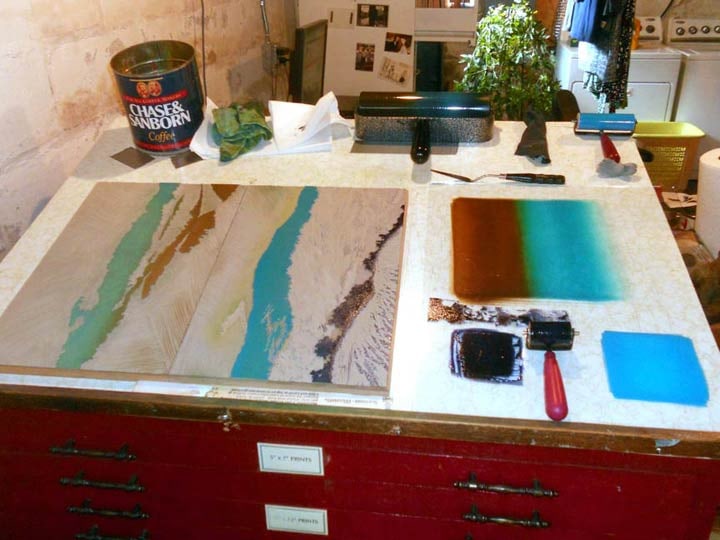 The process of printing with two blocks (and four inks) is very slow and I have to concentrate so that the colors and blocks are all lined up correctly. It took about four days to complete these last impressions to get to the final print. In total, it took five weeks to complete this print. But, in all, t took a year and a half from the first photographs to reach the end of the process.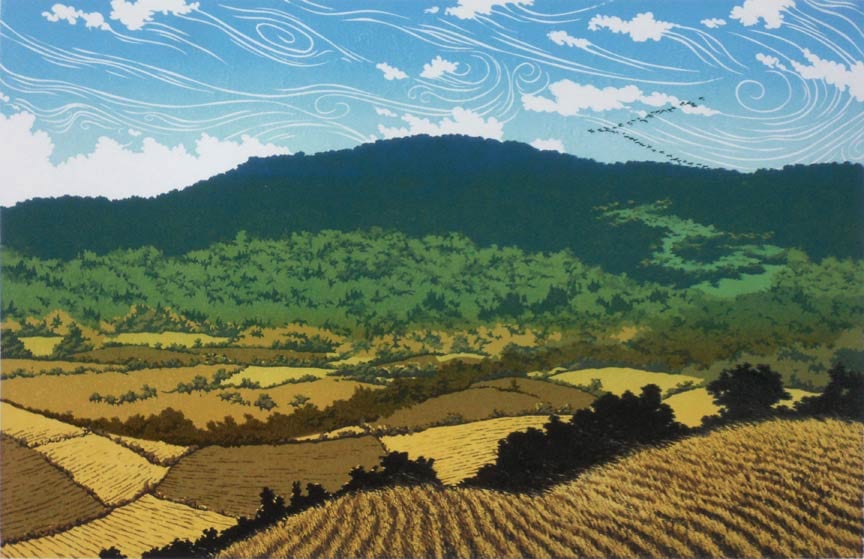 "Tail Wind Migration" 7-color linoleum block print, 11" x 17".
This linocut print is available for purchase from select galleries and from this website.
The next print also came from a long time process of considering new and existing images. In 1998 I did a charcoal drawing that was inspired by the moonlit view from my home on the Connecticut River. It hangs in our bedroom and I've been considering working with this image for some time.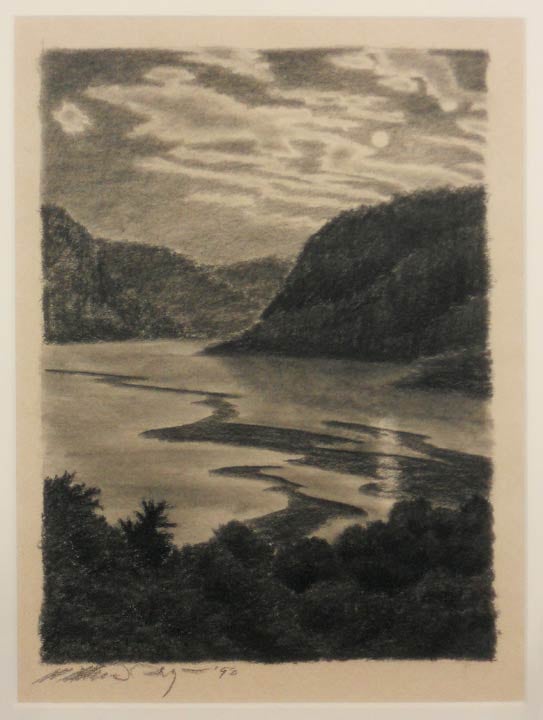 I made changes in the composition and had a variety of considerations to work with as I thought about how to make a linocut print of the image. Below are the first four stages of the print (in three photographs). The first is nearly impossible to see in a photograph as it is a light, warm gray with only parts of the moon and reflections on the water carved out. The second stage was printed with three colors. In the third stage I printed the dark blue(s) in the sky and a lighter blue for the mountain snow and the far distant peak in the center of the horizon. The fourth was two colors with a band of the lighter color for the center background mountain and dark blue on the bottom.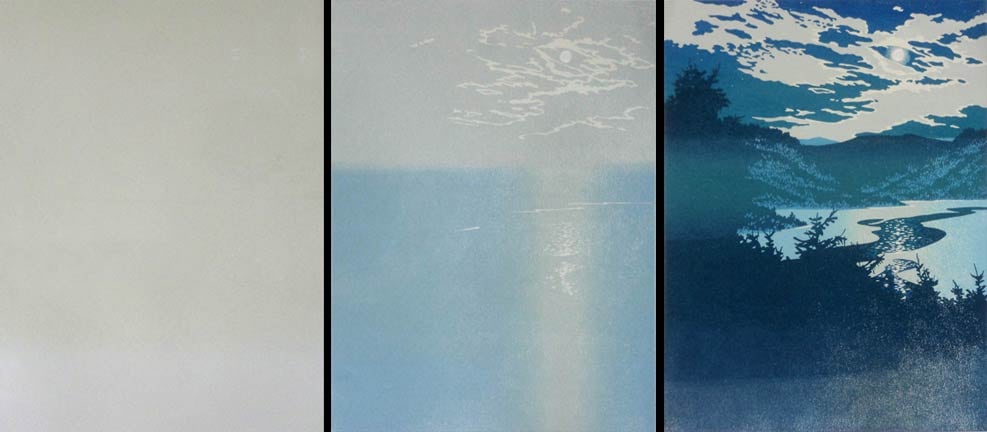 "Moonlight Lead". This is the first four impressions (in three photographs) of this 12" x 9" print.
My process of creating these linocut prints is most often done beginning with the lightest colors and adding darker colors over them. Each color influences the following colors because there is some degree of transparency in the inks. In this print, the colors are almost all in the blue family until the fifth stage (below left). This is a very dark ink but not black. In fact, it is a dark purple-red. Printing this red on top of the blues makes it appear almost black. One can still see the red under strong light. But in normal viewing, it is a black.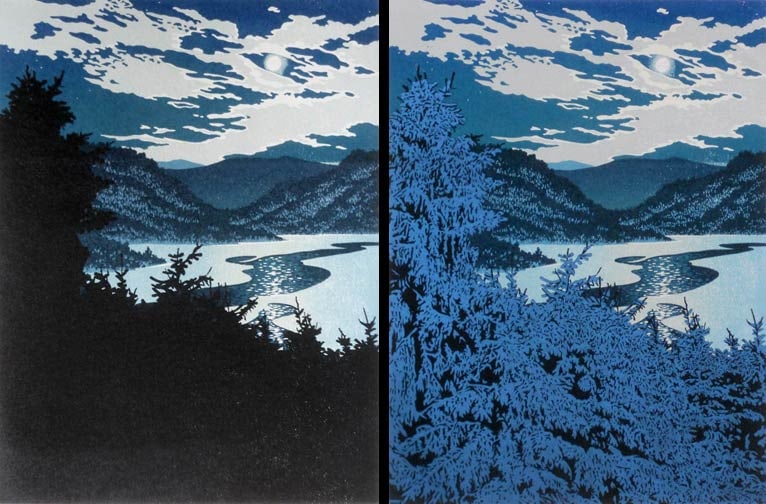 Impressions five and six for "Moonlight Lead"
At this stage, I switched gears and started carving away everything that I wanted to remain black. Then I printed a nearly opaque and brilliant blue over the top to create the snow and details of the structure of the trees in the foreground. I have to admit that this was very difficult carving and (as I many times find myself) I had to trust that my drawing was going to yield what I wanted in the carving. As you can see (above right), adding the lighter color changes everything about the print. I thought this might be the final impression but saw right away on printing that I would need to do another, lighter color to show the light of the moon on the foreground snow. This was not in my original drawing, so I worked it out with marker on the block itself and carved from there for the final impression and finished print.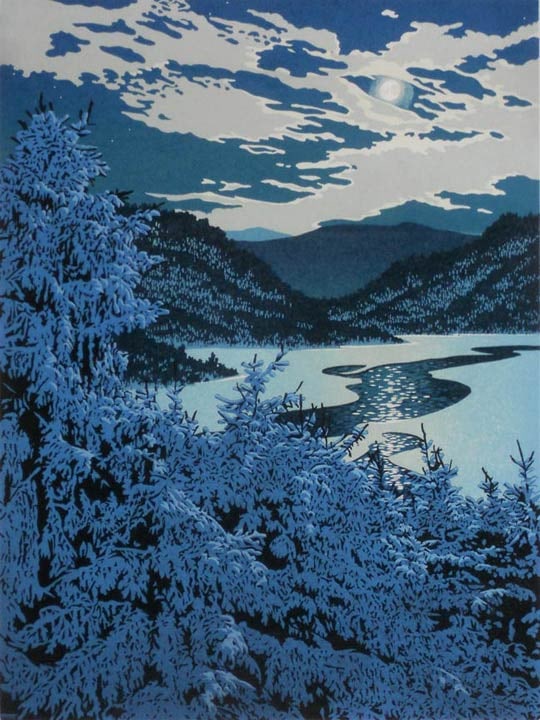 "Moonlight Lead" 8-color linoleum block print, 12" x 9".

This linocut print can be purchased from this website and from the galleries where William's work is shown. And my first two prints out of my new studio are completed. You are always welcome to visit my home and studio. But you'll have to let me know you're coming. I'm already underway with the next print... keep in touch.
Yours,
William H. Hays