Three Sisters
Nov 01, 2012
Hello and Welcome Friends,
This won't be a long newsletter but that is not due to any lack of work on my part. Some months seem to have a minimum of art for a maximum of work. Still, this is not a complaint, only an observation. On the contrary, this past month I have felt I'm back in my stride. So here is my linoleum block print for this month... I seem to be averaging about one a month.
This one looks back to Nova Scotia once more. This print also references a painting I did in July of 2004, "Fishing Shack." The actual shack I have been inspired by is in West Berlin, Nova Scotia. I've changed some things about it for the print, including the name (but not the license number). I changed the composition from the painting to concentrate almost entirely on the shack with little background. It is almost square on center but I've tweaked the composition on either side and skewed the perspective just a little to keep it from being a symmetrical composition. Somebody once told me symmetry is an excuse for creativity.... Nevertheless, here's the print as it took shape.
"Three Sisters" after the first three colors.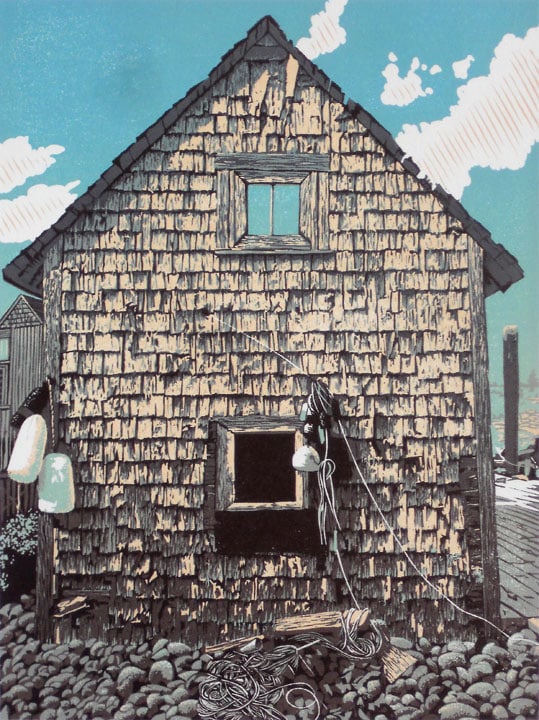 "Three Sisters" at nine colors
At this point I wanted to print the yellow and the red again to strengthen them. I had put a graduated tint in the lower window but had carved away the upper window after the second impression with the idea that it would read as a reflection of the sky.... But it didn't read that way in comparison to the lower window.
So I had to figure out how I could reprint the red and yellow and introduce the previously removed element of the window. What I did was carve out an area larger than what I needed, right down to the wood block. Then I cut a piece of linoleum and placed it into the new space. I used a test print to register up the window and carved a new one. Here's what the block looked like for printing the last impression.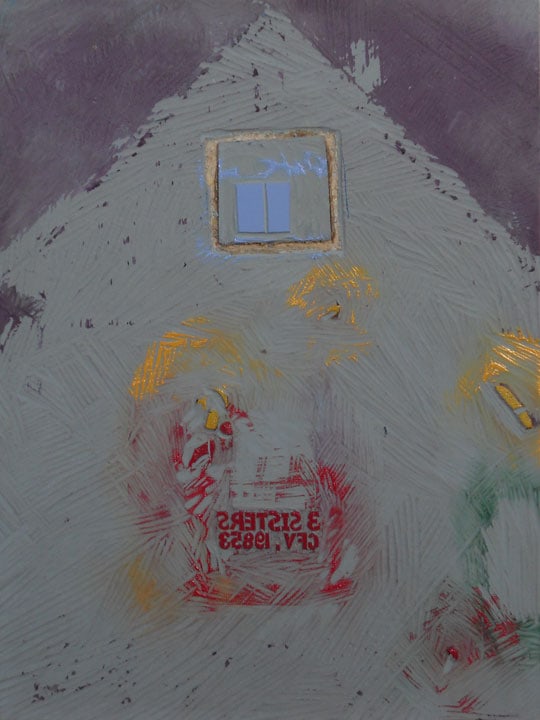 Final state of the linoleum block for "Three Sisters"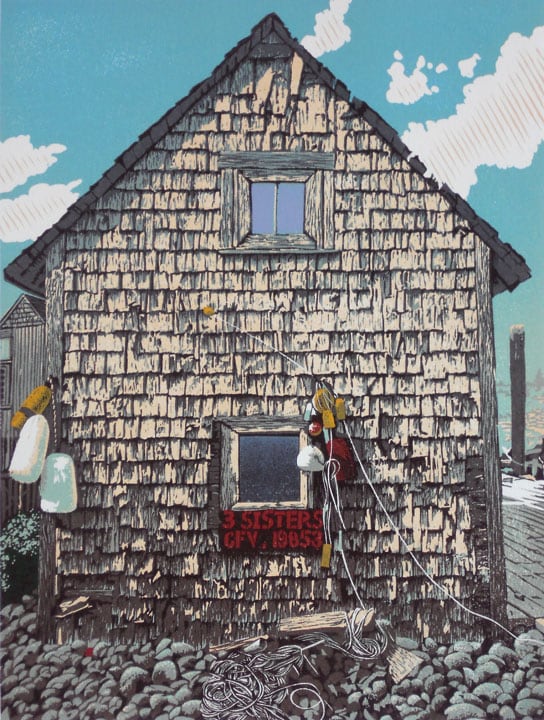 "Three Sisters" 9-color linoleum block print 12" x 9"
And that is all for the month of November. I hope you enjoyed my newsletter and the work I did this month. If you'd like to see more prints, you can look over the print gallery. This first Friday of December is Gallery Walk in downtown Brattleboro from 5:30 to 8:30 PM. Make a point of dropping into The Artist's Loft Gallery [now closed] when you are in town or come by any day between 10-6 in Brattleboro. I always enjoy showing my work to folks and often have a print underway so you can watch the process. Come on by!
Yours,
William H. Hays