Twilight Village
Dec 01, 2016
Hello and Welcome Friends,
The seasons in Vermont offer an ever-changing display of colors, fueling my creativity without end. Someone once told me that an artist should do what they know best. I have only to look in my own back yard to find inspiration - and after nearly 30 years in Vermont, I know it well. In my last newsletter I created images which covered both the warmth of summer and brilliance of fall. Appropriately, this month I'm feeling more in touch with the cooler temperatures and shorter days. When I lived in Alaska I was always dazzled by the brilliance of the winter dawn and dusk. Vermont has much of the same, despite being significantly further south. And so the twilight hour is where I turned for this past month's work.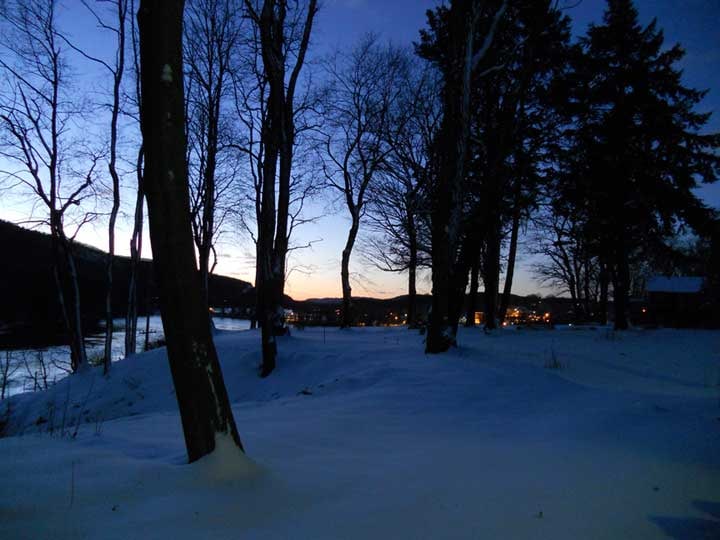 The photograph above is one I took while walking my dog in the early morning about five years ago. The Connecticut River is frozen over and a thick blanket of snow covers the ground. In the distance are the lights of my hometown of Brattleboro. It is a simple composition and I altered it only a little bit to add just a touch more distance.
For colors I was inspired by the 20th century New England artist, Maxfield Parrish. He painted just north of where I live and his colors resonate with almost everyone for how they evoke the feeling of this place. He often used contrasting and even dissonant colors which he made work in the most subtle of combinations. Some years ago I saved this image of one of his paintings, "At Evening's End," an oil on canvas done in 1941. I loved the green glow in the sky. It is not something I've ever done before. This was my jumping off point. Bringing such a mood into a linocut print is an ambitious challenge.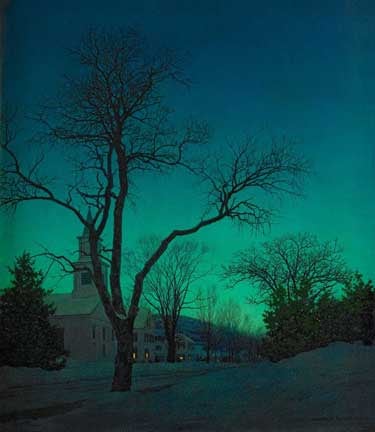 I began on my uncarved block by putting little smudges of a golden yellow onto the points of light which would become the lights of the town. Smudges is just what they look like when they are run through the press onto a blank sheet of white paper. Next I carved away those points of light so that they would be revealed through the four-color combination I used for the sky and the lightest colors of the snow and ice below the horizon.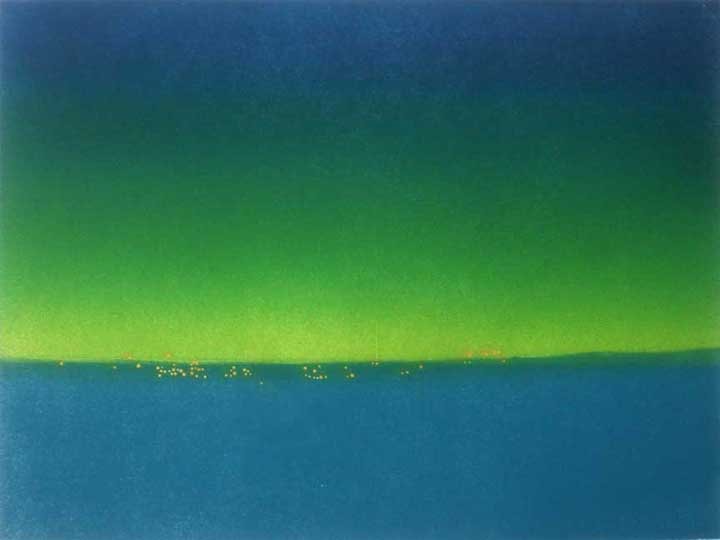 The colors I used to follow this broad pass of color became progressively more violet and less green. But, since they are laid on top of the colors above, they still held onto some of those qualities. Below are the next two passes.

I have been asked, "How do you get the soft edges I see in the snow?" An understandable question since everything is done by carving into a block of linoleum, not shaded as with a pencil or paint.
The transition is done by carving tapering lines which bend with the contour of the surface I'm depicting. In 2010, I did this for the first time (for me, anyway...) in my print entitled, "Snowy Caw." I've often heard the comment about this print, "It looks like a Japanese woodblock print." Perhaps that's because there are only so many devices one has available when creating an effect such as a curved surface with light and shadow and I used one of those devices. I have already heard the same comment about this print even before it is dry. Below is a detail of the center portion of the final print to show you better what I'm referring to.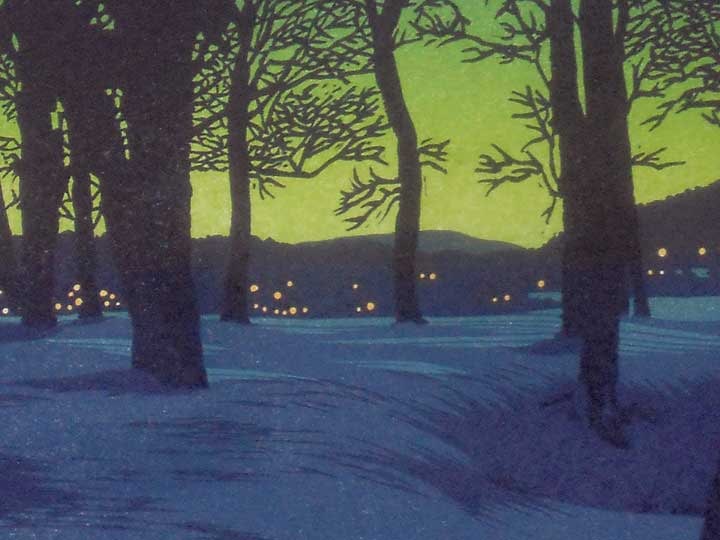 And so the last color (a rather dark red-violet) was added to better distinquish between the foreground and background. As an aside, you might notice that there is no such distinction in the original photograph I took. I'm much more interested in creating a good print than I am being true to the photograph I took. Notice also the addition of the mountain(s) in the distance which are not in the photograph. Below is the final print.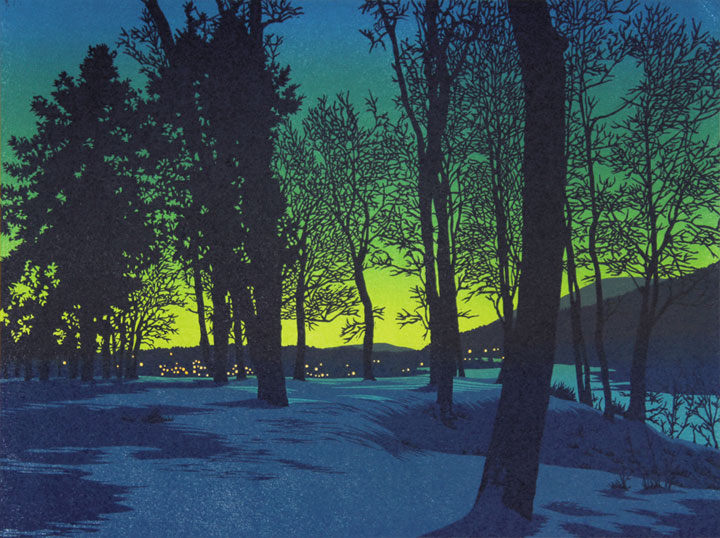 "Twilight Village" 5-color linocut print, 9" x 12"
I'm very pleased with this print, delighted to share it with you and eager to start in on the next.
Much to my delight, I have received an enthusiastic welcome by both a new gallery and their Minnesota audience at The Grand Hand Gallery. Less than a month into showing my linocut prints in St. Paul, I've had to send another selection of my works to them, doubling their selection. Good work, guys! Remember, you can purchase my prints and see my artworks in person at the galleries which represent me. If you can't get to one of those wonderful shops from where you live, you can purchase my linocut prints (unframed) from this website. Please email me if you have questions or comments about my work.
Yours,
William H. Hays